USA vs. Guatemala: Players Who Must Step Up for America Early
June 12, 2012

Valerio Pennicino/Getty Images
Jurgen Klinsmann's side got off to a lackluster start in World Cup Qualifying against Antigua Barbuda. A 3-1 victory was enough for American fans to maintain their sanity, but the team will need to improve leaps and bounds if it is to get to Brazil in 2014.
With expectations at an all-time high, the United States can ill afford to lose these types of games. Anything short of qualification is a failure, plain and simple.
Next up for the Stars and Stripes is Guatemala. Though Guatemala is not exactly a powerhouse, going into the match overconfident would be silly.
With that in mind, here are the players that need to get their acts together today.
Clint Dempsey
We've come to expect so much from this man, and rightly so.
Players look up to him as one of the rare success stories in American soccer. His road from Texas to the Premier League is an inspiration to so many, and he has earned the right to be where he is today.
He is the new face of American soccer. No more praising Landon Donovan for his "brilliant" performances, albeit in the MLS.
Dempsey's 20 goals in all competitions last season has linked him with a move to top sides Arsenal and Liverpool in the summer transfer market.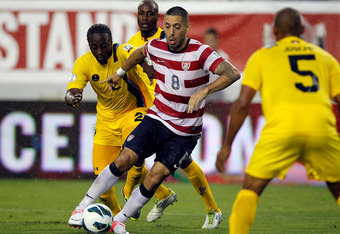 J. Meric/Getty Images
If the USA are going to come away from Central America with the three points, Dempsey will likely be a key part of the puzzle
He banged in the decisive second goal against Antigua and Barbuda from the penalty spot and will hope to do something similar in Guatemala.
Michael Bradley
Commentators in recent weeks have been heaping praise on the shoulders of Bradley.

The tough-tackling center midfielder plies his trade with Chievo in Italy, but a move to a bigger club could be on the cards this summer.
The NY Times claims, "He's Bravissimo."
He has solidified his spot in Klinsmann's starting 11, proving (if there was any real doubt) that it wasn't just daddy, Bob Bradley, pulling strings.
Bradley will need to display his dominance in the center of the park in order for the USA to overcome a tricky Guatemalan opposition.
Gomez has been displaying some dazzling form as of late and will likely start up top over the unfit Jozy Altidore.
His goals in back-to-back matches against Brazil and Antigua are two positives for the USA to pull amongst a load of heavy criticism.
Gomez provides a cutting-edge that is often lacking in the USA's offensive third and can hopefully spark something special tonight at the Estadio Mateo Flores.
At the age of 30, Gomez is by no means "one for the future." This is his third stint with the national team, but as the saying goes, third time is lucky right?