Nadal vs. Djokovic: Why Djoker Will Get His Revenge at Wimbledon 2012
June 12, 2012

Mike Hewitt/Getty Images
After losing a heartbreaker in the finals of the 2012 French Open to fierce rival Rafael Nadal, world's No. 1 Novak Djokovic will look for redemption on the grass of Wimbledon.
While the loss at Roland Garros stung, the Djoker still has plenty of steam heading into the major tournament he won in 2011. As the defending Wimbledon champion, Djokovic has to be the favorite no matter how good Nadal is playing right now.
Many fans and experts are calling for Nadal to assume the No. 1 overall spot in the world after the French Open win, but let's not forget that Djoker has won four of the last six majors and been in the finals in six of the last seven.
Djokovic told the Athens Banner-Herald about the loss and how it will only make him stronger over time:
I managed to come to the finals for the first time in my career. I should be happy about that, of course. I will be and I am, but in this moment I am disappointed about this loss… He's definitely (the) best player in history ... on this surface, and results are showing that he's one of the best ever…Sometimes you win; sometimes you lose. I lost this time, but I believe that there are still many years to come, and hopefully I can come back stronger.
The Djoker has a great mental approach to the game and uses just enough emotion in his play to be a champion without letting it ruin his approach. These comments prove that he is grounded even in the face of on-court adversity.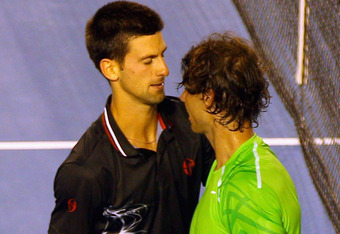 Mark Dadswell/Getty Images
Nadal and Djokovic have already met in play over 30 times in their careers, and this budding rivalry isn't going anywhere soon. With the duo 26 and 25 years old respectively, there is still plenty of fuel in this tank and still plenty of opportunities for the world's No. 1 to redeem himself.  
What better place than the venue that Djokovic vanquished Nadal last year; Wimbledon. After Nadal dominated the 2010 tournament, he came in as the heavy favorite in 2011, but was wiped out by the player of the year, the Djoker.
These two stars are on a collision course to the finals again, and the biggest beneficiary is the tennis fans that could be watching the greatest rivalry in history in its prime.
Check back for more on tennis as it comes, and don't miss Bleacher Report's Tennis page to get your fill of all things racquets.