Heat vs Thunder: Which Squad Would Be Better If LeBron and Durant Switched Teams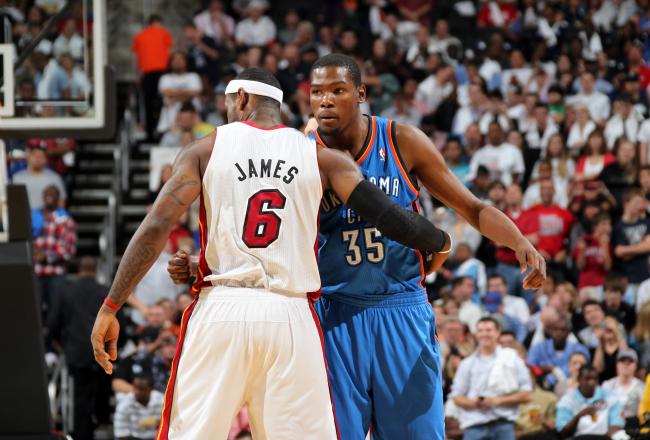 Jamie Squire/Getty Images
Just for the sake of argument, let's say that a call comes in from the league offices today for both the Oklahoma City Thunder and the Miami Heat. It's David Stern on the other end.
Stern wants to have a little bit more fun with his dream matchup and instructs both teams to make a one-for-one player swap before the 2012 NBA Finals. "Oh wait," he says, "those players have to be named Kevin Durant and LeBron James as well."
Which team would be happy? Would trading the No. 1 player in the world for the No. 2 player actually help out?
From the Thunder Perspective
As great as Durant may be, LeBron is currently the nearly unquestionable best basketball player in the world.
Durant is a fantastic scorer—fantastic enough to lead the entire NBA in scoring for each of the past three seasons. However, Durant is about average when it comes to facilitating and creating open shots for his teammates. He's also not exactly a lockdown defender.
While Durant is improving in both of those areas, he's no LeBron. And you know who is a LeBron in them?
Duh. LeBron James.
As a result, the Thunder management is initially happy with the swap. That's before they realize that the dynamics of the team no longer work quite as well.
Part of the greatness that is KD is his ability to make the rest of his team better through what must be osmosis. He inspires confidence in them and they want to be great simply because they know that they both need to be and that their star small forward expects them to be. Durant may not be able to hit all of them with laser passes, but he does inspire them.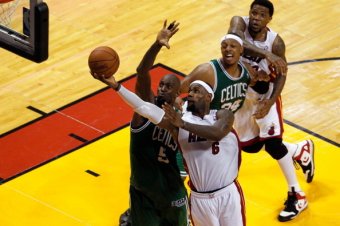 J. Meric/Getty Images
The same simply can't be said for LeBron, who performs best when he goes into the dreaded (by the opponents) "I'm taking over" mode.
OKC would be a terrific basketball team with LeBron in Durant's place, but one player would get noticeably worse: Russell Westbrook. The point guard craves recognition and the ball so intensely that he plays with a near-unstoppable anger.
Westbrook is at his best when he's allowed to control the ball and make some mistakes. With that leash, he's able to unleash the full power of his fury against the opposition.
If LeBron was a member of the team, that would no longer be allowed to happen to the same extent and, as a result, the Thunder would get slightly worse. The moderate upgrade from Durant to LeBron would be completely nullified by the regression of Westbrook.
From the Heat Perspective
Even though Miami would be undergoing a slight downgrade at the small forward position in this hypothetical trade, they'd be improving the overall makeup of the team.
Brett Deering/Getty Images
As great as LeBron's defense may be, it's a luxury on a team filled with great defenders who could capably pick up the slack. It may require some more minutes from Joel Anthony, but his offensive shortcoming could easily be remedied by the sharpshooting of Durant.
A lineup of Mario Chalmers, Dwyane Wade, Kevin Durant, Chris Bosh and Joel Anthony/Udonis Haslem with Shane Battier and Mike Miller coming off the bench would still make a great defensive unit. It's the increased scoring that would make a difference.
As hard as the combination of Wade, LeBron and Bosh is to stop, just think about how Durant's addition would make it even harder.
Who wins this hypothetical trade?
The current trio in Miami are all dependent on having the ball in their hands. Sure, Wade and LeBron are both proficient cutters who can play off the ball, but they enjoy dribbling and setting up their own shot, LeBron with his bull-rushes to the rim and Wade with his splits of double-teams.
Having a deadly off-ball scorer like Durant (note: He is just as deadly with the ball in his hands) would just increase the potency of this offense.
As a result, the Heat, strange as it may seem, would win this trade.
This article is
What is the duplicate article?
Why is this article offensive?
Where is this article plagiarized from?
Why is this article poorly edited?