Poland vs Russia Euro 2012: Studs That Will Lead Sbornaya over Host Squad
June 12, 2012

Christof Koepsel/Getty Images
After a dominant 4-1 win over Czech Republic in its opening match of Euro 2012, Russia is in fine position to take a stranglehold of Group A as it faces host Poland on Tuesday. Both squads will enter the match on a high note, and both will be looking for victories in order to solidify their respective positions in the group.
Russia decimated the Czech defense and beat star goalkeeper Petr Cech four times. Poland held a 1-0 lead against Greece and had a player advantage, but things fell apart as Greece tied it and the Polish goalkeeper was red carded. Poland was able to preserve the draw, however, and may have been lucky to get one.
Here are three stars that will turn in strong performances for Russia as Sbornaya figures to defeat Poland and almost assure itself of a spot in the knockout stage.
Andrei Arshavin
Although he didn't register a goal in Russia's demolition of the Czech Republic, forward Andrei Arshavin was absolutely spectacular on Friday. Arshavin looked dangerous on nearly every run and put his teammates in positions to either score or get high-quality scoring chances. If he plays similarly against Poland, then Russia will be in a great position.
The Poles are far more defensively responsible than the Czechs, but if there is even the slightest opening, Arshavin can exploit it. Russia's win over the Czech Republic was a perfect example of how a player's mere presence can open things up. Arshavin didn't get on the score sheet, but he was so threatening that is caused the Czechs to leave other players unguarded. The same may be true against Poland.
Roman Shirokov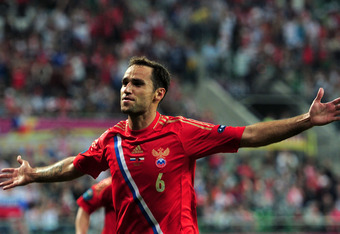 Jamie McDonald/Getty Images
There was no shortage of stars in Russia's win over the Czech Republic, and one of them was certainly veteran midfielder Roman Shirokov. He was absolutely splendid on the attack and was a big reason why Russia was able to press the issue so well. Shirokov netted a goal in the first half, but his overall play may have been even more important to the Russians' success.
Russia has a number of strong offensive players, and while Shirokov may not receive as much credit as Arshavin and some of the others, he is a supporting player who will need to be on his game against Poland. One would have to believe that Poland is going to do everything in its power to make sure that Arshavin doesn't replicate his performance from Russia's first game, but that will only give Shirokov more opportunities to come through.
Alan Dzagoev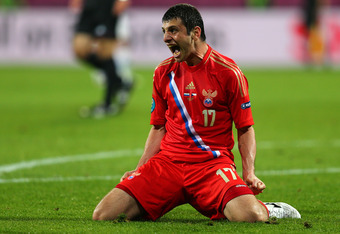 Clive Mason/Getty Images
He may not have a ton of international experience, but 21-year-old midfielder Alan Dzagoev will be key for Russia against Poland and for the remainder of the tournament. Dzagoev scored twice in Russia's opener and his performance figures to increase the interest from EPL and La Liga teams moving forward. Dzagoev is a legitimate star and Poland is likely to find that out the hard way.
Shutting down one star player is something that can be done in soccer, but it will be very difficult for the hosts to hold both Dzagoev and Arshavin in check. Dzagoev and Arshavin in general have a great rapport, so Poland has its work cut out for it. Dzagoev entered this tournament with a lot of hype surrounding him and if he turns in another great performance, then that hype will only increase.
Follow @MikeChiari on Twitter