LSU Football: 5 Most Indispensable Tigers for 2012 Season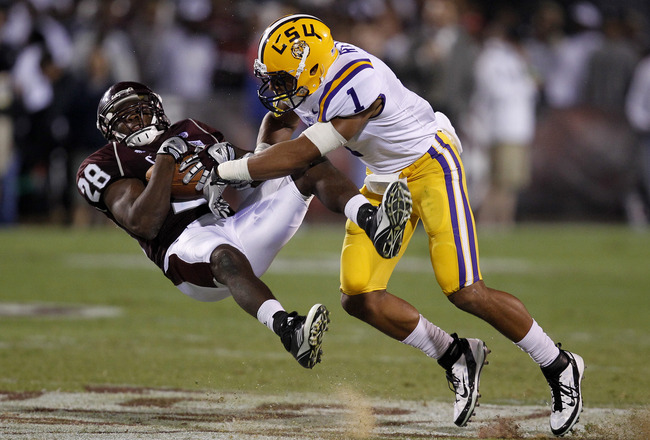 Butch Dill/Getty Images
When it comes to the greatest athletes in college football in 2012, LSU's roster is a camping ground for the elite, but which players are irreplaceable?
So much has been said about the talent on this roster leading into the season, so only a few select players could be identified as indispensable.
From shutdown defensive backs to freakish defensive linemen to the speedy wide receivers, these are the five players that the Tigers must have in 2012.
Eric Reid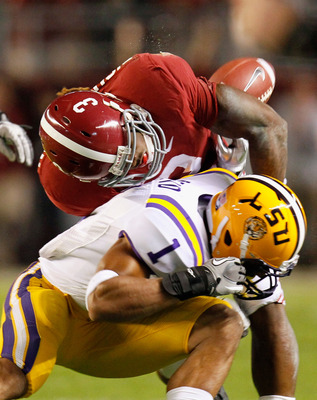 Kevin C. Cox/Getty Images
Without Eric Reid, the Tigers most likely would have lost to Alabama in their Nov. 5 regular season showdown in 2011.
The man who made the play of the year for the Tigers last season is one of their most versatile playmakers.
Reid has the ability to cover well and make key interceptions like the one against the Crimson Tide that's been referred to throughout this slide. But perhaps, the most impact he brings to the team is his physical prowess.
LSU's linebackers are usually smaller, so they can cover running backs and tight ends with their speed. It's a great tactic, but it doesn't provide the Tigers with a hard-hitting presence.
That's where Reid comes in. If a wide receiver or running back reaches the second level and meets Reid, he'll lay them where they stand.
Alex Hurst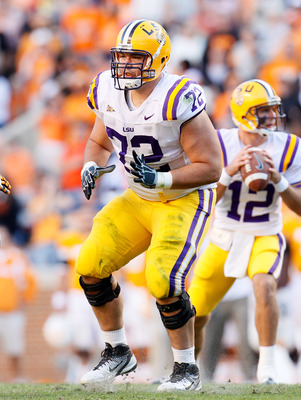 Kevin C. Cox/Getty Images
The Tigers will only go as far as they can push.
Losing a player like Alex Hurst would certainly diminish LSU's ability to drive competitors off the ball, and furthermore, score points.
With the recent state of LSU's offense following the 2012 BCS National Championship Game, that's all LSU needs.
Hurst, who is coming off an incredible season that saw him record 71.5 knockdowns, is a 6'6", 340-pound monster at tackle.
He'll be the leader of the offensive line in 2012 after coming off a first-team All-SEC performance last season.
Barkevious Mingo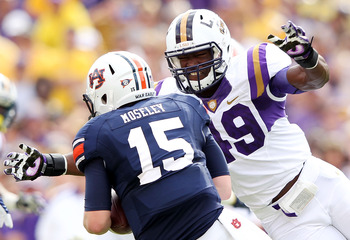 Jamie Squire/Getty Images
Barkevious Mingo is a special breed of athlete.
He resembles Jevon Kearse with his speed and athleticism. It's apparent when he's chasing running backs down in the backfield from behind, and it allowed him to lead the team in sacks with 13.5.
Though he may be undersized, the man runs a 4.5 in the 40-yard dash and with that caliber speed on the outside at defensive end, he's going to give offensive tackles nightmares in the fall. While the Tigers secondary will still be a strength of the team, it won't be as strong as last year's club. That's why it's so important for Mingo, along with Sam Montgomery, to get to the quarterback quickly.
Mingo weighed in at 240 pounds last year, and knowing how hard LSU works in the weight room, I wouldn't be surprised to see Mingo put more weight on for the 2012 season.
Because of his athletic prowess, Mingo should have an incredible season with the Tigers, and I expect him to be the first Tiger selected in the 2013 NFL draft.
Odell Beckham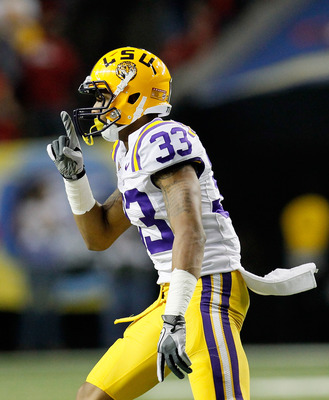 Kevin C. Cox/Getty Images
Though Zach Mettenberger could be considered indispensable, his targets are even more important.
Predominantly because the wide receiver position isn't exactly a luxury this season, and last season proved that the Tigers are talented enough to get by with subpar quarterback play.
And because Odell Beckham is the most explosive player on offense, he has to remain healthy. Sure, Jarvis Landry is athletic and capable and Russell Shepard can be an exciting offensive threat, but Beckham is the main attraction.
As he's able to break tackles, separate himself from the defense and make game-changing plays, it should come as no surprise that Beckham was second on the team in receiving last year behind Rueben Randle.
And if Beckham's 115 yards and touchdown reception in the spring game is signs of things to come between him and Mettenberger, look out.
Tyrann Mathieu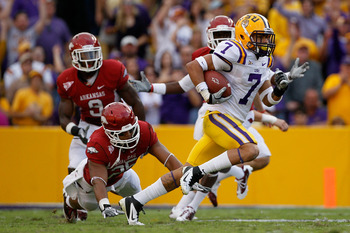 Chris Graythen/Getty Images
Tyrann Mathieu is the MVP of this team.
I wish I had the time and space to list all of Mathieu's accomplishments, but I'll sum it up by saying that he was a 2011 Heisman Trophy finalist and Bednarik Award recipient.
With six forced fumbles, two interceptions and 70 tackles last season, Mathieu earned his self-imposed nickname "King Mathieu."
But that's not all Mathieu did. As much impact as he had on defense, he had just as much impact in returning punts in critical situations. With the Tigers losing to Arkansas and Georgia, Mathieu made electrifying punt returns to put points on the board and shift the momentum.
Mathieu creates turnovers, makes electrifying punt returns and provides the Tigers with a swagger unrivaled.
Keep Reading

LSU Football: Like this team?