Devils vs. Kings: Players on Rise After Strong Play in Stanley Cup Finals
June 12, 2012

Harry How/Getty Images
The Los Angeles Kings rode a wave of momentum through the playoffs en route to winning the Stanley Cup on Monday night. The team's series victory over the New Jersey Devils was highlighted by several strong individual performances on both sides.
Let's take a look at three players whose stock is on the rise following their play in the Finals. Judging by the immense amount of young talent on display throughout the series, both teams should feel confident about the future.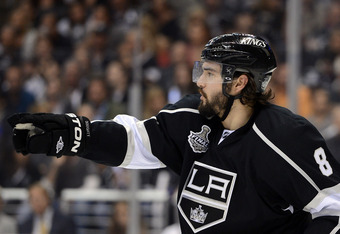 Harry How/Getty Images
Drew Doughty (Kings)
Doughty endured his worst regular season since his rookie year, which had many wondering if he was still on pace to become an elite defenseman. Those questions were answered with a terrific performance in the Finals.
He scored six points, including two goals, to help provide the secondary scoring punch the Kings needed to overcome the Devils. The 22-year-old star also led the team in ice time, often going up against New Jersey's top scoring line.
It seems like the Kings' performance in the regular season simply wasn't a true representation of their talent level. Players like Doughty really stepped up in the playoffs, and that should carry over into next season, leading to a more complete campaign.
Jonathan Quick (Kings)
The rightful winner of the Conn Smythe Trophy as the most valuable player of the postseason, Quick was dominant during Los Angeles' surprising run. He didn't give up more than three goals in any game and finished with a GAA of 1.41.
Even though the team's offensive improvement played a key role in winning the championship, it wouldn't have been possible without Quick making countless big saves to keep games close. His play seemed to provide a boost of confidence to the entire team.
The NHL playoffs are often controlled by the teams that get the best play in goal, and this year was certainly no different. The fact Quick was able to stare down and outplay Martin Brodeur shows how far he has come and how good he's going to be.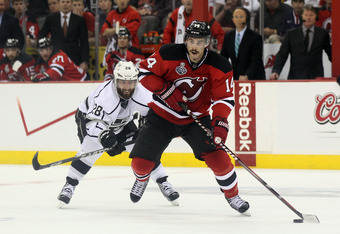 Elsa/Getty Images
Adam Henrique (Devils)
It didn't always show up on the stat sheet, but Henrique was New Jersey's most impressive player throughout the series. He did score two goals in the final three games, but it wasn't enough to dig his team out of an early hole.
What really made Henrique stand out was his ability to thrive in any situation. He logged time on both the power play and penalty kill, playing well in both roles, and was dangerous at even strength as well. There wasn't a time when Peter DeBoer was afraid to use him.
He was often overshadowed by superstars Ilya Kovalchuk and Zach Parise, but Henrique will definitely be a key piece of the franchise moving forward. With so few talented young centers out there, he's going to shine brightly for the Devils.