NBA Finals 2012 TV Schedule: Why NBA Needs LeBron James and Kevin Durant Rivalry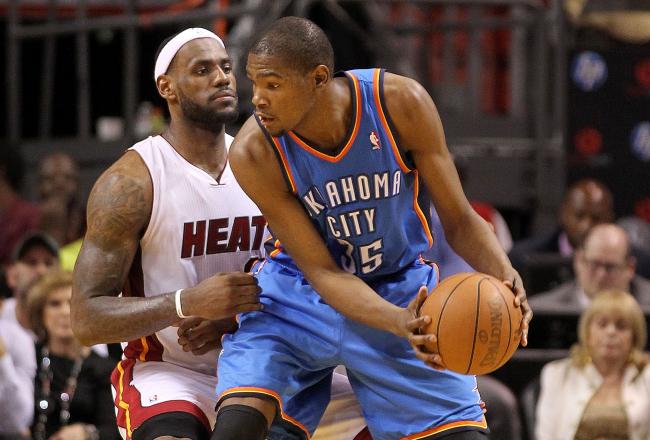 Mike Ehrmann/Getty Images
The biggest hole in the NBA right now is the lack of a legitimate rivalry between two superstar players on championship-caliber teams.
This is why the league desperately needs Miami Heat star LeBron James and Oklahoma City Thunder star Kevin Durant to form their own rivalry during the 2012 NBA Finals.
Not since Larry Bird and Magic Johnson has the NBA had a legitimate superstar rivalry where two stars on elite teams competed at a high level against each other in the regular season and in multiple playoff series.
Will Durant and James form a rivalry in the NBA Finals?
The NBA was at its best in the 1980s when Bird and Magic battled each other on the court with championships at stake. Their teammates also didn't like each other, and there were no handshakes or hugs after NBA Finals games. It was all business, which sadly isn't the case today. Players are now criticized when they don't shake hands after games, which is ridiculous.
But can James and Durant really become rivals?
2012 NBA Finals Game 1
| | | | |
| --- | --- | --- | --- |
| Matchup | Date | Time | TV Info |
| Heat at Thunder | Tuesday, June 12 | 9 p.m. ET | ABC |
Team Perspective
For starters, the core of these two teams are in their prime and will be championship caliber for another three to five seasons.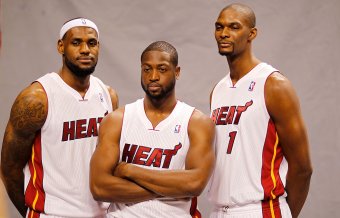 Mike Ehrmann/Getty Images
The Thunder might have to make some decisions since James Harden and Serge Ibaka need new contracts soon, but OKC would still be the best team in the West even if one of those stars were to leave.
James, Dwyane Wade and Chris Bosh are going to be superstars for many more years, and in addition to their immense talent, they are now building some valuable playoff experience alongside each other.
So from a team aspect, both clubs are set up well to meet each other on the NBA Finals stage multiple times in the near future.
Individual Aspect
The individual factor is the most important part in a possible rivalry between Durant and James. Do they dislike each other enough for theirs to be a real rivalry? Durant said the following about James in a recent article from Brian Mahoney of the Associated Press (via the Eagle.com):
Everybody is going to make the most out of the matchup of me versus LeBron, but it's the Thunder versus the Heat. One guy versus another guy, it's not going to be a 1-on-1 matchup to win the series, it's going to be all about the team.
James talked about his relationship with Durant by saying:
Our relationship is really good. Our relationship is going to continue to grow and I'm happy to be in this position where I can compete against him.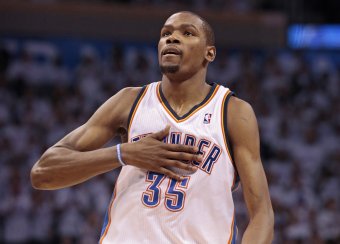 Brett Deering/Getty Images
Even though those quotes make it seem like there's no personal friction between the two stars and that it's unlikely that either will say something negative about the other publicly, I genuine believe that these two guys have no strong level of dislike or hatred toward one another.
There has to be some level of animosity between guys if there is to be a legitimate rivalry, and I don't see that with these stars right now. That kind of animosity could be created during this series, but there isn't any of it ahead of Tuesday night's Game 1 in OKC.
Will it Happen?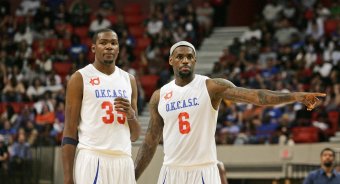 Brett Deering/Getty Images
As much as the NBA needs this to happen and as much as the media hypes this "rivalry," these two stars won't form an epic rivalry in this series.
That would be really unfortunate for the NBA, which is a league that badly needs a superstar rivalry. The NFL has Tom Brady versus Peyton Manning, the NHL has many great team rivalries, and baseball has rivalries like Red Sox versus Yankees.
Professional basketball needs a rivalry to carry the sport to new heights moving forward. James and Durant can form a rivalry starting on Tuesday, but it won't happen. The ingredients for a rivalry just aren't there yet.
This article is
What is the duplicate article?
Why is this article offensive?
Where is this article plagiarized from?
Why is this article poorly edited?