NBA Finals 2012: Miami Heat Bench Is Tipping Point vs. Thunder
June 12, 2012

Jared Wickerham/Getty Images
For the first time this postseason, the Miami Heat are playing a team that can outscore them.
It is not even close either, as the Oklahoma City Thunder averaged nearly five full points per game more than Miami this regular season and six more points this postseason.
Thus, Miami's big two-and-a-half (still unclear whether or not Chris Bosh will start) need to up the ante in the scoring column. And even if all three of them go off (lets say an average of somewhere between 25 and 30 points each), there needs be scoring coming from somewhere else.
Enter (or exit) the Miami Heat bench.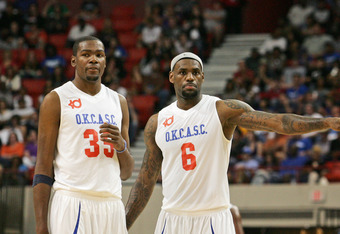 Brett Deering/Getty Images
Miami's defensive prowess, LeBron James on Kevin Durant specifically, could help lessen the Thunder's offensive output, but Russell Westbrook has a distinct scoring advantage over anyone the Heat try to cover him with.
The combination of Serge Ibaka and Kendrick Perkins poses a legitimate threat to the Heat's front court on the glass, on second-chance opportunities and defensively. And James Harden could outscore the entire Heat bench by himself.
Miami won't have the luxury of going small with LeBron playing the four in this series at all. They'll need Bosh to contribute, and they'll need someone else, most likely a combination of Joel Anthony, Udonis Haslem and Ronny Turiaf to bang down low with the Thunder big men.
LeBron will have his hands full with KD, Wade is going to have to be able to match Westbrook's scoring, and it is vital that the Heat bench score points.
Shane Battier and Mike Miller have to make open threes when they're there. Bosh, Haslem, Anthony and Turiaf, whichever ones start and don't start, have to make a contribution both offensively and defensively.
The Thunder are too good where it counts and have mismatches in their favor almost across the board save for two positions.
All the focus of this series will be on KD, LeBron, Wade and Westbrook, but the difference maker, for better or worse, will be the Heat bench.