Stanley Cup Playoffs 2012: Breaking Down Jonathan Quick's Conn Smythe Win
June 12, 2012

Christian Petersen/Getty Images
While many fans had no idea who Jonathan Quick was before the postseason began, there is no doubt that his performance will go down as one of the greatest goaltending efforts in NHL playoff history.
The Los Angeles Kings not only won their first Stanley Cup in franchise history, but Quick's Conn Smythe was also the team's first. 
For as much as hockey players are competitive, the soft-spoken Quick is never one to embrace the spotlight. After being given the Conn Smythe trophy, the goaltender made sure to credit both his teammates and the Kings organization:
It's outstanding. I couldn't be more proud of this group. We had to fight for everything. Nothing was given to us. I think it's all about competing. You have to compete, always. That's something this organization preaches, and it makes us all feel so good to be on top now.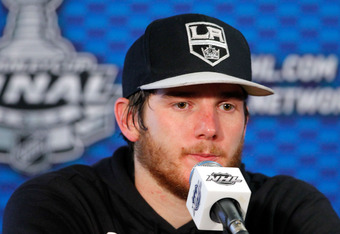 Paul Bereswill/Getty Images
Modesty aside, Quick put up unfathomable numbers that would even make the all-time greats jealous, including a 1.41 goals-against average and a .946 save percentage.
The NHL introduced the Conn Smythe trophy for its playoff MVP in 1965, but this performance from the Kings' netminder may be the most impressive showcase by a goaltender since its inception.
To help quantify just what Quick accomplished, he had the lowest goals-against average since Jacques Plante in 1960 (1.35 GAA). Also, Quick's save percentage of .946 is the best in NHL playoff history with at least 10 starts.
After such an impressive run, there is no doubt that Quick will become a mainstream star for the NHL, especially considering his connection to a major market like Los Angeles.
But as much as his career will change because of his ability to seal the deal, Quick will just enjoy the success with his teammates and family like the class act that he is.