USA vs. Guatemala Live Stream: Online Viewing Info for 2014 World Cup Qualifier
June 12, 2016
J. Meric/Getty Images
The US men's national team wasn't completely dominant in their opening semifinal World Cup qualifying match with Antigua & Barbadu, but they were dominant to notch a 3-1 victory in the rain.
Now the Americans travel to Guatemala City to take on a Guatemala team with its back against the wall.
The Central American nation lost it's first match in CONCACAF Group A World Cup qualifying play to Jamaica, and know they desperately need a win against the favored US team.
The Americans should have no problem taking care of business, but this squad is no stranger to letdowns.
Where: Estadio Nacional Mateo Flores, Guatemala City
When: Tuesday, June 12, 10 PM ET
Watch: In Demand (PPV), DirecTV (Satellite Provider)
Live Stream: ustream.tv ($29.95)
Most Important Player: Clint Dempsey, Forward, USA
The Texas native continues to be the US' most reliable scoring threat. He netted his 26th career international goal in the qualifying opener from the penalty spot, and not wasting key opportunities such as that is beyond important.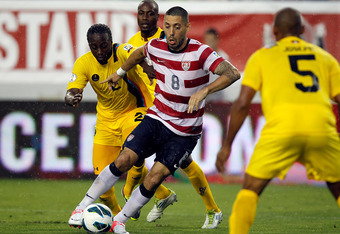 J. Meric/Getty Images
Going on the road is much different than playing in front of a home crowd when a potential World Cup berth is on the line, so Jurgen Klinsmann will be looking to rely on his veterans to help ease the pressure of the situation.
One way to do that effectively is to create opportunities and score goals. Dempsey must bring his A-game in Guatemala City.
Key Matchup: US Defense vs. Guatemala Counter Attack
The US' last win in Guatemala City (2008 World Cup qualifying) was their first ever win there in the team's history.
The dangers of a road qualifier are well documented, and it's crucial for the US to keep its head on straight and not allow easy goals in the counter attack should they push forward themselves.
We can expect Klinsmann to play a bit more conservative here, knowing full well that a loss is unacceptable, but they'll still look to score goals. 
Tim Howard and the American back line have to be ready should they be pushed at all.