New York Knicks: What Can Be Learned from NBA Finals?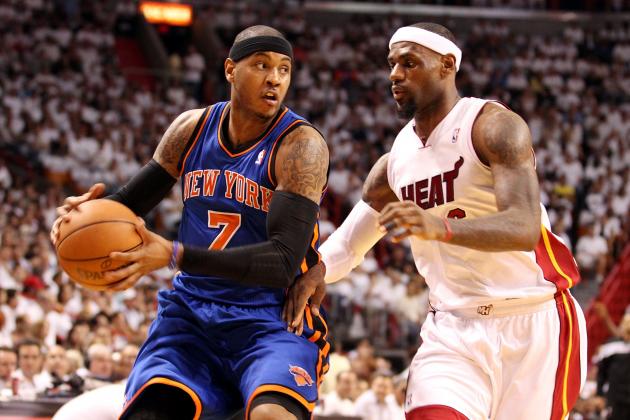 Marc Serota/Getty Images

With the Heat and Thunder set to square off in the final round of the playoffs, every eye in the league is on their two organizations. The New York Knicks have something to learn from the success these teams have achieved this season, as well as during the playoffs.
The Knicks finished the year as a No. 7 and lost to Miami in the first round of the playoffs. They were significantly outplayed in the five-game series and need to make some adjustments in order to have any success going forward.
This Knicks team actually bares a striking resemblance to the Miami Heat, but with one huge missing piece. Carmelo Anthony is the Knicks, LeBron James-type player and Amar'e Stoudemire can be compared to Chris Bosh. But, there is nobody nearly as talented as Dwyane Wade in the shooting guard position. Last season, the Knicks looked for that guy to be J.R. Smith. As well as Smith played, he is no comparison to Dwyane Wade.
The Knicks have a different version of, "The Big Three," and with two of the three being big men, their game is going to have to be different from Miami's. In a perfect world, Stoudemire and Tyson Chandler would be a frontcourt similar to the championship Spurs teams that featured Tim Duncan and David Robinson down low.
Unfortunately, it hasn't worked out like that for the Knicks and they will have to take their cues from somewhere else. Where to look? Well, many lessons can be learned from the two teams in this year's finals.
Begin Slideshow

»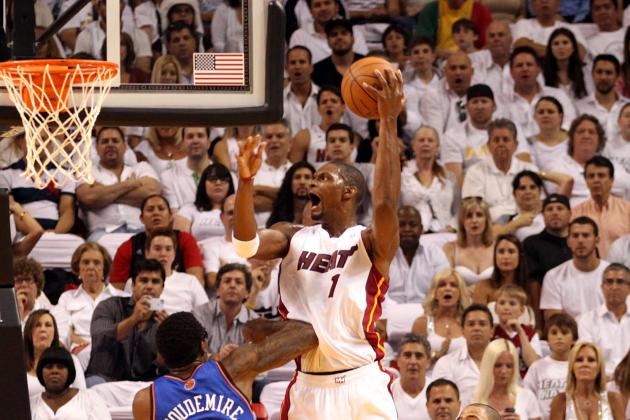 Marc Serota/Getty Images

In Game 7 of the Eastern Conference finals against the Boston Celtics, Chris Bosh came back from his abdomen injury and did exactly what a team with this much talent needed him to do. Bosh went 8-of-10 from the floor (3-of-4 from behind the arc), scoring 19 points and grabbing eight rebounds.
This is the type of performance that Amar'e Stoudemire needs to take notes on. STAT would probably hate to hear this, but he has got to come to terms with the fact that he is not the big dog on this Knicks team. He needs to be the power forward who plays some defense and takes some high-percentage shots, leaving the big point totals to Carmelo Anthony.
There is also something to be said about Bosh's sudden ability to hit from long range in Game 7. Surely his game isn't centered around it, but both Bosh and Stoudemire have had success with the mid-range jumper in their career.
In the 2010-11 BC (before Carmelo) season, Stoudemire was playing MVP-type ball with his biggest weapons being his jump shot below the arc and his monster dunks. Even though this offense is not centered around him anymore, getting back these two weapons, which he seemingly lost during this entire season, would become a big help for the Knicks.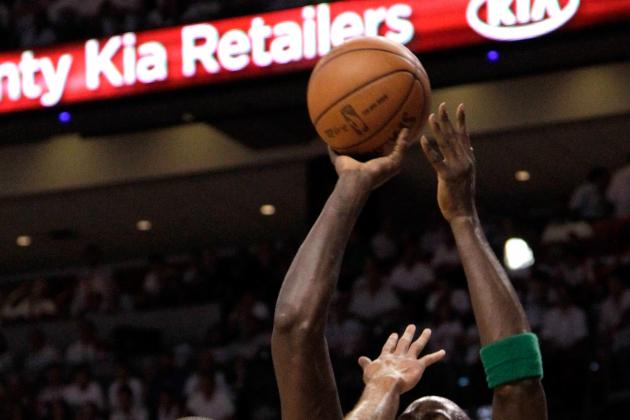 Mike Ehrmann/Getty Images

We all saw this throughout the entire playoffs, Miami Heat coach Erik Spoelstra took Shane Battier and had him all over their opponent's best scorers. Battier was called on to lock down Carmelo Anthony, Danny Granger, Paul Pierce and will probably be the guy to match up Kevin Durant in the finals. While it wasn't exactly a lock down, Battier frustrated these three superstars and was a reliable defensive workhorse.
Who will this guy be on the Knicks? Who can Mike Woodson call upon to step up and shut down a guy like Durant or LeBron James? Jared Jeffries is a good player defensively, but he is a big man who really can't keep up with these high-scoring small forwards. The same problem goes for Josh Harrelson and other guys like Iman Shumpert actually aren't big enough.
This forces Carmelo Anthony to try and do too much for the club in one game. He shouldn't be excused from playing defense, but he should not be the guy who has to chase the best scorers in the world all over the floor and then be the centerpiece of the offense.
If there is one player on the Knicks that can turn into this type of player, it is Landry Fields. Fields is 6'7" and can frustrate a lot of good scorers and help his team by putting more emphasis on his defensive game.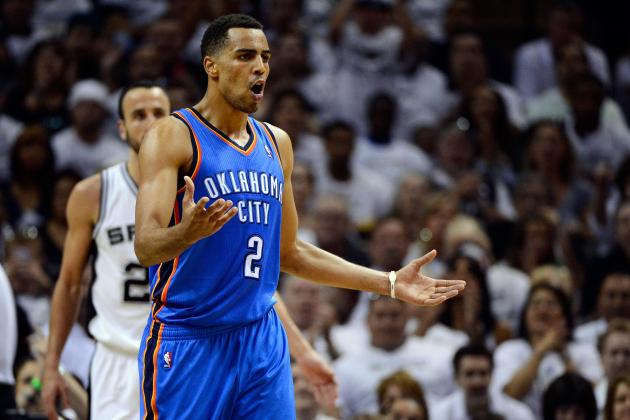 Ronald Martinez/Getty Images

The Oklahoma City Thunder have a big gift in Thabo Sefolosha, to go along with their big three. The 6'7" shooting guard is the Thunder's best defensive option and will have to shut down Dwyane Wade in order for OKC to have any success in these finals. Sefolosha came up big when coach Scott Brooks called upon him to lock down Spurs point man Tony Parker.
As it was said in the previous slide, the Knicks need somebody to shut down some of the league's prolific scorers in that small forward position. They could also use a player who is big enough to cover a great shooting guard like Dwyane Wade, but quick enough to lock up a point guard like Parker or Russel Westbrook.
Landry Fields spreads himself very thin in this arena. He is a 2-guard but he is better suited defensively for a small forward. Iman Shumpert played this role for the Knicks last season and actually proved to be very good. But Shumpert tore his ACL in the first game of the playoffs and is on a long road to recovery. Even when Shump does make his return, the quick lateral movements that are needed to play defense are not kind to the knees and he may not be the defender he was.
The same goes for Jeremy Lin, the point guard that most of New York want to see back in a Knicks jersey next season. His surgically repaired meniscus will have to hold up if he wants to become this shut-down guard. It is doubtful that head coach Mike Woodson will look to Lin to play this role. J.R. Smith played well at times defensively, but his tendency to take plays off makes him an unreliable option in this spot.
This player is probably not on the Knicks roster. The shut-down 2-guard will more than likely have to come from the draft or free agency.
Jeff Zelevansky/Getty Images

The Thunder's big three consist of: a point guard, a shooting guard and a small forward.
The Heat's big three consist of: a shooting guard, a small forward and a power forward.
The Knick's big three consist of: a small forward, a power forward and a center.
The Knicks need to realize that they are a completely different team than the Heat or Thunder. The comparison was made in the introduction slide to the old Spurs team with Tim Duncan and David Robinson. Pair this type of play up front with one of the best scorers in the NBA and there should be a successful basketball team somewhere in here.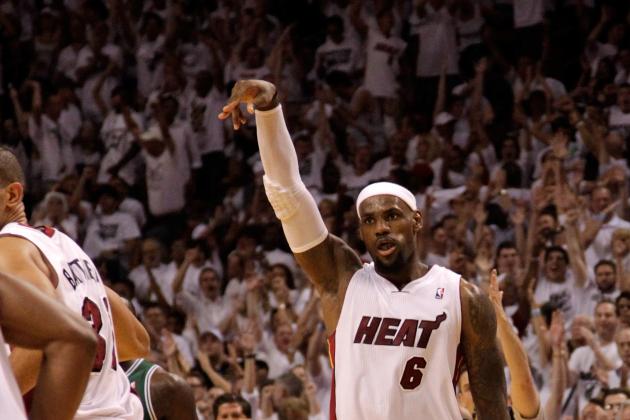 Mike Ehrmann/Getty Images

In Game 6 of the Eastern Conference finals, LeBron James showed what it means to unleash the beast. With Miami's backs against the wall down 3-2 in the series, King James put up 45 points, five assists and 15 rebounds.
When you're that good and you have the ability to take over a game like that, you have to know when it needs to be done. This right here is a lesson for Carmelo Anthony. Anthony should play the coach's game as long as he can but when the time comes, take the game over. There is no doubt that Melo has that ability, but he needs to know when to use it. He can't try and do this every game because eventually that leads to forced shots and angry teammates.