2012 NBA Finals: A Breakdown of LeBron vs. Durant and Other Angles
June 12, 2012

Mike Ehrmann/Getty Images
LeBron vs. Durant. The Cali kids (Harden and Westbrook) vs. The March Babies (a nod to Shane Battier, Dwayne Wade, Mario Chalmers, Mike Miller and Juwan Howard's NCAA Tournament buzz).
Scott Brooks vs. Erik Spolestra: two coaches who deserve to be under a microscope yet somehow are the last two standing.
A team built on free agency, trades and a few drafted players vs. a team built through the draft and trades. The modern team-building NBA vs. the old-fashioned way of building a team.
Finally, the two folks the media and casual fans have set up against each other will meet. And I will sit back and watch how Durant will be set up as what's right and James will be what's wrong like they are polar opposites.
It's going to be all of this ad nauseum instead of more discussions about how they are perhaps the two best basketball players on the planet. Which they are.
As I showed on my blog, Kevin Durant is going to be painted as the nice guy, because he typically only opens his mouth when asked. He's low-key enough to assume that persona because that's how he's been since his brilliant freshman season at Texas.
We know why LeBron James is the villain. He speaks up more and is an easy target because he's been a star who's embraced his stardom since his senior year of high school 10 years ago.
He's broken hearts, had an indulgent special announcing his free-agent decision and carries himself in a way most don't tolerate.
Never mind both folks are extremely driven on the court and play at a higher level than any of their peers. Both can take over a game and both are incredibly hard to stop.
James gets the edge for better all-around play on both sides, yet Durant is also growing as a defender. They are less opposites than mirror images, give or take a few things.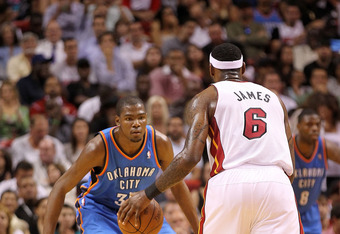 Mike Ehrmann/Getty Images
For me, I see another element at play. Typically, America tends to support black figures who are either humble or appeal to a mass audience (think Dr. Martin Luther King, Booker T. Washington, Floyd Patterson and Tim Duncan). Black figures that are outspoken rarely get the same respect in their time (think Malcolm X, Jack Johnson, Muhammad Ali, Floyd Mayweather, Allen Iverson).
Guess which side James and Durant fall into? It's all too predictable. It's not racist in any shape or form. Are there exceptions to the rule? Absolutely. It also happens with white athletes, too, i.e. Bryce Harper.
Yet far too often, I sense it happens with black athletes and it makes it hard to trust any idea of "rivalry" because it goes to rooting for a certain type to triumph. A type usually devoid of personality despite the fact that style doesn't always have to trump substance.
This "good vs. evil" debate ignores one key thing. LeBron was almost universally loved or envied until Game 4 in 2010. That game slowly changed his identity to a quitter: never mind that his teammates had checked out as well against a tougher Celtics team.
Ultimately, Durant right now is where LeBron was in 2007/2008. Young and in charge with moments that are making us go wow. He's also benefited having the best young running mate a superstar's had since Shaq had Kobe Bryant being All-NBA in his third season.
Russell Westbrook is miles better than any teammate LeBron has had except for Wade last season. James Harden has been a revelation as the third best player.
So take your personal battles. I've seen this game before, and I'm passing it by. I know folks will be rooting for OKC to spite LeBron and they have their right. Even if some make it ridiculous, it's their right to have that point as it's much my right to criticize the merits of their point.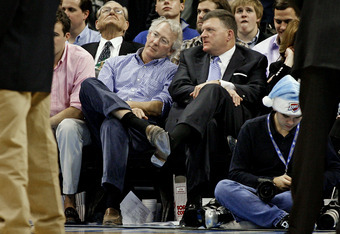 Brett Deering/Getty Images
Besides, there's a more fascinating "good vs. evil" debate: Miami representing the expansion of the NBA vs. Oklahoma City representing owners who engaged in some of the most polarizing behavior in recent memory.
The Heat are already the first expansion-era team (since 1988) to win a title and another would cement their success in another era. Good or bad, it's a hallmark of the David Stern era that will be something he can be proud of.
If the Thunder won, it means that owners Clay Bennett and Aubrey McClendon would hoist a trophy four years after they swindled Seattle out of an NBA team. It's a black mark of the Stern era considering his role and the nature of how the Sonics left Seattle.
Bennett and McClendon purchased the Seattle SuperSonics in 2006 and reports have indicated that they had no plans of keeping the team there despite promises to the contrary.
After being rebuffed in an attempt to ask for public funds in buying a new stadium and with David Stern in their corner asking for one, they slowly began plans to move the team to Oklahoma City.
More information can be found at Sonicsgate.com or in Dave Zirin's recent editorial at the Nation. It's a worthy argument to be made and while it's true teams leave all the time, what happened in Seattle is only comparable to the Baltimore Colts leaving Indianapolis under darkness or the Dodgers leaving Brooklyn.
This isn't hating on the Thunder fanbase or the players; it's more saying that the way they got the team wasn't right. There will no doubt be as many folks rooting against the Thunder for this reason as there will be folks rooting against the Heat due to personal dislike.
But let's talk matchups. Oklahoma City has run through the old guard of the West with a potent combination of young legs, lethal scoring, deep bench, defense and experience. Serge Ibaka, Kendrick Perkins and Thabo Sefolosha are perfect defensive counters to Kevin Durant, James Harden and Russell Westbrook's offense. Perkins and Derek Fisher provide the leadership and even temper to keep everyone focused on the goal at hand.
This might be the best young NBA Finals team since the 1995 Orlando Magic had six of their first seven rotation guys with six or fewer seasons of experience (Shaquille O'Neal, Anfernee Hardaway, Nick Anderson, Dennis Scott, Donald Royal and Brian Shaw).
Meanwhile, Miami is fresh off outlasting an older Boston team in seven games. LeBron James has clearly shown that he is ready to step on throats when necessary.
He's rebounded a lot better and he's not afraid to defend anybody on the court. To shut up his critics, he had two outstanding back-to-back games to save his team's season.
Chris Bosh appears to be healthy and his Game 7 performance could be a sign of things to come as helping Miami's biggest weakness, big men besides Udonis Haslem.
Mario Chalmers is proving to be as reliable as any role player on Miami but you have to gamble on what you get from Shane Battier and anybody else.
And what of Dwyane Wade? Entering his third Finals, I see a mortal Flash. As good as Wade still is, I see him working a lot harder for his shots. He's still good for being game-planned but I see him as a target for Sefolosha's defense as much as LeBron.
I can't see Miami's lack of depth saving them against a younger, hungrier team. With LeBron and Durant cancelling each other out, it'll come down to how can Miami stop Westbrook and Harden vs. how Oklahoma limits Wade and Bosh's impact.
My prediction? My heart says Miami, but my mind and on-court analysis is saying Oklahoma City in six. So let's sit back and enjoy what should be a great series.