Don't look now, but the Los Angeles Angels of Anaheim are finally getting into gear after a slow start.
This weekend, the Angels made the most of their trip to Colorado by getting their seventh, eighth and ninth straight road wins while scoring 28 runs against the Rockies. Last night against the Dodgers the offense cooled off a bit, but still managed to get the win and pushed their streak to 10 straight.
Of course it seems like every team manages to get into swing in Denver, but for the Angels this winning streak has helped push the Halos past the .500 mark and back in the AL West race with Texas.
Even more encouraging is that the heart and soul of the order is looking like it could not only compete, but potentially help push past the defending AL Champs and take control of the division.
Yet before we get too far ahead of ourselves, the Angels are still in the process of finding the right balance of talent in the batting order given the talent they have available.
Meanwhile, making matters even more difficult for Angels skipper Mike Scioscia is figuring out the team's defensive alignment, especially without the DH against the NL.
Case in point came Friday night, when Albert Pujols moved to third base in order to help get Kendrys Morales in the lineup and the field against Colorado. It's a nice gesture by the veteran to shift for Morales, but is it a long-term solution?
What about the man who was supposed to play third base for the Angels, Mark Trumbo?
While it's certainly not the worst problem for a ballclub to have at this point in the season, I figured it might be worthwhile to piece together some thoughts in favor of Pujols staying at third base for the moment while the team finds a position for Trumbo.
Where should Trumbo play?
Is Moving Pujols Smart Defensively?
While I will offer a warning that we only have a small sample size to work with for Pujols playing third base historically, so far he doesn't look too out of place across the diamond.
Even if he does make an error occasionally, he's human and it probably won't ruin him; after all he's won two Gold Gloves.
Could the Move Affect Pujols at the Plate?
Let's get to the heart of the matter and everyone's real concern.
Pujols' struggles in April are a distant memory now.
Yes he switched teams and leagues, got off to a slow start, but the man is a professional and appears to have got his swing back in order.
If you can look past his batting average, his stats are right up there with anybody else right now.
Could a move to third base ruin Pujols' resurgence as B/R MLB Lead Blogger Ian Casselberry posted a few days ago?
I'm guessing no, as the man is arguably one of the best players in baseball the past decade and a team player who will do whatever it takes to win.
Will Pujols have a monster year along the lines of his prime seasons in St. Louis?
Perhaps not; at the same time though, expect that he will make his hits count over the course of the season, just like he did against the Dodgers last night.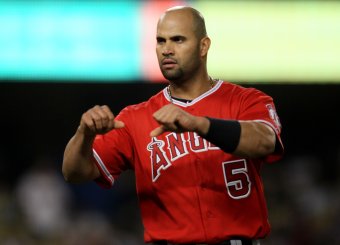 Stephen Dunn/Getty Images
Where is Trumbo Best Suited to Play?
Hard to say right now, but as long as he keeps hitting the cover off the ball, who cares?
No matter where Mike Scioscia sticks Trumbo in the field it doesn't seem to matter.
In time Trumbo will probably need to find a position, but even the Angels skipper doesn't seem to be in any major rush, as noted in The Sports Xchange in their interview with Scioscia a few days ago discussing the issue...
"He'll still work out at third and we'll revisit it at some point. But right now I think the positions that he'll be playing will be the corner outfields, first base and DH, obviously."
Translation: Scioscia isn't going to let this bother him today.
He probably figures he has a veteran (Pujols) who will run through a wall if necessary and a kid (Trumbo) that can simply rake. Usually the youngster makes the adjustment in such cases, but in some ways he already has by playing just about everywhere as Scioscia mentioned.
Deep down you also get the feeling that Scioscia doesn't see Trumbo as his best option at third, especially when you factor in the absence of Vernon Wells in the outfield at the moment, so why mess with what appears to be working?
Simply put, Scioscia is looking to optimize the talent he has available.
Therefore, expect the team to continue to shuffle players around for the near future, but if Scioscia is going to practice what he preaches don't expect to see much of Trumbo at third.
If that means Pujols gets the lion's share of starts, so be it.