NBA Draft 2012: The 10 Best Leapers in This Year's Draft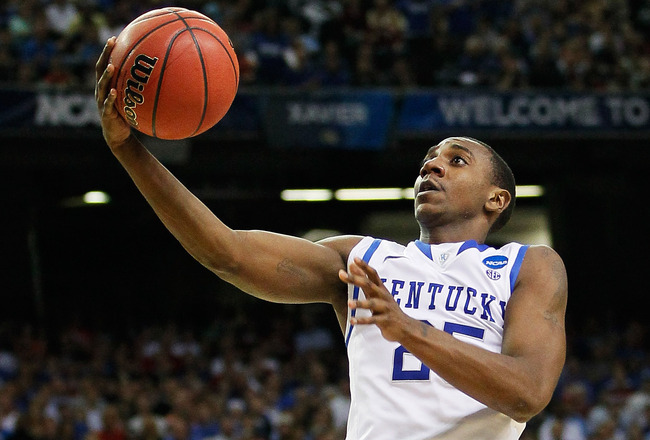 Kevin C. Cox/Getty Images
At the 2012 NBA draft combine in Chicago last week, prospects were assessed on a variety of athletic tests, including vertical leaping.
It's always interesting to see who stands out in the pre-draft workouts, especially the max vertical measurements, where we get to see who has the best raw jumping ability in the draft class.
There were a couple of mid-major stars who turned in excellent vertical performances, and three different SEC teams boasted top-10 leapers. Tobacco Road was also well represented.
So who can bounce the highest in the 2012 NBA draft class? Here are this year's top 10 leapers.
10. Damian Lillard, Weber State Wildcats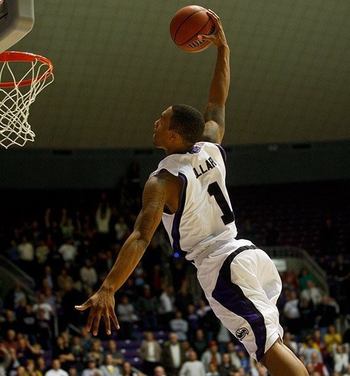 Photo Courtesy of Hornets247.com
Height: 6'3"
Max Vertical: 39.5"
Although he's one of the best guards in the country, there was a lot of mystery surrounding Damian Lillard entering the combine because he didn't face any major competition this year.
He answered a lot of doubters during the workouts, both skill-wise and athletically.
The Weber State guard proved that he has plenty of bounce to play in the association, clearing nearly 40 inches on his three-step vertical leap.
With such an impressive performance in Chicago, Lillard is now a lock to land in the lottery.
9. Orlando Johnson, UCSB Gauchos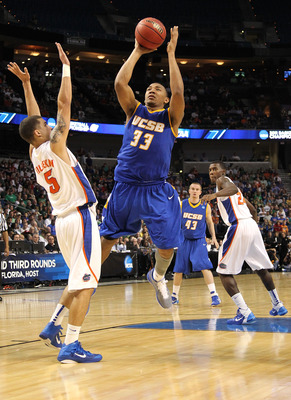 Mike Ehrmann/Getty Images
Height: 6'5"
Max Vertical: 39.5"
UC Santa Barbara's Orlando Johnson led the Big West Conference in scoring in 2011-12 and hopes to get picked up by a team looking for a shot-creating wing.
Johnson's numbers were slightly down his senior year compared to his junior year—except for his vertical jump measurements, which seem to be just fine.
The best-case scenario for Johnson would be a mid-second-round selection. The worst case would see him go undrafted.
8. Harrison Barnes, UNC Tar Heels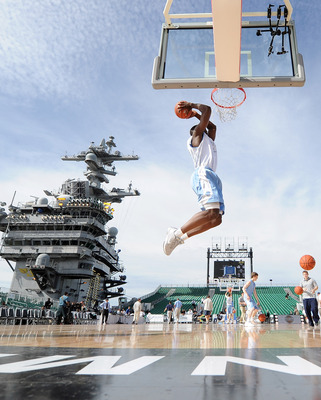 Harry How/Getty Images
Height: 6'8"
Max Vertical: 39.5"
Sometimes Harrison Barnes' athleticism is deceiving because he's so long and moves with such ease.
I don't think too many people doubted his springs, so this combine result is just a validation of his physical tools.
North Carolina's star forward doesn't turn heads on every play because he's a jump-shooter, but once in a while, he explodes to attack the rim and embarrass the defense.
Barnes has the makeup of a prototypical NBA small forward, and he could potentially be an All-Star swingman in the future.
7. Tony Mitchell, Alabama Crimson Tide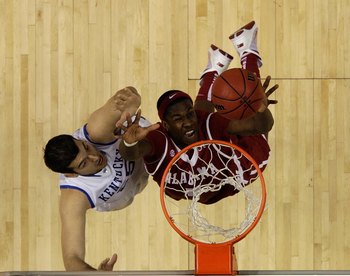 Andy Lyons/Getty Images
Height: 6'6"
Max Vertical: 40"
One of the best leapers in the Southeastern Conference, Alabama's Tony Mitchell grabbed seven rebounds and blocked 1.4 shots per game despite his average height.
His solid frame, 6'10" wingspan and vertical prowess help him out-jump players much taller than him.
There might be some questions about Mitchell's character after his team rules violation and suspension this spring, but no one questions his aerial aptitude.
6. Marcus Denmon, Missouri Tigers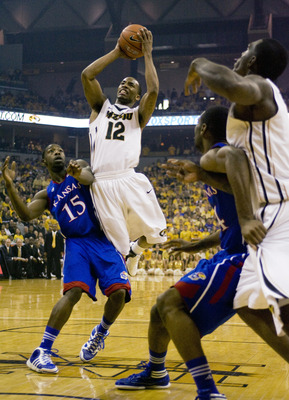 Ed Zurga/Getty Images
Height: 6'3"
Max Vertical: 40"
The Missouri Tigers had arguably the best backcourt in the country in 2011-12, and Marcus Denmon led the way with some big games and clutch shots.
His skills say he's a 2 guard, but he's substantially undersized, which makes him a long shot to get drafted.
But if any teams are considering drafting Denmon, athleticism is the least of their worries.
He and his fellow Mizzou guards are an acrobatic bunch, as evidenced by this dunk contest highlight.
5. Jeffery Taylor, Vanderbilt Commodores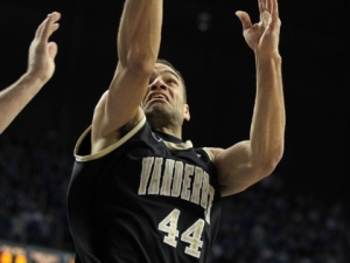 Andy Lyons/Getty Images
Height: 6'7"
Max Vertical: 40"
There's no shot in basketball with a higher percentage of conversion than the slam dunk, and Vanderbilt's Jeffery Taylor takes advantage of those odds whenever possible.
He's not exclusively a dunker, but he does have a nose for the basket to get easy layups in the paint. It also helps when you can jump out of the gym.
The Commodore senior can score from the perimeter too. He improved his outside shooting exponentially from his freshman to his senior year: As a freshman he made one three every 89 minutes, and as a senior he hit one every 18 minutes.
4. Miles Plumlee, Duke Blue Devils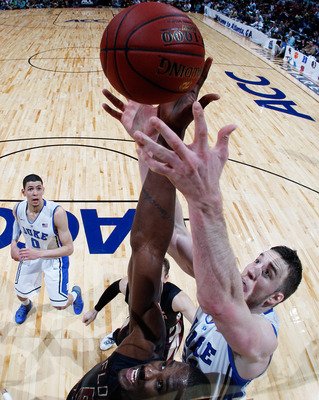 Kevin C. Cox/Getty Images
Height: 6'11"
Max Vertical: 40.5"
His brother Mason is the better all-around player, but Miles Plumlee thrilled Duke fans with some spectacular finishes and outstanding rebounding performances.
For example, Plumlee ripped down 22 rebounds in 28 minutes during the Blue Devils' drubbing of Maryland in February. He used his 40.5" vertical and muscular build to physically dominate the game.
He could serve as a valuable energy forward off the bench in the NBA if he can improve his offensive game.
3. Marquis Teague, Kentucky Wildcats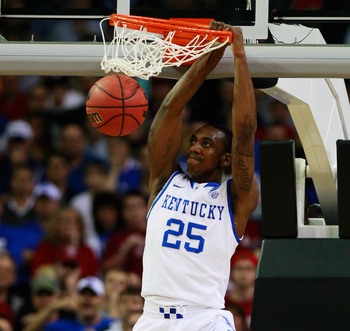 Kevin C. Cox/Getty Images
Height: 6'2"
Max Vertical: 40.5"
On a team well stocked with elite athletes, Marquis Teague owned the best vertical. He can get from the top of the key to the rim faster than almost any player in the game.
The Kentucky Wildcat floor general was a tough cover for SEC opponents, as his quickness and agility were far superior to other guards.
Whether it was a half-court set or a fast break, everyone was a step too slow for him.
Teague's proficiency at the point throughout Kentucky's run to the NCAA title helped his already high draft potential. He's a solid first-round selection.
2. Josh Owens, Stanford Cardinal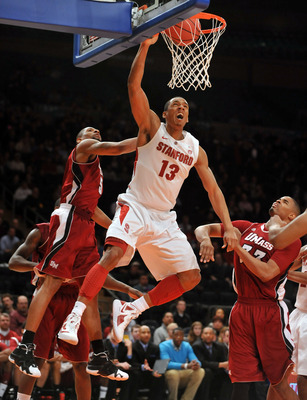 Jason Szenes/Getty Images
Height: 6'9"
Max Vertical: 40.8"
Josh Owens used his size and springs to do a bunch of damage in the paint for Stanford during its run to the NIT title.
The Cardinal power forward/center not only had the second-best vertical in the combine, he also registered the top bench-press performance of any prospect, hoisting the 185-pound barbell 21 times.
Despite these impressive numbers, Owens will be lucky to hear his name called on draft night. His age and lack of upside or production will make teams wary to take a chance on him.
1. Darius Johnson-Odom, Marquette Golden Eagles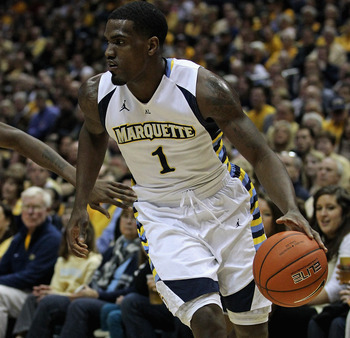 Jonathan Daniel/Getty Images
Height: 6'3"
Max Vertical: 41.5"
With a combination of shooting prowess and startling explosiveness, Marquette's Darius Johnson-Odom was one of the most dangerous players in the Big East throughout his career. The lefty's blinding speed and ball skills helped him routinely beat the defense to the tin.
Here's some extraordinary footage of what the Golden Eagle can do with the ball once he reaches the hoop.
Johnson-Odom is undersized for a shooting guard, but that won't stop him from finding a spot in the league. His energy and scoring ability will help him earn a reserve role as a combo guard.
Keep Reading