NBA Draft 2012: 5 Prospects Who Could Become Hall of Famers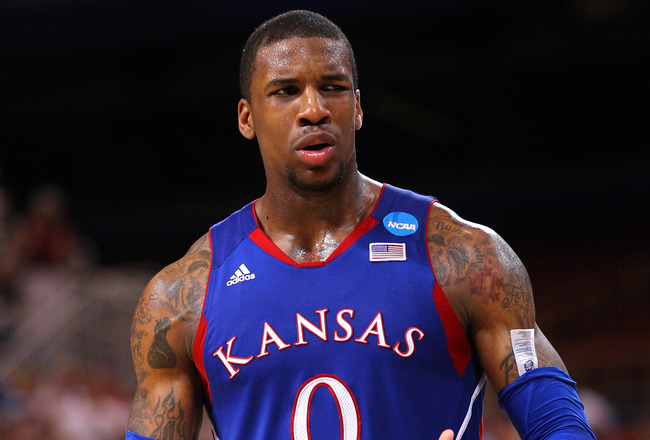 Dilip Vishwanat/Getty Images
The 2012 NBA Draft is sure to produce a couple of stars and quite a few reliable role players.
This insanely deep draft could also crank out a future Hall of Famer or two.
This slideshow will spotlight five prospects who could make the trip to Springfield one day following their NBA careers.
Who made the list? Will you see Kentucky defensive stud Michael Kidd-Gilchrist? Or what about the sweet-shooting Harrison Barnes from North Carolina?
Keep reading and you'll find out.
5. Kendall Marshall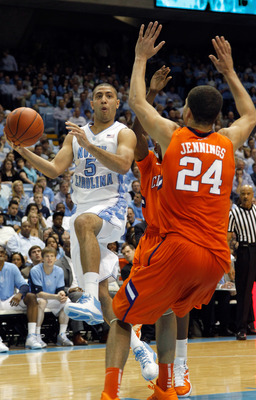 Streeter Lecka/Getty Images
Marshall isn't a lockdown defender and can't shoot the ball like Reggie Miller.
And no, he doesn't have mind-blowing quickness either.
What makes him a possible future Hall of Famer is his ability to pass the ball. He simply makes his teammates better.
This past season, Marshall's injury was probably the main reason North Carolina failed to reach the Final Four.
Marshall could eventually go down as one of the NBA's all-time assist leaders. That's a bold statement, but with his passing ability, it's certainly not impossible.
4. Andre Drummond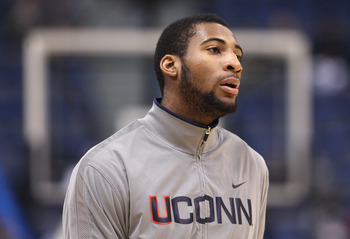 Elsa/Getty Images
Drummond might end becoming a draft bust like Hasheem Thabeet, another former Connecticut big man.
On the other hand, he just might end up as the next Dwight Howard.
Drummond didn't put up sensational numbers during his one-and-done year at UConn (10.2 points, 7.7 rebounds and 2.7 blocks per game). Still, he's only 18 and has a lot of time to develop into a superstar NBA big man.
He has an NBA-ready body—6'11", 275 lbs—and if he ever picks up a post game, look out.
3. Thomas Robinson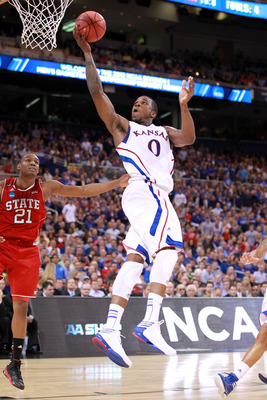 Andy Lyons/Getty Images
Robinson is perhaps the most NBA-ready player in this year's draft.
The 6'9" forward out of Kansas has the tools to develop into a consistent 20-point, 10-rebound guy at the next level.
He's athletic, has a 7'1" wingspan as well as an extremely high motor.
Unless something really strange happens, Kentucky's Anthony Davis will be the top pick in the draft.
However, years from now, there might be a lot of people out there who feel Robinson should've been the first player taken.
2. Damian Lillard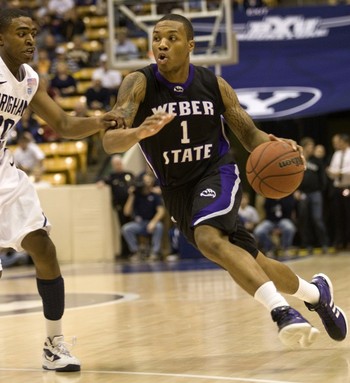 Photo credit to standard.net
Playing his college ball at tiny Weber State, Lillard didn't get to face college basketball's top competition.
That doesn't mean he won't turn into a Hall of Famer at the next level, though.
Several stars in NBA history played for small schools such as Scottie Pippen, Dennis Rodman and two-time league MVP Steve Nash.
It's possible that Lillard could blossom into the NBA's next elite point guard, joining the likes of Derrick Rose and Russell Westbrook.
Lillard has the ability to get to the basket with ease and shoots nearly 90 percent from the free throw line.
1. Anthony Davis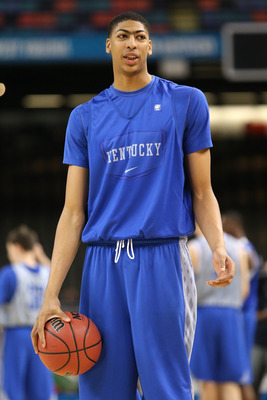 Ronald Martinez/Getty Images
You knew the kid with the famous unibrow was going to make the list, right?
Because of his build and amazing shot-blocking ability, Davis is often compared to Marcus Camby. No disrespect to Camby—he has had a respectable career—but Davis has the potential to become a much, much better pro.
Other than blocking shots at a high level, Davis is super-athletic and can rebound, run the floor and handle the ball.
Don't be surprised to see him develop a great offensive game and emerge as the next Kevin Garnett.
Keep Reading