10 Reasons to Be Excited for the NBA Finals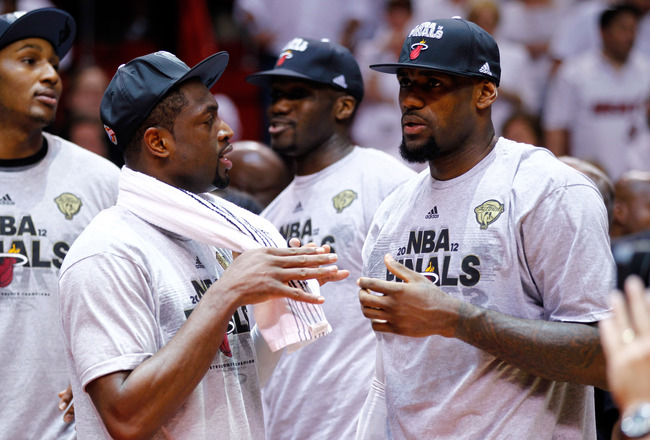 Mike Ehrmann/Getty Images
Well, America got the teams it wanted. The Miami Heat take on the Oklahoma City Thunder for the NBA Championship, and this series is one of the more hyped finals match ups in a long time.
Many are predicting a six- or seven-game series, and if it goes that long, we are sure to be in for some amazing games.
Here are the top 10 reasons to get excited about the 2012 NBA Finals.
LeBron James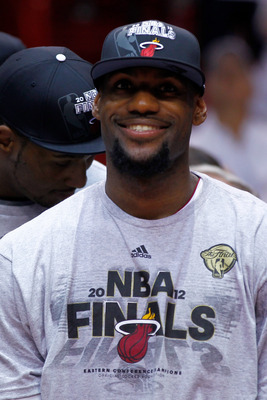 Mike Ehrmann/Getty Images
I am one of the biggest LeBron haters out there. Not because I don't think he is good, but because I believe he could be so much better. In the last two games of the Boston series he morphed into the killer everyone hopes he can become.
Even the biggest LeBron hater can probably admit that he's the most talented player in the league. What he does with that talent is often the reason he is criticized so harshly.
This could be the first opportunity for James to get over the championship hump, and the Thunder are an ideal opponent to do it against. They are going to test everything he has, and make him play his best basketball to be victorious.
If LeBron is hoisting the Larry O'Brien Trophy in the next few weeks, we will have probably witnessed the best basketball of his career. Either way, James is about to have a riveting series.
Either he will dominate and become the best player in basketball hands down, or he will choke again, and have to wait yet another year to redeem himself.
Kevin Durant vs. LeBron James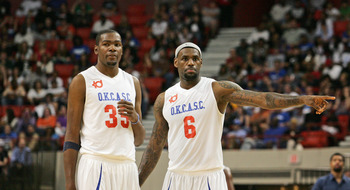 Brett Deering/Getty Images
This is the matchup everyone has been hoping for. How much time these two stars will actually spend on each other remains to be seen, but there is no doubt that at many points during the series these two will be guarding each other.
Can James, one of the best defenders in the league, defend the best scorer in the league? Can Durant handle LeBron's physical play? The Thunder have so many offensive weapons that it is hard to double onto Durant, which should leave James as the primary, and only, defender.
If there is anyone who can control Durant's offense, it should be LeBron, but this matchup is sure to be highly scrutinized and could produce fireworks.
Battle of the Big 3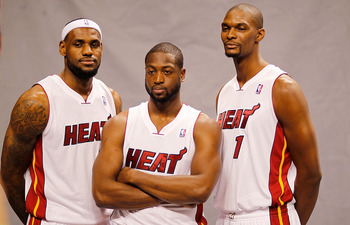 Mike Ehrmann/Getty Images
The term "Big 3" is thrown out to a bunch of teams these days, and the term has lost its significance. Nonetheless, both these teams are led by three main players who make up most of the scoring.
This is probably going to be a high-scoring series, so whichever teams best players can be more efficient may end up taking it. Right now, the Thunders' three-man attack of Durant, Russell Westbrook and James Harden is running smoothly, and Harden has really broken out these last few weeks.
The Heat boast a lineup that includes James, Dwyane Wade and Chris Bosh. Bosh is coming back from an abdominal injury, so his health is a big question mark for the Heat. Wade has had a very up-and-down playoffs, but if these three click with each other, there is no question they could overtake the Thunder's three superstars.
High-Octane Offense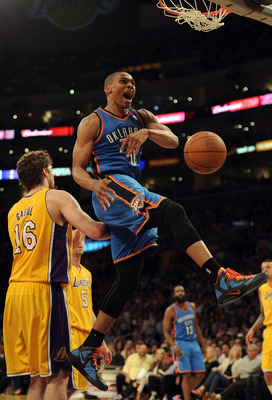 Harry How/Getty Images
If you are introducing someone to the NBA or basketball in general, I can't think of a better series to do it with. There is going to be some great defense in this series, but rest assured there will also be offense.
Two of the best in-game dunkers in Westbrook and James are competing, and Durant, Wade, Harden and a whole host of others can throw down with the best of them.
Look for some highlight reel dunks and long bombs from three-point range to have a big impact on this series.
Philosophies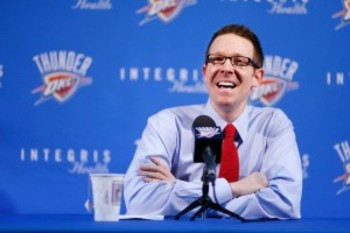 Jim Beckel, The Oklahoman
Pictured is Sam Presti, the general manager for the Thunder. Often considered one of the smartest GM's in the league, Presti has carefully built the Thunder from the ground up, drafting Durant, Westbrook and Harden and adding role players who complement them perfectly.
For the Miami Heat, their philosophy was quite different. They still went out and got three of the best players in the league, but they didn't use the draft, instead luring Bosh and James in free agency. The Heat remind me of a big corporation that always lures away the best businessmen. The Thunder are a small business that has gradually grown into the power that they are today.
Both strategies have proven correct, as both teams made it to the NBA Finals. In many respects, this series isn't just the Heat vs. Thunder, but their front office styles as well.
Chris Bosh vs. Serge Ibaka and Kendrick Perkins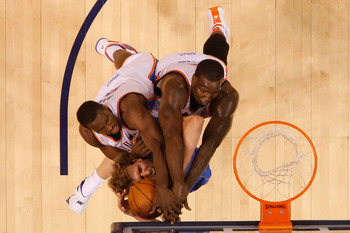 Ronald Martinez/Getty Images
While the Thunder are led by their three-headed offensive attack of Durant, Westbrook and Harden, their heart and soul comes from their back line.
Serge Ibaka and Kendrick Perkins represent two of the best defensive big men in the game. Perkins knows how to play one-on-one low post defense expertly, and Ibaka is the best in the league at coming from the weak side and getting a monster block.
With Chris Bosh coming back from injury and still not at 100 percent, the Thunder may be able to shut down a vital member of the Heat. Whoever the Thunder throw at him will be a tough match up, and Bosh is going to need an excellent offensive series to minimize the effects of the two giants down low.
Benches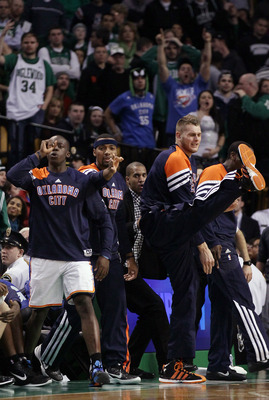 Elsa/Getty Images
The biggest story of the finals is going to be on the star players, but in the end it may come down to which bench can perform better.
The Thunder have an automatic advantage with James Harden being the Sixth Man of the Year, but he plays starters minutes and is often relied on as a starting player.
Other players such as Nick Collison, Thabo Sefolosha, Derrick Fisher and Daequan Cook need to step up for Oklahoma City. Collison represents another excellent defender the Thunder can throw at Bosh, while Fisher and Cook are streaky three-point specialists.
On the Miami side, their bench has been going through a bit of a slump lately. Shane Battier, Mike Miller and Norris Cole need to step up and hit big shots if the Heat hope to win this series.
Battier has shown his age throughout the playoffs, but is still trusted enough to play big minutes guarding Durant. If he can pull back the clock and get back to his gritty defense, he could give the Heat a huge advantage in this series.
Each team needs both scoring and defense from its respective benches, and whoever gets more should come out on top.
Defense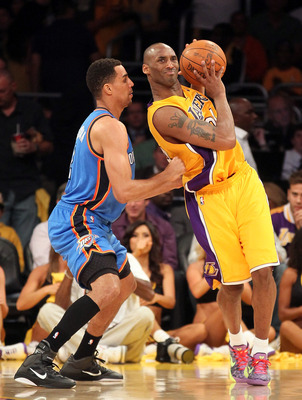 Stephen Dunn/Getty Images
Each of these teams have explosive offenses, but they also possess great defenders as well.
For the Heat, LeBron James is one of the best defenders in the league. He will be matched up on Durant most of the series, and he should be a great foil for the best pure scorer in the game.
On the back line, Joel Anthony is a player who is fearless protecting his rim. When Westbrook and Harden drive the lane, Anthony and the other Heat forwards need to make it clear that there are no easy baskets.
The Thunder posses two of the best defenders in the whole league on their roster. Thabo Sefolosha has become one of my favorite players for his defensive work for OKC, and he did a fantastic job guarding Kobe Bryant and Tony Parker. In this series I would expect him to take on Dwyane Wade, who is one of the craftier players in the league.
Ibaka was the league leader in blocked shots, and could be able to negate James and Wade's easy baskets. Whether Sefolosha and Ibaka can slow down the Heats explosive offense should be one of the main storylines heading into the series.
Dwyane Wade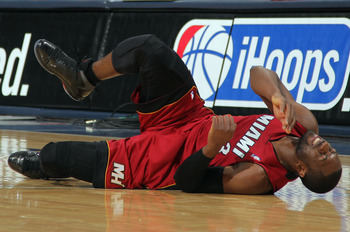 Doug Pensinger/Getty Images
Dwyane Wade has been hot and cold this postseason. He single-handedly crushed the Pacers in Game 6, but disappeared for long stretches of the Boston series. While James is the best player on the Heat, Wade is their former champion and heart of the team.
If he can snap out of his small slump and be the explosive player of old, the Heat will have a much easier time handling the Thunder. If not, Bosh and James are going to have to pick up the slack, and the Heat will have a hard time downing Oklahoma City.
Press Conferences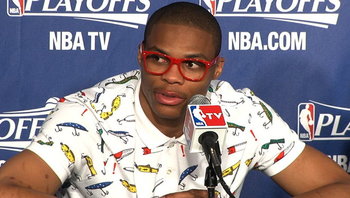 Courtesy of NewsOK.tv
Hipsters.
Or at least, they're trying as hard as they can to be hipsters. These two teams represent the two strangest dressing teams in the league. Whether it's Westbrook wearing a shirt with fish on it (as shown above) or this infamous picture of Wade wearing the tightest shirt he could find and James carrying what can only be described as a man-purse, these two teams are always entertaining.
Kevin Durant is known to show up at press conferences with a backpack on, and both teams have an affinity for glasses with no rims in them.
Whatever the results of the actual games are, if you truly want to be entertained, make sure to check out the press conferences after the game. You wouldn't want to miss what these guys are wearing, would you?
Keep Reading