Denver Broncos Training Camp: Defensive Tackle to Be Biggest Position Battle
June 12, 2012

Doug Pensinger/Getty Images
One of the biggest areas that the Denver Broncos struggled with on defense last season has become one of the most hotly contested positional battles during the 2012 offseason: defensive tackle.
Early on in 2011, the Broncos lost key players for the season after watching newly acquired beast Ty Warren go down early last season with a triceps tear. Then, Kevin Vickerson suffered a season-ending ankle injury. Both have agreed to take paycuts and appear to be healthy for the 2012 season.
The Broncos also have a couple of new faces on the roster at defensive tackle. The biggest name is this season's second round draft choice, Derek Wolfe, who finally joins the entire team after collective bargaining agreement stipulations left him off the field during the recent voluntary organized team activities (OTAs). Another new face who will be with the team now on a permanent basis is Ben Garland, an Air Force serviceman who was granted a permanent leave to join the Denver Broncos.
Another new face on the roster whom the Broncos are very familiar with is Justin Bannan, a beefy, late-blooming defensive lineman from the University of Colorado who has spent a previous season with the Broncos. He consistently produces and is an above average run-stuffer on the line.
Second-year nose tackle Sealver Siliga is another huge body in the middle who will be looking to instantly impact the team, especially if the injury bug bites again in 2012.
Mitch Unrein is entering his fourth season in the Broncos organization. He has been around mostly in a reserve role but has hopes to earn a bigger role on the team in 2012.
Six guys are vying for just two starting spots on the defensive line.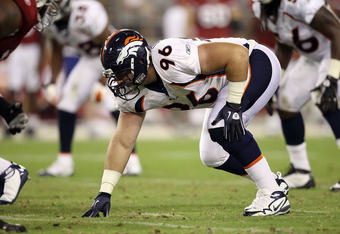 Christian Petersen/Getty Images
Ty Warren would be the likeliest candidate for nose tackle this season. However, he has been unable to remain healthy for an entire season since 2007. He was lost all of last year after an injury in the preseason and all of 2010 with a hip injury that required surgery. In 2008 and 2009, he only managed to play in 13 games during both seasons. He has re-worked his contract to make a base salary of $1.5 million with a guaranteed $250,000 signing bonus, which he receives regardless of whether or not he plays.
Warren's biggest competition will likely come from Justin Bannan, who has played some nose tackle in his career, and Sealver Siliga, the up-and-coming young player with little experience but lots of upside. This battle will be a very heated one, as the Broncos will evaluate the position all throughout camp.
The other defensive tackle position looks to be rookie Derek Wolfe's for the taking. He will be fighting Kevin Vickerson—the longest tenured Bronco on the line— for the spot, but Wolfe is John Elway's handpicked DT of choice for the future.
Ben Garland will also be scrapping for the spot; however, he will more likely be competing with defensive ends for a position outside. Mitch Unrein is a wildcard who the coaching staff is high on, but he has yet to make any headway in securing more playing time in recent years.
Right now, it is anyone's guess as to how the offseason will unfold for the defensive line. So, as we head into mandatory OTA's on Tuesday, let the games begin.