NBA Finals 2012 Preview: Oklahoma City Thunder vs. Miami Heat
June 12, 2012

Finally, the NBA Finals are here. Okay, so maybe we didn't have to wait the usual eight months for the series, only six months thanks to the shortened season, but we've got the best matchup possible.
And no, Lakers fans, LAL vs. MIA would not have been better. We probably would have gotten our butts handed to us and that would not have helped any Kobe/LeBron debates.
We have two of the most dominating players on the court at the same time in LeBron James and Kevin Durant, both having phenomenal playoff runs so far. For the first time since 1997, the league MVP and scoring leader will face off and get the chance to claim the throne as the best player in the league.
All-Star guards in Dwyane Wade and Russell Westbrook will look to redeem themselves for recent inconsistent performances. And key role players like Serge Ibaka and Shane Battier will have plenty of opportunities to make the timely play and impact the outcome of the series.
Neither side has much of an "inside" force, and we'll be presented with a "track meet" style of game tailor-made for fans. In all honesty, this might end up being the most exciting finals matchup in my time of watching hoops.
The Thunder are a young, explosive team who, like the Heat, have three players that could be the game's leading scorer on any given night. Durant, Westbrook and Harden were the highest-scoring trio in the NBA this year (68.4 pts/game in the regular season combined). Durant's ability to score in a variety of ways and, most importantly, his composure in late-game situations make up for the team's lack of experience.
And let's not forget Derek Fisher—although he'll have little statistical impact on the series, his mere presence in the locker room and on the bench will be useful when momentum is on Miami's side.
Westbrook should easily dominate Chalmers for the time they're matched up, but I think Spo might use LeBron on Westbrook for the majority of the series. I look at it like this, James has the foot speed, strength and athleticism to disrupt Westbrook's game, the same way LeBron was able to nullify Derrick Rose's impact in last year's Eastern Conference finals. If LeBron does this successfully, and Battier doesn't let Durant go off for 30-35-plus points every night, Miami will be able to easily win the series.
To start the game, we'll see Thabo Sefolosha on Dwayne Wade. Sefolosha is a first-class defender who used his length (6'7") to D up Tony Parker and turn that last series around. Slightly more interesting, though, will be the Harden-Wade matchup at the end of games.
When Harden drives the ball in, he needs to be aware of a few things: 1) Battier stepping in for a charge 2) weak-side block from guys like James and Haslem and 3) Wade coming from behind for the block while Harden spends an extra second or two euro-stepping or waiting for contact.
Chris Bosh had a huge performance in Game 7, and seems to have recovered from his abdominal strain. Outside of guys like Kevin Love and Pau Gasol, Bosh is the best shooting big man in our league. His 15-18-footer game has got to be on point because it'll bring Ibaka out of the paint, opening things up for James and Wade.
Ibaka is a big-time shot blocker, but that gift is also a curse: A few pump-fakes by Bosh will get Ibaka up in the air, and consequently give up easy buckets or get himself in foul trouble. Coach Spo should get Bosh the ball frequently in the first half and try to get Ibaka's defense out of the paint and out of the game.
While we'll see Battier on Durant for a large portion of the game, Durant will have to guard LeBron on the other end. Westbrook, Thabo and Harden can take turns on Wade, but we'll primarily see Durant on LeBron in the series. In nine head-to-head career matchups with Durant, LeBron has averaged 26.8 points, 7.1 assists and 5.9 rebounds.
These numbers, no doubt, are incredible, but if Durant can hold James to under 30 for the series, OKC wins. As stated, there are a number of guys OKC can use to contain Wade; all Durant has to do is make sure James doesn't have some sort of historical series. 
X-Factor
For OKC, I'm going to go with Westbrook. His play has been up and down this postseason, and he's going to have to produce to his full potential. Battier and James will do a good job containing Durant, and OKC will need Westbrook to limit his turnovers and make the most of every possession.
He can't spend half the shot clock dribbling the ball and pulling up for a jumper the D gives him. He must take it to the hoop or set up a teammate for an easy bucket. It's the finals, step your game up to match the intensity. And please get a new wardrobe for press conferences.
Side note: Perkins needs to find a way to stay in the game. His role in this series will be to clog up the lane so James and Wade can't penetrate. If he continues to find himself in foul trouble, there will be a lot more space for Miami's wing players to attack.
For Miami, it's Chris Bosh. We know James and Wade will get theirs at some point or another, but if they can keep the third member of their Big 3 playing like he can, a bona fide All-Star, it's going to be a long, long series for the Thunder big men. Well, I guess I mean "short," but you get the point. Bosh's strong play will be the biggest factor determining the outcome of this series.
Coaching
This is a series where the talent of the players has covered up the coaching weaknesses of each respective team. If guys like Doc Rivers or Gregg Popovich were in the finals, we'd be ready for beautiful, set plays and well-run systems that look for lapses in the defense.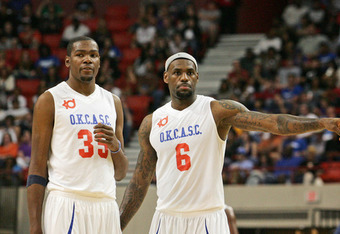 In this case, with Scotty Brooks and Eric Spoelstra, we get a couple coaches who have been constantly criticized for their indecisiveness. The opponent constantly out-coaches them both, but in this case, I can't see either one "out-smarting" the other. It'll be a wash, and I doubt any one of them has much of an impact in the series.
Prediction
Weather forecasters on news networks are going to have a lot of fun sending it to the sports anchor, huh?
The series is going to come down to OKC's home-court advantage. Unless Miami wins in five (2-3-2 format), OKC takes it in seven. The NBA benefits in every way by letting this series go the distance. Look for it to go all seven games, with OKC winning it.