Conn Smythe Trophy: Jonathan Quick Was Only Logical Choice for Top Honor
June 11, 2012

Bruce Bennett/Getty Images
It was no surprise to me when Los Angeles Kings goalie Jonathan Quick was announced as the winner of the Conn Smythe Trophy as playoff MVP.
He was the only logical choice.
NHL.com, via Twitter:
The winner of the Conn Smythe is @JonathanQuick32! Congratulations to the spectacular goaltender! Who saw that coming? #StanleyCup

— NHL (@NHL) June 12, 2012
Obviously the person who authored that tweet has a sense of humor.
Plenty of men played well under the intense pressure and circumstances it took to win the Stanley Cup, coming from the No. 8 seed no less, but Quick out-shined them all. 
When team captain Dustin Brown took a five-game hiatus from the limelight for most of the finals against the New Jersey Devils, it was Quick's steady hand that kept the Kings' ship steering towards their ultimate goal.
Thankfully, Brown was able to rejoin the party in Game 6 to help his teammates rout the Devils, but if it weren't for Quick's unwavering excellence between the pipes, he would have never gotten the chance.
Let's reflect for a moment on the statistics of Quick's near-flawless run in the 2012 Stanley Cup playoffs: In 20 starts, Quick won 16 games. According to NHL.com, out of the 538 total shots he faced, Quick gave up only 29 total goals over the course of the playoffs, leading to a 1.41 GAA. 
Quick also had three shutouts in the process, matching the three games over the course of the playoffs when he gave up more than three goals. Every other game saw Quick's opponent score either one or two goals. 
He was dominant. He was brilliant. He was calm. He was collected.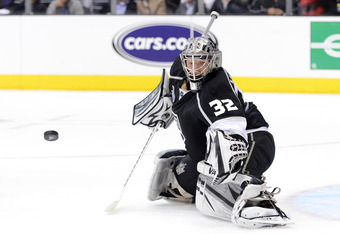 Harry How/Getty Images
The American netminder was the best player and biggest reason for the Kings' title, and they wouldn't have gotten into the playoffs and out of the first round without him. His play allowed his teammates to play with confidence, knowing their goalie wouldn't let them down.
Consider what teammate Jeff Carter recently said about his teammate: "He's the backbone of our team. Just knowing that he's there if something happens does a lot for our confidence."
Quick's remarkable play and steady poise made him the only sensible choice to win the Conn Smythe Trophy...unless the judges from the Pacquiao vs. Bradley fight were the ones making the decision.