Rafael Nadal: Recapping Rafa's French Open 2012
Mike Hewitt/Getty Images
To say Rafael Nadal was dominant in the 2012 French Open would be an understatement.
He simply owned the competition as he gave up a total of 53 set points during the entire tournament, while garnering 130 set points for himself.
If that's not dominating, I don't know what is.
Here's a look back at Rafa's 2012 French Open.
First Round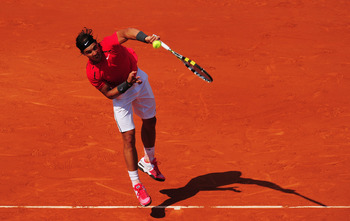 Mike Hewitt/Getty Images
Compared to a few of the other rounds of the tournament, you could say Rafa struggled in the first round of the tournament as he beat Simone Bolelli 6-2, 6-2, 6-1.
It took Nadal 1:58 to win the match as he won 76 percent of his first serves.
Ho hum...on to the next round.
Second Round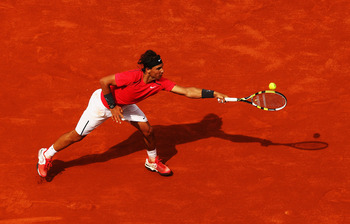 Clive Brunskill/Getty Images
If you thought Nadal looked good in the first round all you had to do was watch the second-round match with Denis Istomin.
Nadal won easily 6-2, 6-2, 6-0.
If there was a flaw in his game it was the fact that he didn't have a backhand winner.
Oh well, at least he had something to work on for the third round.
Third Round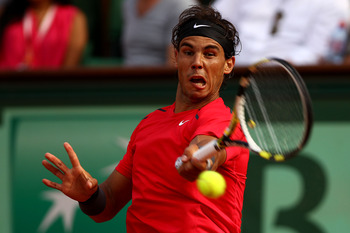 Clive Brunskill/Getty Images
Nadal did finally experience some real struggles in the third round against Eduardo Schwank.
The Spaniard had a 6-1 first-set win, but didn't look as dazzling in the second and third sets as he allowed Schwank to get seven total set points in the two.
Still, it was a 6-3, 6-4 victory to move on to the the fourth round.
Fourth Round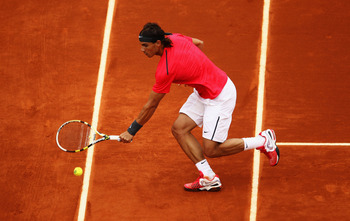 Matthew Stockman/Getty Images
Nadal pretty much had his best match of the tournament here as he beat Juan Monaco 6-2, 6-0, 6-0.
This was after Monaco held a 2-1 lead in the first set.
So much for that as Nadal won the final 17 set points to take the victory.
Nadal was simply dominating and wouldn't let Monaco get anything, which shows you why he's the King of Clay.
Quarterfinals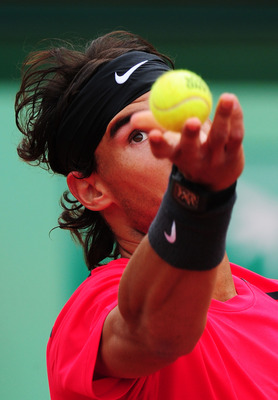 Mike Hewitt/Getty Images
So, in the quarterfinals, fellow Spaniard Nicolas Almagro held his own against Nadal, well at least in the first set which went to a tie-breaker before Nadal won.
From there, Nadal again dominated, winning 6-2, 6-3.
The victory gave him his 50th victory in 51 matches at the French Open.
Semifinals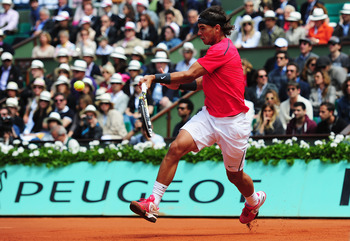 Mike Hewitt/Getty Images
I thought the semifinals were supposed to be harder than the quarterfinals.
Well, it didn't seem that way when Nadal disposed of fellow Spaniard David Ferrer 6-2, 6-2, 6-1.
Ferrer was simply outmatched and it was predictable that Nadal would dominate him.
Not to say he didn't earn his trip to the semifinals, but that Nadal was on his own planet throughout the tournament.
Finals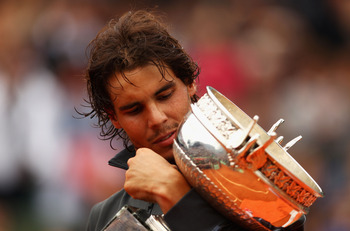 Clive Brunskill/Getty Images
So, Nadal finally got a challenge in the tournament.
It's just sad we had to wait until the finals against No. 1 Novak Djokovic.
Nadal again looked too strong for his opponent as he won the first two sets 6-4, 6-3.
Djokovic did rebound to win the third set 6-2, but was turned away when he tried to steal the fourth set as Nadal took it 7-5.
Overall, this tournament showed that Nadal is perhaps the greatest tennis player on clay ever.
Who can argue with that now that he has seven French Open titles?
Maybe one of these years he'll lose for the second time in his career at the Grand Slam tournament.
However, I don't see it happening any time soon.
Keep Reading