Will Buffalo Bills CB Stephon Gilmore Be a Bust or Future All-Pro?
June 12, 2012

Rick Stewart/Getty Images
It was no secret the Buffalo Bills needed to get better defensively at the 2012 NFL draft, both at corner and at defensive end.
While the pass rush was emphatically addressed in free agency with the additions of Mario Williams and Mark Anderson, general manager Buddy Nix opted to wait until April to address the need at corner.
With the 10th pick in the 2012 NFL draft, the Buffalo Bills selected South Carolina CB Stephon Gilmore to fill that void.
Gilmore is the classic definition of a boom-or-bust draft pick.  He demonstrates a very impressive natural skill set, but he has struggled with consistency and technique in college.
He has good size and elite athleticism with very good speed.  His physicality and willingness to play aggressive in run support are traits many corners do not possess.  In addition, Gilmore tracks the ball well in the air and has soft hands. 
Like the Bills' fourth-round pick LSU CB Ron Brooks, he can help the team as an effective blitzer from the slot.
However, talent can only get a player so far in the NFL.
More often than not, the quality that separates corners once they make the jump to the pros is how fluid the player's hips are in transition.  In this regard, Gilmore is very raw, which can make a 4.3-guy look like a 4.7-guy in the NFL. 
His footwork is inconsistent, which allows for him to make a spectacular play only to get torched on the next.  His aggressiveness is both a gift and a curse for Stephon, as he has a tendency to bite hard on pump fakes. Good route runners can take advantage of him as well.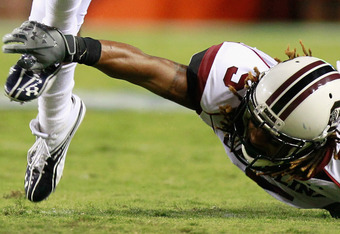 Kevin C. Cox/Getty Images
(Quick aside: Given his skill set, I feel his best position is at free safety; but corners are harder to come by, and he'll get every opportunity to be successful at that position first.)
Gilmore is at his best when he can keep the play in front of him.  When he can sit on shorter routes, he can bait the quarterback into making an ill-advised throw into his soon to be outstretched arms.  As with most corners, but especially for Gilmore, the longer the play takes to develop, the more he'll struggle at this point in his development.
Of course, what would be ideal for Buffalo is that the new-look front four will be able to generate enough pressure where that won't be a problem.  Wide receivers that are technicians won't have the time to pull off double-moves.  Quarterbacks won't have the time to manipulate him, either.
By taking Gilmore, the Bills coaching staff is accepting the responsibility of making Buddy Nix look good. 
If they can teach and develop him, hammering out his inconsistencies (which is much, much easier said than done), Gilmore has the raw ability to be one of the best players in the class.  Conversely, if like many corners he struggles to make the adjustments to his technique, he will disappoint at the next level. 
At this point, he will make a few high-impact splash plays, but he will give up his share of them, too.
The defensive scheme and pieces are in place for him to be successful, leaving it up to both Gilmore and the coaching staff to put in a lot of work to turn him into the player he can be. 
The team opted to cut Drayton Florence and will most likely end up handing Gilmore the starting the job opposite another youngster in second-year player Aaron Williams. 
The Bills need him to be a good player early, and he will be a major storyline to follow leading up to this season and beyond.  Here's hoping he can make an impact rather quickly.