WWE No Way out 2012: 6 Reasons Why Daniel Bryan Will Bash CM Punk and Kane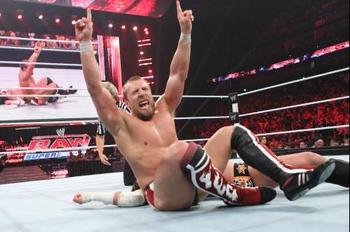 Photo Credit: WWE.com
WWE champion CM Punk squares off with Daniel Bryan and Kane at No Way Out this Sunday, but there can only be one winner and signs are pointing toward Bryan to be that man.
A feud that began with a one-on-one masterpiece between Punk and Bryan has since added Kane to the mix.
It's a triple threat match in the ring, but there's one more person involved in the drama—AJ.
While it's easy to make a case for Punk to retain, many factors are in place that favor Bryan as a front-runner for the victory.
Here's six reasons why Bryan could be chanting "Yes!" by the end of the night.
WWE's Law of Second Chances
Typically, a feud carries on for two or three pay-per-view events.
In one of two possible outcomes, the champion wins the first two fights and the feud is done. In the other, the first two wins are split forcing a third and final culminating event.
Daniel Bryan was the World Heavyweight champion.
He won the first match against Sheamus, then lost the belt to him at WrestleMania. Now, he's moved on to the WWE Championship and already lost once.
Based on his recent losses, Bryan seems to be due for a win.
A Win Extends the Feud Between Bryan and CM Punk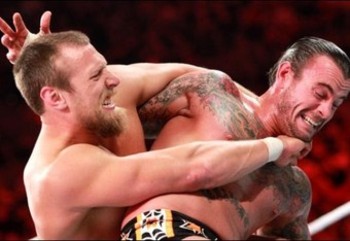 Photo Credit: WWE.com
The matches fans have seen between Daniel Bryan and CM Punk have been masterpieces.
But if Bryan loses at No Way Out, where is there left to go?
However, if Bryan wins, this awesome feud can be played out for another two pay-per-views.
Bryan Couldn't Win Solo, Now He Has Help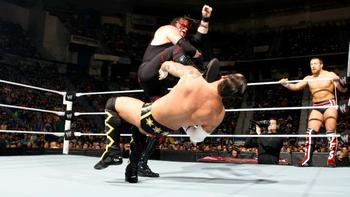 Photo Credit: WWE.com
Daniel Bryan and CM Punk squared off in a singles elimination match at Over the Limit and produced one of the best matches of the year.
It came down to a photo finish—Punk pinned Bryan's shoulders to the ground first, then Punk tapped out seconds later.
Bryan was milliseconds away from a win, all by himself.
At No Way Out, he'll have Kane aiding him in destroying Punk. Of course, Kane will naturally try to punish Bryan as well, but the third contender may be just what Bryan needs to secure a victory.
AJ Will Interfere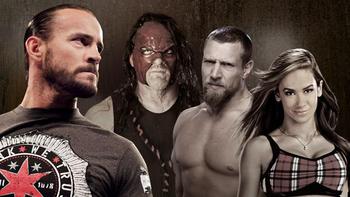 Photo Credit: WWE.com
AJ dated Daniel Bryan. Then she swooned over CM Punk. Now she's kissing Kane.
She will be present at No Way Out. The question is, in whose favor?
AJ is crazy, we know this for sure, so anything is possible.
But after Monday Night Raw, during which AJ kissed Kane and confused Punk, it seems she no longer has any involvement with Bryan.
This will work to his advantage.
It's going to happen one of three ways. She confuses Kane for Punk and it backfires in favor of Bryan. Or she tries to help Punk and it backfires in favor of Bryan. Or she wickedly turns heel and helps Bryan win, fooling the entire WWE Universe.
Remember that law of second chances?
AJ "screwed" Bryan out of a win at WrestleMania. It's time she repays the debt.
There's No Other Heel Champions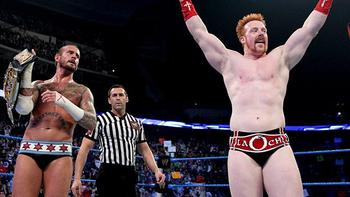 Photo Credit: Cagedsideseats.org
CM Punk, Sheamus, Christian, Santino Marella, Layla, R-Truth and Kofi Kingston all have two things in common.
They're all champions and they're all faces.
Simply put, WWE needs a heel champion. One of these faces needs to go into chase mode.
Bryan May Be the Most Popular of the Three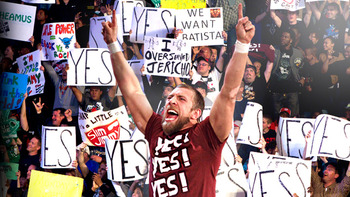 Photo Credit: WWE.com
Kane has his fans, but he's older, slower and less talented. It doesn't make a ton of sense for him to hold the WWE Championship.
CM Punk is a great champion. Still, many have voiced their boredom with Punk's character and the fact that they liked him better as a heel. Punk has his fans, but he has his critics too.
Daniel Bryan is a heel, yet many can agree on one thing: he's super talented in the ring and on the mic.
Bryan has the ability to effectively make fans hate him, which in turn causes more of a "love to hate" feeling.
Having Bryan win the WWE Championship will garner the biggest and loudest response, and it won't necessarily be boos.
Keep Reading