What Are the Realistic Predictions for Michael Vick in 2012?
June 12, 2012

Patrick McDermott/Getty Images
There aren't many bigger names in the NFL than Michael Vick.  There is only one NFL player, who shall remain nameless, that is as polarizing as Michael Vick.
Since Vick is such a big deal, what is the biggest story concerning him?  That would be what to expect from him in the 2012 season.
Vick's ability as a quarterback was widely derided during his time in Atlanta and during his first season in Philadelphia.  He needed to learn the position from Andy Reid and Marty Mornhinweg while sitting behind Donovan McNabb.
Then everyone believed he would be somewhere else in need of a quarterback while Kevin Kolb led the Eagles into a new era.  As we all know now, it didn't exactly work out that way.
Now we enter Vick's third season as the starting quarterback for the Eagles.  Whether anyone wants to admit it or not, 2012 hinges on Vick's performance.  The best way to predict future production is to look at past performance.
Going to the beginning, Vick blazed through the early part of the 2010 season looking like a whole new player.  He had learned the position and developed into an unstoppable force.  He finished the season in a funk as the Eagles were eliminated from the playoffs by the Green Bay Packers in a Wild Card game.
In 2011 he struggled with his health and protecting the football.  The Eagles sat in last place before he led them to wins in each of their final four games, falling just shy of the playoffs.
Based solely on that brief summary you can see Vick's performance has been up and down.  There was a hot start followed by a cold finish.  Then there was a cold start followed by a hot finish.  How can we possibly know what to expect from Vick?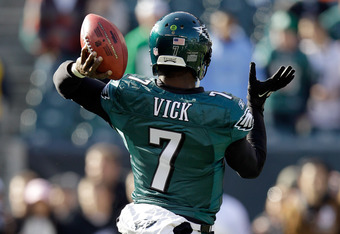 Rob Carr/Getty Images
First, let's look at Vick in the good times.  This includes the first seven games of 2010 along with the last four of 2011 for a total of 11 games.  Vick started 10 of those games and was unable to finish one due to an early injury.
In that 11-game span the Eagles went 9-2, including 9-1 with Vick as the starter.  The only loss came to Washington in the game Vick was knocked out of. Vick completed 61.1 percent of his passes for 2,718 yards with 18 touchdowns and just three interceptions.  He averaged 8.66 yards per pass attempt with a quarterback rating of 104.2.  Running the football Vick amassed 429 yards with six touchdowns and six fumbles on 6.5 yards per carry.  
Now let's look at the not-so-good times.
Making up the "bad times" are the final six games of 2010 along with the first nine of 2011.  Vick started each of the 15 games and left two of them due to injury.  The Eagles went just 6-9 in these games, including losses in both games he was unable to finish.
Taking a look at some of the numbers, even the bad times don't look too bad.  Vick piled up 3,895 yards and 22 touchdowns in these games, completing 60.7 percent of his passes.  He averaged 7.53 yard per attempt.  Running the football he tacked on 868 more yards and five more touchdowns with an incredible 7.4 yards per carry.  It looks good and the production can't be denied.  
Here is where the bad enters the equation.
Despite all the yardage and touchdowns, Vick threw 18 interceptions and fumbled the football 15 times in those games.  That's averaging a little more than an interception and a fumble each per game.
Even with all the turnovers the Eagles are still 6-7 during that stretch when he manages to finish the game.  In fact, they are 15-7 in games Vick starts and finishes.  
Really the only two things Vick has working against him are health and ball security.  When he's on the field and taking care of the ball, the Eagles win.  When he is injured or being careless with the ball, they mostly lose.
Vick is aware of how big a season 2012 is.  He understands the mistakes he's made in his time here.  He knows what it will take to win and he's aware how important his presence is to his team as a whole.  At the same time, after hearing an interview on 94.1 WIP, Vick seems defiant and irritated at any notion of changing his style of play.  It's difficult to know exactly how this season will play out.  
Based on everything we know, coupled with educated guesses on Vick's dedication and focus, it's realistic to expect him to start 15 games, finishing all but one of those games.
If he is on the field that much, his improved decision-making will allow him to throw for 3,800 yards with 24 touchdown passes and 12 interceptions.  He'll complete over 60 percent of his passes and run for another 500 yards and five touchdowns.
The Eagles will go 11-4 in his starts, including 11-3 when he finishes as well.  He will lead the team to the postseason, and that is where my prediction ends.  The Eagles have the talent to win a Super Bowl, but more than anything that comes down to health and good fortune at the end.
Michael Vick will have a highly productive season, his team will win a lot of games, and he will be a Pro Bowler in 2012.