Is There Any Way Back to Superstardom for Hanley Ramirez?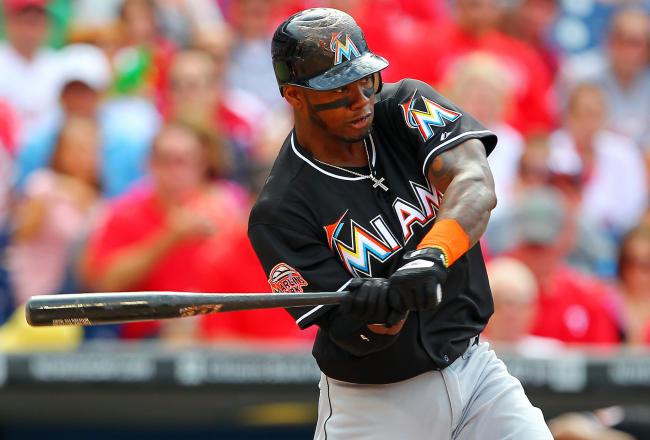 Hanley Ramirez has been good this season, but he should be great.
Rich Schultz/Getty Images
Miami Marlins third baseman Hanley Ramirez is on track to finish with pretty solid numbers when the 2012 regular season comes to a close. According to ESPN.com, he's on pace to hit 29 home runs, drive in 98 runs and steal 27 bases.
By traditional standards, those are excellent numbers. However, Ramirez is also going to finish with a batting average in the .250s, a slugging percentage in the .470s and an OPS under .800 if he stays on his current pace.
By his old standards, those aren't great numbers. In fact, those would have been unacceptable numbers for the Hanley Ramirez of old.
That version of Ramirez was a true superstar. Between 2006 and 2010, there was just a small handful of players in baseball who were as valuable as Ramirez, and nobody could match his all-around skill set. Offensively, he was arguably the biggest threat in the game.
With Ramirez entering the 2012 season fully healthy for the first time in a long time, a lot of people (myself included) were expecting him to revert back to his superstar self. So far, that hasn't happened. And because Ramirez is still a young man at the age of 28, it's just plain strange that he no longer seems capable of being a superstar.
So what exactly is going on with Ramirez? Is his decline for real, or is it a fluke that's bound to come to an end? Does he still have it in him to be a superstar?
Good questions. Let's break them down and see if we can't come up with some answers.
By the Numbers
Mike Ehrmann/Getty Images
We know Ramirez's batting average and slugging percentage are lower than he's used to, but there are times when these things can be explained by bad luck. Is that what's going on with Ramirez?
Sadly, the answer is no. The first thing you look to when it comes to assessing a given hitter's luck is his BABIP (batting average on balls in play), and Ramirez's is a mere .280, according to FanGraphs. That's below the league average, which is right around .300.
Just as concerning is the fact that Ramirez's BABIP in 2011, a year in which he was plagued by injuries and other issues, was a mere .275. He's supposed to be much healthier and much happier this season, but he's having virtually the same amount of success when putting balls in play this year as he did last year.
A big reason why is because of how the ball is coming off his bat. His line-drive rate is just about the same as it was in 2011, but his ground-ball rate has declined from over 50 percent to 42.2 percent. Worse, he's hitting just .231 when he puts the ball in play on the ground. When he hit .342 in 2009, he hit .386 on ground balls.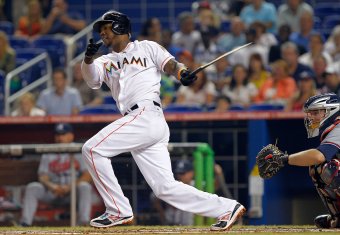 This at-bat probably didn't end well.
Mike Ehrmann/Getty Images
That's alarming, and so is Ramirez's elevated fly-ball rate. The good news is that 14.1 percent of the fly balls he hits are leaving the park, but another 14.1 percent of them are lazy pop-ups over the infield. He's either driving the ball or getting way under it, and the fact that he's hitting so many fly balls is a sign that he's trying to drive the ball out of the park.
When Ramirez was at his best, he had a line-drive approach at the plate, and he combined lower fly-ball rates with higher HR/FB rates. In 2008, for example, he had a 36.7 fly-ball rate and a 19.2 HR/FB rate. When he hit the ball in the air that year, he hit it far. There's no such guarantee in 2012.
A big part of the problem has been Ramirez's pitch selection. He's been patient at the plate this year, seeing over four pitches per plate appearance, but he's swinging at 29.4 percent of the pitches he sees outside the zone.
That's not a horrible figure, but it doesn't bode well for Ramirez that he's making contact with 75 percent of the pitches outside the zone that he swings at. It would be better if he swung and missed, as chasing after pitches out of the zone and making contact all too often results in weak contact.
Thus, that .280 BABIP isn't a huge surprise. Neither is his .259 batting average.
The Eye Test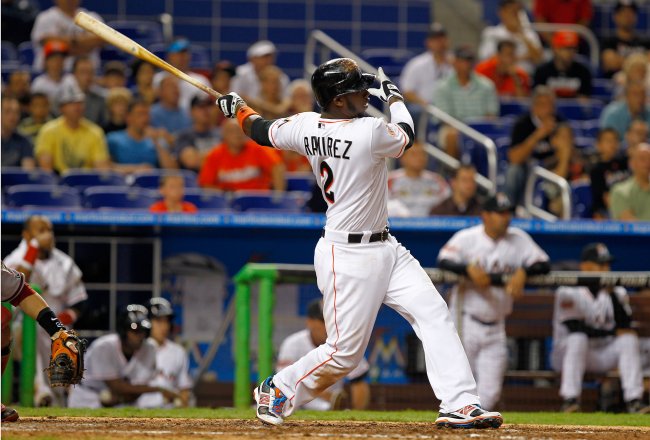 Sarah Glenn/Getty Images
When a great hitter like Ramirez is struggling, the first thing that must be checked is his mechanics. Are Ramirez's mechanics out of whack?
From what I can tell, the answer is yes.
Ramirez's swing is a thing of beauty when it works, but the tricky part is that a lot of things go into making it work. He starts with his feet even in the box, uses a big leg kick as his timing device and he ends up with his left foot closer to the plate than his right foot. All the while, his hands are moving ever so slightly.
On good days, Ramirez has all the parts working just fine. A good example of a good day would be his recent two-homer game against the Philadelphia Phillies, and you can see the highlights over at MLB.com.
Now go watch a video of him grounding out against Craig Kimbrel. It's very subtle, but you can see him rush his leg kick just a little bit. Because of that, he's not able to establish a solid foundation and he can only manage to make a defensive swing on an inside breaking ball. Kimbrel is obviously a very tough pitcher, but he had Ramirez beat the moment the ball left his hand.
This is a common problem with leg kicks. They look pretty and they can be effective, but they're a lot harder to master and even harder to repeat day after day and at-bat after at-bat.
This is a problem Marlins hitting coach Eduardo Perez has to deal with, and Marlins fans will be happy to know that Perez is no fool. He was trying to keep Ramirez's leg kick and other hitting mechanics in line soon after he got the job last season, according to Sports Illustrated, and he's still worrying about Ramirez's mechanics this season.
However, Perez insists that it's up to Ramirez to help himself, and he can do that by being ready to face pitchers before he steps into the box.
Via the Miami Herald:
"Everybody focuses so much on his leg kick or his hands or this and that. I want him to be able to have a game plan when he goes up there. He's a really good hitter. He has great hand-eye coordination. But when he just goes up there just to try to hit the ball or tries to look in or tries to look in one spot, it works against him. Because pitchers have a plan. Catchers have a plan. The opposing team has one. He has to have one, too."
The issue isn't so much that Ramirez has to work harder because he's older and his swing is slower. He needs to work harder because the opposition knows him and his hitting tendencies. He has to know them and their tendencies, and he can do that by studying harder and by watching more film.
This is something that Ramirez didn't do earlier in his career. Assuming he's doing it this year, it appears he still hasn't quite mastered how to make his homework pay off on the field.
Solutions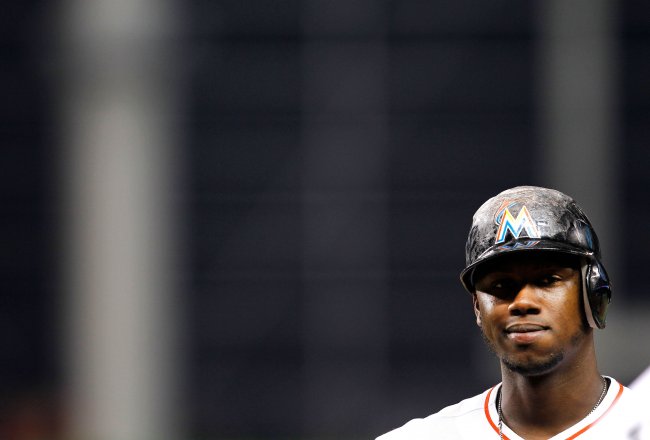 Sarah Glenn/Getty Images
Physically, Ramirez is fine. He's had plenty of time to recover from offseason shoulder surgery, and he's been remarkably durable all season. He's as fit as a 28-year-old ballplayer should be.
This is good news, as it means that whatever plagues Ramirez can be easily fixed. From the look of things and the sound of things, fixing Ramirez is a simple matter of both the Marlins' coaching staff and Ramirez himself putting in the work.
Ramirez needs to be more consistent with his leg kick, which is something that's unfortunately much easier said than done. It's also easier said than done to make major mechanical adjustments in the middle of the season, so Ramirez will just have to find a way to get his leg kick down to muscle memory.
There's also no overstating just how much he can help himself by doing extra film study. Knowing all the different deliveries out there by heart will help him with his timing, and it goes without saying that he can help himself a ton by learning how a pitcher is going to pitch him before he's even in the box.
Early in his career, Ramirez succeeded with his talent alone. What he needs to do now is use his brain.
The Grand Conclusion
So what's our answer? Does Ramirez have it in him to become a superstar again?
Will Ramirez finish the season over or under .300?
Absolutely. He's still at an age where he should be in the prime of his career. And though he's had to deal with injuries, it's not like he's damaged goods.
All Ramirez has to do is put in a lot of hard work, and that's not something he's used to doing. I'm presuming he doesn't like being a .259 hitter, so I have faith that he's motivated to put in the work.
After all this discussion, the bright side is that Ramirez has a legit shot at a 30-30 season even despite his inconsistencies at the plate. If those inconsistencies go away...
Well, that just wouldn't be good for the rest of the NL East, would it?
If you want to talk baseball, hit me up on Twitter.
This article is
What is the duplicate article?
Why is this article offensive?
Where is this article plagiarized from?
Why is this article poorly edited?

Miami Marlins: Like this team?