Heat vs Thunder: Unheralded Players Who Will Sway Outcome of NBA Finals
June 12, 2012

Brett Deering/Getty Images
The 2012 NBA Finals are loaded with star power, but the series will ultimately be decided by role players.
As the Inside the NBA crew has pounded into our heads this postseason, future Hall of Famers are critical to a championship run, but it's the "others" that make the difference between dynasties and disappointments.
For every Michael Jordan and Scottie Pippen, there has been a Steve Kerr and Dennis Rodman. For every Shaq and Kobe, there's been a Derek Fisher and Robert Horry, and so on and so forth.
The point is, as good as guys like LeBron James and Kevin Durant and Dwyane Wade and Russell Westbrook are, they simply can't win the title by themselves. They need some lesser known and lesser skilled players to step up when the stakes are high.
So, who are the most likely candidates to fill that role in this year's Finals? Just scroll down to find out.
Serge Ibaka - PF, Oklahoma City Thunder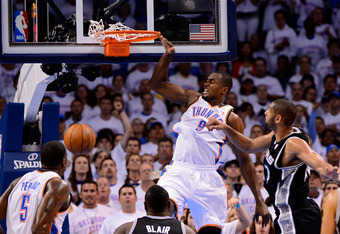 Ronald Martinez/Getty Images
It's no secret that Ibaka is a defensive wizard. He's the equivalent of a goalie on the court—the Jonathan Quick of the NBA, if you will.
He swatted at least 10 shots in three games this season, and he's averaging 3.3 blocks per game in the playoffs. He will be critical in shutting down Chris Bosh and stopping the explosive Heat perimeter players on their forays to the rim.
Ibaka will also be highly important on the offensive end.
With the San Antonio Spurs keyed in on the Thunder's big three, Ibaka exploded in the Western Conference Finals. He averaged 12 points per game during the series, including his historic 26 points on 11-for-11 shooting in Game 4.
If he can continue to knock down his mid-range jumper, he will prevent the Miami defense from loading up on Durant, Westbrook and James Harden.
Mario Chalmers - PG, Miami Heat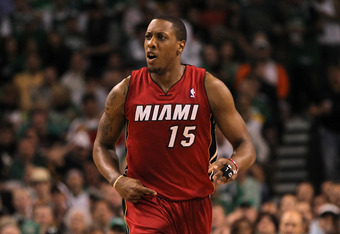 Jim Rogash/Getty Images
Mario Chalmers proved last season that he's not afraid of the big stage, putting up 11.8 points on 42.6 percent shooting (40 percent on threes) in the Finals against Dallas.
He has also come up with some critical moments in this year's playoffs, including Game 2 of the Eastern Conference Finals, when he went for 22 points, six assists and four rebounds in a four-point Miami win.
With the Thunder defense focusing on James, Wade and Bosh, Chalmers will need at least one game like that in the Finals for the Heat to win.
He'll also need to play some tough defense on Russell Westbrook. The All-Star point guard averaged just 18.2 points on 37.8 percent shooting in the Conference Finals, so he will be ready to go off against Miami.
If Chalmers can limit Westbrook's production and drain some big shots on the other end, he will greatly improve his team's chances of taking home the title.
Thabo Sefolosha - SG, Oklahoma City Thunder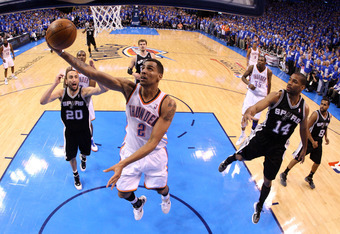 Ronald Martinez/Getty Images
Sefolosha only averaged 3.3 buckets per game against the Spurs, but he was the Thunder's most important player outside of Kevin Durant.
His defense on Tony Parker was the deciding factor in the series, and he will be asked to duplicate his effort against Dwyane Wade and LeBron James.
Defending Wade will actually be very similar to guarding Parker, as both are shifty players that like to worm their way into the paint. Wade is obviously stronger and more athletic than Parker, but he will still struggle against Sefolosha's defensive prowess.
As for James, there's really no way to stop the guy. Durant will guard him for some of the series, and Sefolosha will take a few cracks at him as well.
I doubt either will slow him too much, but Sefolosha's efforts will at least give Durant a chance to save his legs for the offensive end.
Shane Battier - SF, Miami Heat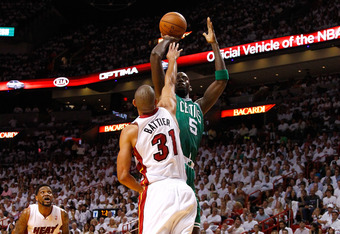 Mike Ehrmann/Getty Images
Like Sefolosha, Battier will be called upon to defend the other team's elite perimeter players. He'll spend plenty of time guarding Durant, and maybe some minutes on Harden, as well.
Although the 33-year-old veteran isn't as effective as he once was, his unparalleled knowledge of defensive positioning and player tendencies should help slow the Thunder scorers.
While he will primarily be on the floor for his defense, Miami will also need him to provide some key buckets. He was able to do that in the Conference Finals, burying a couple back-breaking threes in the Heat's Game 7 win over Boston.
If Battier delivers a similarly clutch performance in the Finals, the Heat will likely take home the 2012 Larry O'Brien Trophy.