Colin Kaepernick vs. Josh Johnson: Which 49ers Quarterback Has More Upside?
June 13, 2012

Ezra Shaw/Getty Images
Whether or not they want to admit it, the 49ers were ready to bring in Peyton Manning to "compete" with Alex Smith. And with that in mind, it doesn't seem unlike Jim Harbaugh and management to bring in Josh Johnson to challenge Colin Kaepernick. The position for Alex Smith's backup is wide open, and there is some very talented competition vying for the spot.
Kaepernick and Johnson are similar quarterbacks considering the set of tools they bring to the table. Both players are very raw, but with the league's best quarterback guru in Jim Harbaugh, both could reach their respective ceilings. And both, while young, have a tremendous amount of upside.
In the following article, we'll take an analytical approach looking at both quarterbacks, including who might be the franchise player in the future. 
Colin Kaepernick
College: Nevada
Entry: 2nd round of the 2011 NFL draft
Height: 6'4"
Weight: 230 lbs
Experience: 2nd season
2x WAC All-Conference Quarterback - 1st Team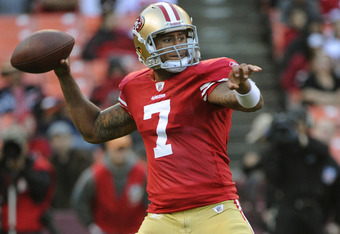 Thearon W. Henderson/Getty Images
2x WAC Offensive Player of the Year
WAC Freshman of the Year
2010 WAC Championship Team
2011 Kraft Fight Hunger Bowl Championship Team

When the 49ers selected Kaepernick, he was one of the most prolific quarterbacks in college football during his tenure. At Nevada, the quarterback posted 10,000-plus yards passing and 4,000-plus yards rushing over his career, becoming the first ever player in NCAA history to do it.
His improvisational skills are impressive, as he is a legitimate dual threat at the QB position. Kaepernick is incredibly mobile for his position and can be that Cam Newton-type quarterback that makes plays with his arms and legs, running a high-scoring offense. He is truly an explosive player that can generate big plays on a game-to-game basis. 
Something Kaepernick does extremely well is throw across his body. He can deliver the ball to his receiver from the most unusual of releases. Whether he's moving to his left or throwing under pressure, Kaepernick can get the ball to his target, which is a very positive thing when judging a passer's ability to perform at the next level. 
Kaepernick also has the physical tools to become a top passer in the league for years to come. Once a pitcher, he had a 93 mph fastball coming out of high school and was sought out by Major League Baseball. Transitioning into football, the quarterback flashed a rocket arm, capable of throwing darts anywhere on the field. However, this powerful arm comes with an unorthodox delivery.
A quarterback's delivery isn't a make-or-break attribute; both Ben Roethlisberger and Philip Rivers had questionable deliveries coming out of college, but they've proven they can put the ball where it needs to be, so it matters little. Same deal for Kaepernick.
Another concern has been the assumption that Kaepernick has not had a lot of time under center, coming from the pistol offense at Nevada. Even with that being the case, Kaepernick has been learning the system for a year already, and according to teammates, he has become acclimated to a pro-style offense.
As a student-athlete, Kaepernick was smart, well-spoken and a class act; as a pro, he is raw and very coachable. He is gifted athletically, with 4.5 speed and the ability to make precision throws. He has the potential to be able to do it all from the quarterback position. 
But Kaepernick needs development.
The 49ers will be able to mold this very gifted proven winner (32-16 at Nevada, 13-1 in his senior season) into perhaps Jim Harbaugh's most diabolical creation yet.
Kaepernick is also durable, as someone who did not miss a single game at Nevada after becoming the starter. There is little to no doubt that Kaepernick is NFL caliber, and he is in the optimum position right now. He is learning the system as a high draft pick while he irons out the flaws in his game and becomes more familiar with the speed of the NFL. 
Colin Kaepernick's ceiling is very, very high, as he left college as one of the most statistically successful quarterbacks in NCAA history.
Josh Johnson
College: San Diego
Entry: 5th round of the 2008 NFL draft (Tampa Bay)
Height: 6'3"
Weight: 205 lbs
Experience: 5th season
4x All-Pioneer Football League
Walter Payton Award Finalist
4x I-AA All-American
2x PFL Offensive Player of the Year
A lot of people get excited about Josh Johnson because of his potential. This is a player that teams must account for on every play, reminding fans and scouts of Michael Vick or Randall Cunningham. He is one of those explosive players operating from the quarterback position—and he was a successful one at that during his time with the University of San Diego.
Under then head coach Jim Harbaugh, Johnson progressed each year as a collegiate. And as dynamic as he is making plays with his feet, Johnson is a pure passer. He was a record-setting passer for USD, in such categories as completion percentage (70.1), yards passing (3,256) and touchdowns (36). In 2007, Johnson capped off his senior year with a remarkable 43-1 touchdown-interception ratio with 2,988 yards.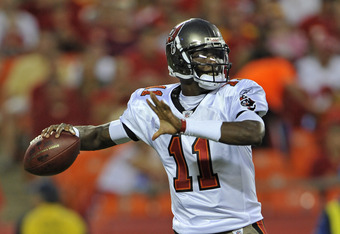 Peter Aiken/Getty Images
As far as quarterbacks go, Johnson has some of the best balance and body control, especially when throwing on the move. But he also might have better mechanics in the pocket than Kaepernick, displaying more fluid motion, a more sound delivery and consistent release point. Johnson has great footwork in the pocket, hitting his three- and five-step drops with perfection before stepping up. The former Harbaugh protege developed great agility in the pocket and has the presence to utilize it.   
He also throws ropes.
Johnson can make all the throws, even hitting those tough downfield routes on a dime. As one could surmise from his prior passing efficiency, Johnson also makes good decisions, and complements that with a strong release and getting the ball out quickly. 
Johnson is also more familiar with the quarterback-center exchange than Kaepernick. Because he took most of his snaps from under center, that isn't an obstacle for him.
Something else to like about Johnson is that he can sell the play, sometimes having deceiving body language when he throws. Part of that is because defenses know that, in an instant, he could take off and gash them for serious yardage, so he causes units to hesitate. Like Kaepernick, Johnson is a dual threat who has great cutback vision as a runner and has that second gear to break a defense.
What concerns some about Johnson is that he hasn't really ever faced complex defenses like the ones he'll see in the NFL.
Conclusion
Both of them need to learn to control the tempo of their throws in the NFL so they aren't overthrowing or under-throwing open targets. Kaepernick has the edge because he has the frame of a prototypical NFL quarterback, while Johnson needs to add bulk. Kaepernick also played against a higher level of competition in college and did phenomenal things on grander stages. The ability to win and engineer comebacks is invaluable to a quarterback's skill set—it's the largest intangible quarterbacks are measured by.
It's almost a push between these two quarterbacks, because they can both be great in this league. Harbaugh has openly stated that he believes the 49ers have four quarterbacks on this roster that are starter-worthy or will be starters someday. It's going to be a tough decision for them to make if the position is truly open, but one has to think the staff will lean toward Kaepernick. 
Follow me on Twitter: @DeSimone80