What Can We Realistically Expect from Eli Manning in 2012?
June 12, 2012

Nick Laham/Getty Images
Heading into 2011, Giants quarterback Eli Manning was the unadorned borderline of football mediocrity. Save for his Super Bowl ring and prominent last name, there was not much that separated Manning from the rest of the league's gunslingers. 
Thirteen wins, 38 touchdowns and a second Super Bowl MVP later, Big Blue's signal-caller settles comfortably into the league's top-ranked talents.
Welcome to New York, where sports players can go from zero to hero faster than sports cars can go from zero to 60.
Now that Eli is elite, what should we expect going forward? Is it fair to think that Manning could take a tremendous step backwards, or even another tremendous step forwards?
Regression
It will be tough for Eli Manning to repeat last year's successes from both statistical and credential standpoints. Last season, Manning registered fourth in the NFL in passing yardage, fifth in total completions and sixth in touchdowns. And as the league continues to frequent pass-first offenses, inter-quarterback competition will subsequently continue to rise. The McGuire/Sosa-esque race between Brees, Rodgers and Brady was unprecedented in professional football.
Victor Cruz won't be surprising opposing defenses in 2012. Cruz' season was a key factor in Manning's emergence, and while he will undoubtedly produce again this year, it's tough to think that defensive coordinators won't find a way to at least somewhat slow down the sublime slot-man.
Hakeem Nicks' injury is tough to stomach as well. Sure, Nicks will reportedly be ready for opening night, but his absence in training camp may tweak an emblazoned QB/WR chemistry.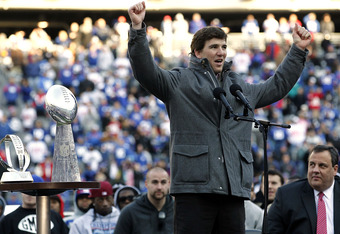 Jeff Zelevansky/Getty Images
Perhaps the biggest damper on Manning's campaign is New York's formidable schedule. The Giants are slated to play the competitive NFC South and AFC North, as well as bouts with the first-place Packers and 49ers. Eli is set to take on six of the league's top ten defenses in Pittsburgh, Baltimore, San Francisco, Cincinnati and Cleveland, and Philadelphia twice. Other 2012 opponents, such as Atlanta and Washington, aren't far behind, ranking 12th and 13th, respectively.
Even from a non-statistical perspective, there's still a great argument for lowered expectations. Eli and the Giants will have a tough time repeating as world champs—only seven teams have won the Big Game in consecutive efforts.
The Eagles, Cowboys and Redskins are all on the upswing, and the perpetually grueling NFC East is shaping up to be tough yet again. Fair or not, much of Eli's success will be measured by New York's record, and while they may certainly improve on their 9-7 spot from last year, another deep playoff run is far from guaranteed.
Improvement
Then again, who's to say Eli Manning can't improve in 2012? Manning purveyed 16 picks in 16 regular season contests, but just one in four playoff games. When ahead in games in 2011, Manning's quarterback rating stood at 86.6. When trailing, that number improved to 100.2. With a tough set of opponents looming, playing from behind might actually help Eli.
The addition of David Wilson and the rejuvenation of Ahmad Bradshaw should yield immense improvements in the running game, which ranked dead last in the league last year. A better ground attack will open up play action and spread out front sevens.
Eli was at his worst from the right side in 2011, offering a paltry 70.3 rating on plays directed from the right. But with James Brewer and Sean Locklear taking over at right tackle, Eli could see further improvements.
And, of course, there's the momentum factor. Manning established himself as a champion-caliber quarterback, and he has the raw skills to back it up.
The Verdict
Expectations should be somewhat controlled for Eli Manning's 2012 season. The key point here is New York's arduous schedule, which should contest Manning's record and statistics. But Eli is still a top-caliber quarterback, regardless of opponent, and although he may fall a titch under his 2011 marks, fans should still expect fantastic 2012 numbers.
If anything, tougher opponents mean closer games, which Eli has dominated throughout his career. He may give his own record-setting 15 fourth-quarter touchdowns a run for their money.
But more passing opportunity likely means more interceptions as well. And those expecting Eli to keep pace with Rodgers and Brees will be disappointed; statistically, he's just not that type of quarterback. Manning will do great things, but the sky's not as limitless as New Yorkers like to see it.