Chicago Bulls: 7 Red Flags for Team to Worry About Before Next Season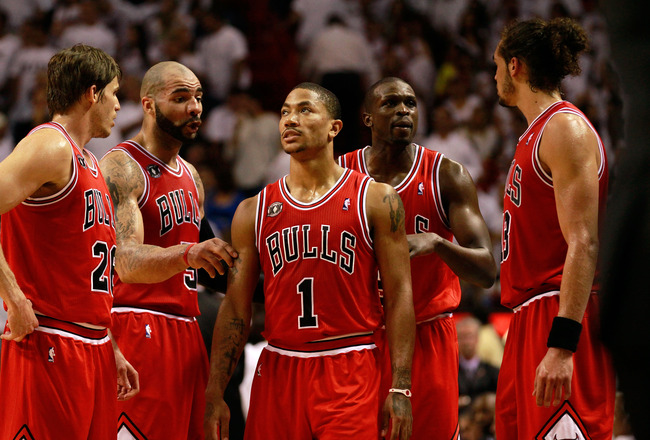 Marc Serota/Getty Images
When Derrick Rose went down with a torn ACL in the first round of the 2012 NBA playoffs, the future of the Chicago Bulls franchise took a major turn for the worse.
While a lot of players rebound from torn ACLs and return to playing the way they did before the injury, there's no doubt that fans will be holding their collective breath until they see Rose return to his 2011 MVP form.
Heading into the offseason, there are a number of red flags that are popping up that are reasons for Bulls fans to be worried heading into the 2012-13 season.
Ahead, you'll find seven red flags that the Bulls need to worry about before the 2012-13 season tips off.
Derrick Rose's Recovery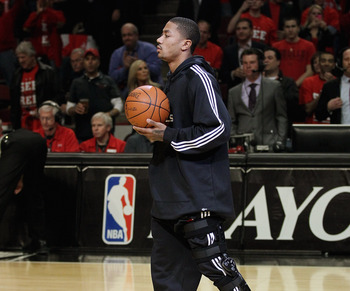 Jonathan Daniel/Getty Images
We all know that Derrick Rose will most likely miss the majority of the 2012-13 season recovering from his torn ACL, and while that's bad news, it's not the sole reason why Bulls fans need to worry about next year.
Without Rose, the Bulls will certainly struggle, but that will be bearable for fans as long as Rose comes back strong and healthy next year.
The Bulls certainly have the talent it will take to make a playoff appearance, but the real storyline for the Bulls next season will be what happens off the court with Rose and his recovery from his torn ACL.
If Rose tries to make a comeback during the 2012-13 season, Bulls fans need to worry, because having him long-term is more important than trying to hasten his recovery for an appearance next season.
The Bulls need to be willing to struggle through next year for the longevity of the franchise, and if they fail to do that, it's time to worry for the Bulls.
A Lack of Shooting Guard Depth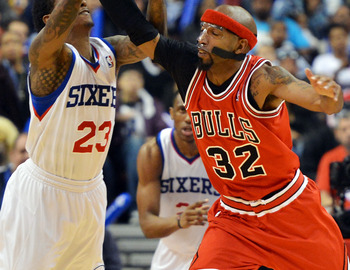 Drew Hallowell/Getty Images
The Richard Hamilton experiment didn't work out last year like the Bulls wanted it to.
Hamilton played in just 28 games last year, and the players behind him on the depth chart, Ronnie Brewer and Jimmy Butler didn't provide the kind of production the Bulls needed.
The bad news is that all three of those players are coming back next year, and without Derrick Rose, they won't be able to carry the Bulls with the kind of backcourt production that they'll need.
While free agency technically hasn't begun yet, there's a relatively low level of buzz surrounding free agents whom the Bulls need to pursue.
If the Bulls fail to acquire a shooting guard like Nick Young, Randy Foye or Landry Fields this offseason, it will be time to worry for Bulls fans. A lack of depth at the shooting guard position could be the death of the Bulls next year.
Omer Asik's Qualifying Offer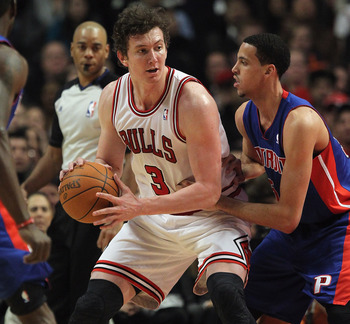 Jonathan Daniel/Getty Images
Omer Asik, the only center beside Joakim Noah the Bulls have on their depth chart, is in the qualifying offer of his contract, and there will certainly be interest in him from teams around the league.
Asik's seven-foot frame and his ability to rebound the ball makes him an enticing free agent whom teams ill most likely end up overpaying for.
The Bulls are strapped for cash heading into this offseason, and if a team offers Asik the maximum offer, it will be very difficult for the Bulls to match it, which means they'll be without their talented back up heading into next season.
If the Bulls are unable to hold on to Asik, their frontcourt depth will take a serious hit, and that will be reason to worry heading into the 2012-13 season.
Possibly Letting C.J. Watson Go...Now What?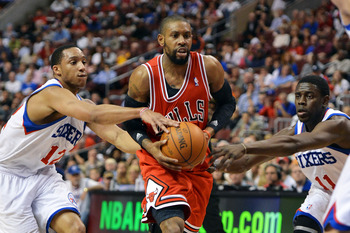 Drew Hallowell/Getty Images
SI.com is reporting that the Chicago Bulls aren't planning on re-signing C.J. Watson heading into the 2012-13 season.
While that will free up $3.7 million heading into the offseason, it leaves the Bulls without a point guard on the depth chart to fill in for Derrick Rose next year.
John Lucas is certainly a player who can handle the point, but he's not the kind of scoring point guard who will truly help the Bulls remain at the elite level they were this past season in the Eastern Conference.
If the Bulls truly don't bring Watson back next season, they'll have to hope that they can acquire a low-cost free agent at either the point or the shooting guard position and then draft the other position with their No. 29 overall pick.
Not re-signing Watson is a reason to worry for Bulls fans because it creates another hole in the depth chart that's going to be extremely difficult to fill.
One Draft Pick + Not Enough Cash + Multiple Roster Needs =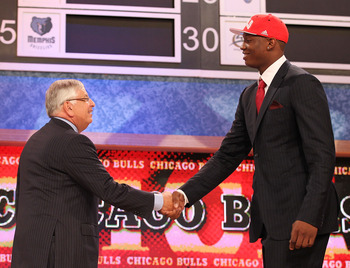 Al Bello/Getty Images
Let's play worst-case scenario for the Bulls this offseason.
First, they fail to retain Omer Asik and C.J. Watson, which creates major needs at the point guard and center position.
Next, while Asik and Watson leaving frees up about $6 million in cap space, the Bulls don't use any of that freed up space to answer their need at the shooting guard position.
That leaves the Bulls with needs at the point guard, shooting guard and center position and just one draft pick in this year's draft to fill those needs. You don't have to be a mathematician to realize that the Bulls have more needs than they'll be able to fill.
Even if the Bulls have one need to fill in the draft, it's going to be a challenge for them to draft a player who's ready to make an immediate impact at the NBA level. I'm sure the Bulls can do it, but it will be a challenge to decide which need should be filled through the draft.
The fact that the Bulls have just one draft pick, instead of the usual two, is a reason to worry about what next year will look like.
Close to Luxury Tax Limit for Upcoming Free Agency
Andy Lyons/Getty Images
If the Bulls retain all of the players on their roster this season moving into next year, they'll have around $1.4 million to spend regarding space with the luxury tax, during free agency.
The current luxury tax cap is set at $70.307 million, and the Bulls, retaining all their talent, are locked down for $69 million heading into next year, which doesn't give them that much money to play with.
Even if the Bulls re-sign everyone, they'll still need to find a shooting guard who can add legitimate production either off the bench or in the starting lineup. If the Bulls fail to fill that need through the draft, it will be very difficult for them to do that in free agency, with the limited amount of funds they'll have.
The Bulls could entertain using the amnesty clause on a player to free up some cap space, but there hasn't been much chatter about their intentions of doing that.
If the Bulls don't amnesty anyone this offseason, and they bring back the talent they currently have, they'll be strapped for cash heading into free agency, and that's a reason to be concerned.
Joakim Noah's Postseason Injuries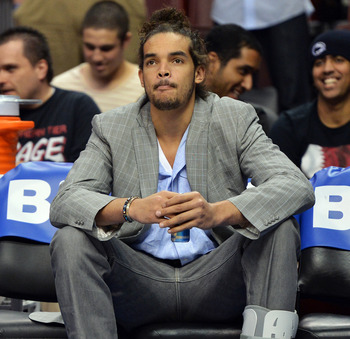 Drew Hallowell/Getty Images
While the ankle injury that Joakim Noah sustained back in early May turned out not to be a fracture, the fact that Noah is once again dealing with an injury heading into the offseason is bad news for the Bulls.
The past few seasons Noah has dealt with injuries and it's certainly impacted his development with the Bulls.
With uncertainty surrounding whether Omer Asik will be a member of the Bulls next season, the pressure on Noah is greater than every before. Without a legitimate backup to fill in for Noah, the amount of production the Bulls will need out of Noah will increase.
Noah is certainly capable of increasing his minutes and his production. The only question is whether his body will be able to keep up with him, and that's a red flag heading into this offseason and the 2012-13 season.
If Noah's health is a question, the Bulls will need to sign a big man who can add some depth to their frontcourt.
Keep Reading

Chicago Bulls: Like this team?