Belmont Stakes 2012: Jockey's Gaffe Hands Bob Baffert Third-Straight Brutal Loss
June 12, 2012

Rob Carr/Getty Images
"Is there a Triple Crown for seconds?"
These are the famous words legendary horse racing trainer Bob Baffert uttered upon watching his horse Paynter finish in second place at Saturday's Belmont Stakes. It was just the latest in a string of gut-punching losses.
His horse Bodemeister was leading until the final 100 yards of the Kentucky Derby where he ended up losing to I'll Have Another by 1.5 lengths. Then it was the same order at the Preakness, except this time Bodemeister lost by a photo finish.
With fatigue knocking Bodemeister out of the Belmont Stakes, the inexperienced Paynter was his lone horse in the race on Saturday. After getting beat at the last second once again, Baffert completed the second-place trifecta.
But was the crucial error coming down the stretch run the big difference?
Hall of Fame jockey Mike Smith was aboard Paynter, who had the lead coming down the stretch and had the opportunity to cut off the hard charging Union Rags by sealing off the rail.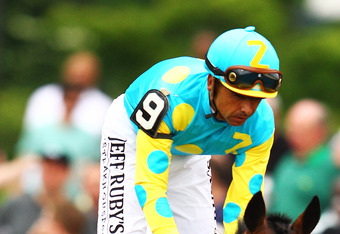 Al Bello/Getty Images
Instead, Rags zipped through the small space for the win. After the race, Smith was taking the blame (via Sports Illustrated): "I'm an old veteran, you know? They're not supposed to get through on the fence on me, and he did. I dropped the ball. My fault."

It was a situation you would expect Smith to handle, but he didn't and it ensured a Triple Crown's worth of second places for Baffert. While the trainer didn't want to flat-out blame his jockey, he knows plenty of others will (via Sports Illustrated):
He will probably take a lot of heat for Union Rags moving past him on the rail. It's a jockey thing. He didn't want to give up the rail. But you know what, he did a tremendous job.
It's a tough pill to swallow and the 2012 season will forever haunt one of the legends of the sport. He certainly did his part to properly train his horses and is the victim of bad jockeying down the stretch.
Sure, I'll Have Another was brilliant and Union Rags had plenty of potential, but Baffert deserves to be called the MVP of trainers during the Triple Crown season for his work with Bodemeister and Paynter.
But he won't because of the crucial error of his Hall of Fame jockey.