US Open Odds on Past Champions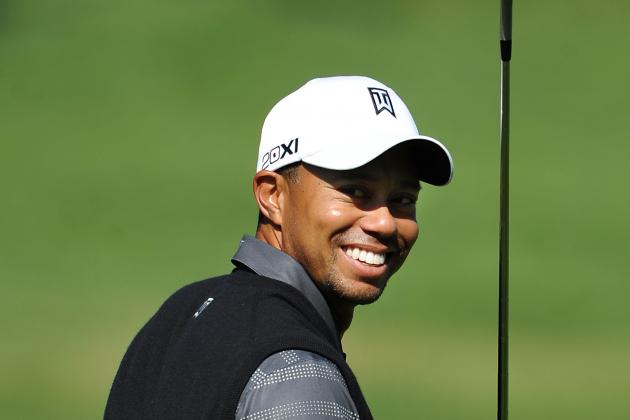 Stuart Franklin/Getty Images

We all know that experience is important in golf.
In order to win a major, often you have to go through the gauntlet of emotion and turmoil a few times before you can finally summon the mental and physical strength to claim the title of US Open champion.
Ten men enter the Olympic Club with their names on the championship trophy, hoping to once again reclaim the title.
Some men enter solely on their past glory, using an exemption in hopes of catching lightning in a bottle one more time.
Others hope to show the world that their major title was not some fluke or forgotten piece of golf trivia. They seek to legitimize their careers and place themselves among some of the bigger names in golf.
A select few enter with aspirations to re-establish themselves as the focal point of the sport. One man in particular hopes to continue a path to redemption that cannot be completed until he is hoisting a major trophy in the air.
So how will these players fare this week, and which betting line is worth taking?
If you're a betting man, we break down what the statistics say and assess the strengths and weaknesses of each contender in the 2012 US Open.
Let the debate begin!
Begin Slideshow

»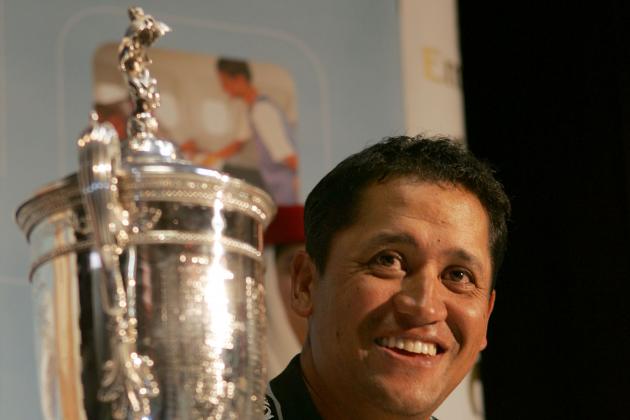 Phil Walter/Getty Images

Michael Campbell has always been an odd sort of fellow.
The 2005 U.S. Open at Pinehurst highlight was the New Zealander sliding by Tiger Woods on the final holes for an improbable victory. It also featured Campbell repeatedly going to the port-a-potty to stare at a twig as some sort of focus regimen.
It clearly worked that Father's Day weekend, but little has gone right for Campbell since then. In fact, Campbell has not made a cut at a major since 2008 and missed the cut five of the past six years in the US Open since his breakthrough victory.
There is little reason to think Campbell will be any more successful this time around. At age 43, Campbell has not shot a round lower than 71 all season in a stroke-play event.
Clearly, at this point, he is taking advantage of his ten-year exemption and making the most of it. I cannot say I blame him, but don't be foolish enough to risk a penny on this guy.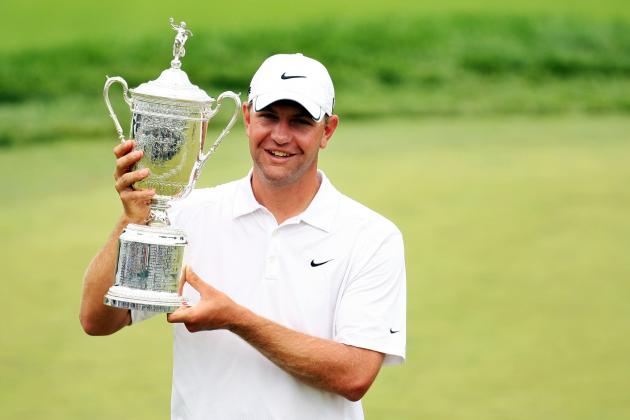 Ross Kinnaird/Getty Images

Remember when Lucas Glover shocked everyone by outlasting David Duval and Phil Mickelson in the 2009 U.S. Open?
Don't worry, neither do most people.
Glover, a young South Carolinian with a thick drawl and big game, looked like the next big thing. Until another South Carolinian with big game named Dustin Johnson stole his crown.
Three years later and Glover has one more victory to his credit, but has missed the past three cuts at majors and not finished better than 46th in a tournament this season.
Glover has been sporadic with his irons, hitting greens only 57 percent of the time during the 2012 season. That has cost him scoring opportunities and put pressure on his ability to get the ball up and down.
In the U.S. Open that pressure will only mount with tough greens and lies.
No wonder people are doubting Glover this weekend.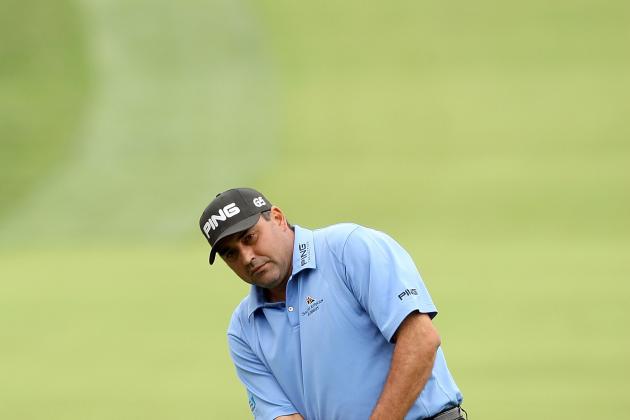 David Cannon/Getty Images

Angel Cabrera surprised many with his impressive 2007 victory in the U.S. Open, but really turned heads when he captured a second title at Augusta a few years later.
Cabrera has the mental toughness to handle the potential hardships of major championships. His carefree style and "El Pato" (The Duck) nickname make him a unique player.
However, since his Masters victory, Cabrera has only made one top-ten finish in a major and has missed the cut three out of the past four majors.
This season, the Argentine has really hit a wall with only three cuts made in 11 attempts on the PGA Tour. He is 172nd on tour in scoring average and may finally be feeling his 42 years.
Cabrera has a propensity to reappear when people forget about him, but a strong finish here seems pretty unlikely.
If he continues to spray the ball all over the course, Cabrera can go ahead and make weekend plans elsewhere.
A. Messerschmidt/Getty Images

There was a time where Retief Goosen looked like he was Mr. U.S. Open.
With two titles in hand and a sizable lead heading into Sunday of the 2005 US Open at Pinehurst, Goosen was about to put himself in elite company.
Then he shot 81 on Sunday, and went from three up to eight back before it was all said and done.
Since then, the Ice Man has popped up occasionally on the radar. He won two more PGA tour events and six top tens to his credit.
However, Goosen has never really contended for a major and dealt with the pressure of being a leader, since the debacle in 2005.
Part of this has had to do with injuries, something that has plagued him the past few seasons. 2012, though, seems to have the Golden Goose in a better position than most realize.
With three strong starts on the European Tour, Goosen may be turning the clock back. We certainly know his putting while under pressure and cool nature make him a threat.
I would not be surprised to see Goosen do well this weekend, much to everyone's amazement. However, I doubt he will be able to sustain it all four days.
Still, this is the first bet that might be worth dropping a few bucks on.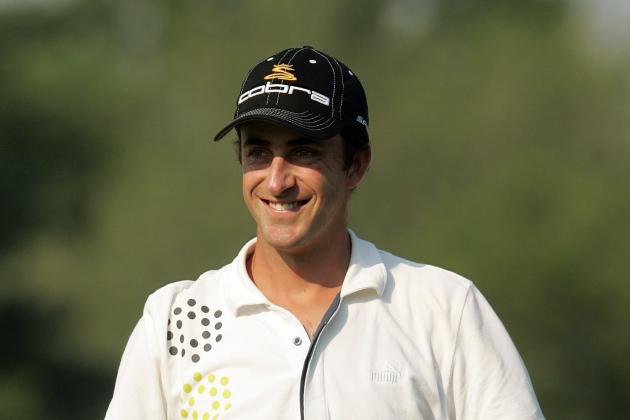 Nick Laham/Getty Images

The massacre at Winged Foot is remembered more for who lost it than who won it.
Colin Montgomerie, Jim Furyk and famously Phil Mickelson threw away their chances on the final hole, but Geoff Ogilvy came away with the crown.
The Aussie has won four times on the PGA Tour since capturing his first major, but has been rather mediocre this season. In 13 starts, he has only had one finish inside the top 15 and is currently ranked as the No. 49 golfer in the world.
Ogilvy has missed the cut in the past two US Opens but did finish fourth in the 2011 Masters. As one of the better approach players from long distances and the seventh best putter on tour this season from five feet or closer, Ogilvy is succeeding at important categories for this major.
He has played par three and fives a combined 65 under this season, but is plus-42 on par fours. If he can use his long iron game to avoid bogeys on those holes, he can be a factor.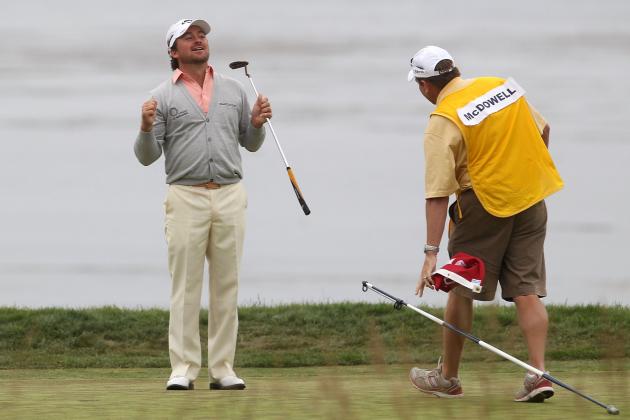 Andrew Redington/Getty Images

McDowell is not afraid of the spotlight.
The 2010 US Open champion has only won two events since his major victory, but one of them included a dramatic showdown win against a surging Tiger Woods.
With three consecutive top-20 finishes, McDowell has yet to miss the cut at the US Open and must be happy to return to California in hopes of bringing home a second major crown.
While the 32-year-old does have a second-place finish this season, it was by a wide margin of five strokes to Woods at the Bay Hill Invitational.
If McDowell hopes to creep closer to the leader board, he will need to avoid the bunkers. 181st in sand saves and only hitting the green 46% of the time from the fairway bunker, McDowell's scrambling will be essential in victory.
Still, the format, course and timing all seem set up for a strong effort by McDowell.
Will it be enough to wager on?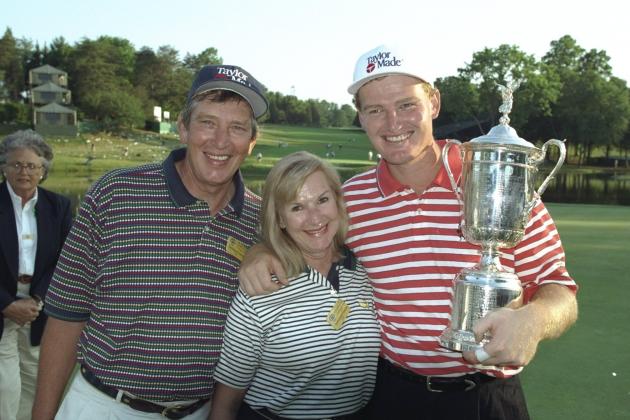 David Cannon/Getty Images

The career of Ernie Els seems to have been forever marked by his near miss at the 2004 Masters.
The three-time major champion came so close to a green jacket, before Phil Mickelson's birdie putt on 18 set him on track towards four majors and defining himself as the second-best player of the Tiger Woods era.
As for Els, he has yet to win a major since the British Open in 2002 and despite some close calls he has been living the life of "almost".
Els so desperately wants that Masters title that he fell apart earlier this year on the back nine when he had a chance to take the Transitions Classic and earn a spot in the field. Instead, his three-foot par putt miss on 18 cost him a chance to compete in the playoff and he did not qualify for Augusta National for the first time since 1993.
Many thought that "The Big Easy" was fading off into the sunset but he has been redeemed this season. Despite the heartbreak, Els has three top-ten finishes on the PGA Tour and is ranked 43rd in the world.
He already has earned more money this season than all of 2011 and looks to be putting it all together for one last run. We have seen from Darren Clarke's play last year and Tom Watson's Open Championship performances that age is no longer the hindrance it has been in the past.
If Els can handle the mental strain for four rounds, the two-time US Open Champion can make some risk-taker in Vegas very lucky.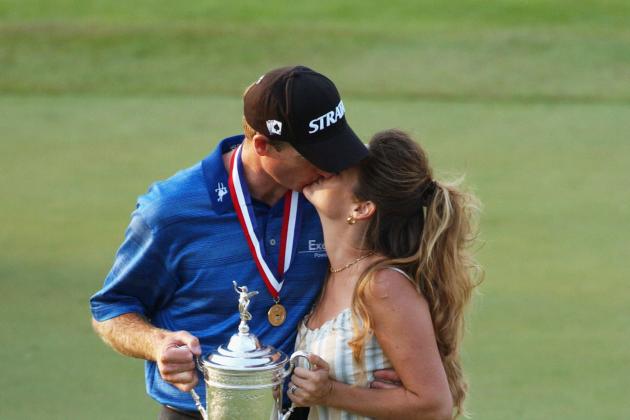 Matthew Stockman/Getty Images

Typically, when an already established golfer breaks through with a major victory, we expect the flood gates to open.
It took Phil Mickelson a year to win his second major after finally jettisoning the monkey off his back in 2004. Ernie Els needed three years, Vijay Singh needed less than two years and Padraig Harrington needed one calendar year.
Jim Furyk won the 2003 US Open Championship and is still searching for his second major crown.
On paper, Furyk is exactly what you want from a US Open player. He is methodical, calm, fearless, experienced and lacks a major flaw.
Still, Furyk and his long practice routine come to Olympic Fields hoping to better a 14th place finish the last time the US Open was held here in San Francisco.
Furyk's closest call in the post-2003 era came in the massacre at Winged Foot where he missed a short putt to finish in a tie for second. As a runner-up finish the following year, Furyk has not cracked the top 15 since.
This year, though, Furyk is much more comfortable on the golf course and looking like the man who has won 16 PGA Tour events.
Currently 24th on the FedEx Cup leaderboard, Furyk is making money with the second best driving accuracy on tour. He is placing himself in contention, hence three top-ten finishes and an 11th place showing at the 2012 Masters.
His success will depend on the flat stick, a club which has troubled him in recent years. In 2011, his confidence seemed shot. He tried the belly putter at one point and never seemed to find his comfort zone.
The US Open is never a place where people feel comfortable, but his improved play might make him worth a look.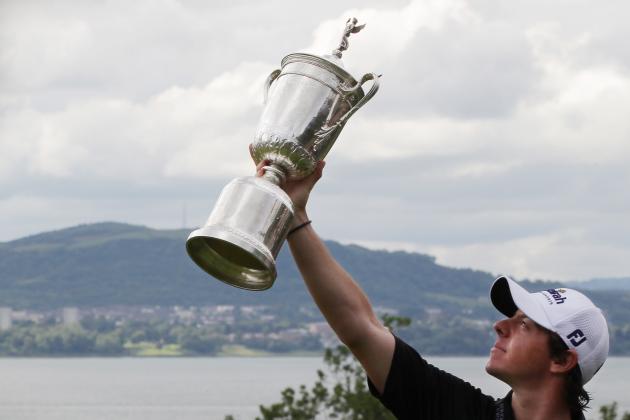 Peter Macdiarmid/Getty Images

The defending US Open champion will have heavy expectations on his shoulders yet again when he tees it up at Olympic Club.
McIlroy showed tremendous resolve by bouncing back from a horrific Sunday in the final round of the 2011 Masters to lap the field a few months later at Congressional in the 2011 US Open.
He showed the mental toughness of a major champion, but he also proved that Congressional was not built like a typical US Open golf course. While the young man may average more birdies than any other player on tour, US Opens are not going to give many opportunities for low scores.
Without question, no one is going to be shooting 16 under at the US Open this year. In fact, in the only other US Open McIlroy played in California, he missed the cut.
This will be a whole new brand of golf in 2012 and McIlroy has proven he can put good rounds on the board at the best golf courses in the world. He just can't do it from the rough.
Ranked 127th on tour in driving accuracy and a surprising 184th in greens in regulation from inside 100 yards, McIlroy has put himself in trouble and been able to recover. His scrambling is some of the best on tour, but that constant flirtation with danger can eat you alive in a major.
McIlroy's five top-ten finishes and strong play will always make him a threat. He also has all the hype around Tiger Woods to deflect his own pressure.
Still, with so much on the line as defending champion, it will not be an easy task for McIlroy to fill the big shoes he left for himself last year.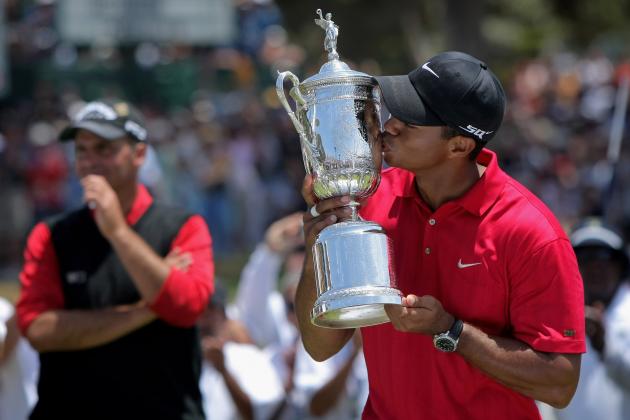 Doug Pensinger/Getty Images

Is he back?
What does that phrase even mean?
Ever since the Thanksgiving Day debacle, the psyche of the tortured Tiger Woods has been front page material. While the mythic aura around him may have faded some, there is no other human being people would rather entrust their life savings on than Woods.
Even when his swing breaks down and he is hitting charity tents or moving boulders to clear shots, Woods possesses a scrambling ability that could be the greatest of all time.
It is his fearlessness, like the chip shot on 16 at the Memorial, that makes everyone see why he can win the US Open. Pulling off the shot is difficult enough—having confidence that you can hit the shot is key.
For quite some time, Woods had lacked that confidence but he enters Olympic Club more convinced than ever that he can regain his old form.
His recent success in 2012 has come from a more accurate game. Woods is 22nd on tour in driving accuracy and seventh in greens in regulation.
The truth is that if Woods has putted well in a tournament, he has won. If he has struggled on the greens, he has been out of contention. Woods may be ranked 150th in putts from 10 feet to 15 feet but he is top ten in putts from five to ten feet or 20 to 25 feet.
While most people might bemoan the fact that he is not shooting a 64 every time he tees it up, no one can deny that if their life is on the line and they need someone to make a clutch putt, they are picking Tiger Woods.
If he can conquer the crazy greens, his overall game should give him enough opportunities to put another major title in the trophy case.