Do Red Sox or Phillies Have a Better Chance of Salvaging 2012 Season?
June 12, 2012

Rich Schultz/Getty Images
Before the start of the 2011 season, the Boston Red Sox and Philadelphia Phillies were anointed by many to be World Series favorites.
It's amazing how much has changed since then, and not for the better as far as both teams are concerned.
We're approaching mid-June, and the Sox and Phillies are both under .500 and in last place in their respective divisions. Both clubs also happen to be struggling at the moment, as the Sox have dropped six of seven and the Phillies have dropped eight of nine.
Asking how it came to this doesn't do us much good. It is what it is, as they say (and they are very wise). The better question is whether things will stay as they are, or if one or both clubs can look forward to better days in the very near future.
The question, in a nutshell, is this: Do the Red Sox or Phillies have a better chance of salvaging the 2012 season by making the playoffs?
There are several key factors to discuss before we can answer this question. Let's get to 'em.
Where They Are Right Now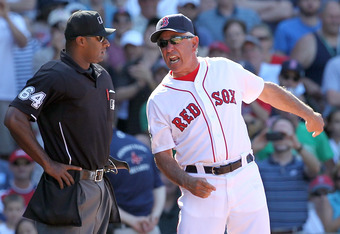 Jim Rogash/Getty Images
For a while there, it looked like the Red Sox were going to be just fine after getting off to a brutal start to their 2012 season. A little over a week ago, they were 28-25 and just three games out of first in the AL East.
Now they're 29-31 and six games out of first place. They've reverted back to their old selves, and that's hardly encouraging.
The Phillies have hit rock bottom as well lately, but it's not like they've fallen from grace. The Phillies have spent a good portion of the 2012 season right around the .500 mark, hitting a high point when they were three games over at 28-25. At that point, they were just 3.5 games out of first.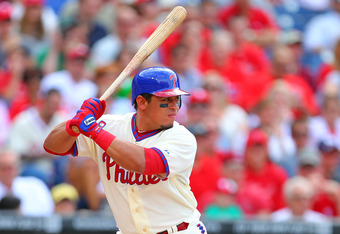 Rich Schultz/Getty Images
The Phillies are where they are primarily due to their inability to generate runs. They rank 14th in baseball in runs scored, and they're averaging just four runs per game in June. The team's ERA in June is 4.39 (h/t FanGraphs), so it comes as no real surprise that the Phillies have lost more games than they've won. Their pitching hasn't been great, and their offense has been even worse.
That's pretty much the story of their season. The Phillies pitching has generally been strong, but nowhere near as strong as it was in 2011. It hasn't been able to compensate for the team's subpar offense.
The Red Sox have had to deal with the exact opposite problem this season. They rank third in baseball in runs scored, but 28th in baseball with a team ERA of 4.45. They've gotten only 29 quality starts all season.
Boston's pitching has been strong in June, posting a 3.56 ERA and a .231 opponents' batting average. But alas, their offense has gone missing. In nine June games, the Red Sox have scored just 38 runs. Running into Washington's buzz-saw pitching staff did not help.
So it goes for the Red Sox. When they have offense, they have no pitching. When they have pitching, they have no offense.
The one thing the Red Sox and Phillies have in common is an inability to win ballgames at home. Boston has a 14-19 record at Fenway Park, and Philly has a 12-19 record at Citizens Bank Park.
For the Red Sox, their problem at home is poor pitching. On the road, they have a team ERA of 4.19. At home, they have a team ERA of 4.65, and they've given up considerably more extra-base hits (h/t Baseball-Reference.com).
For the Phillies, their problem at home is atrocious offense. They're averaging close to five runs per game on the road, and just about 3.5 runs per game at home (h/t Baseball-Reference.com).
If either of these clubs was at least .500 at home, they'd be sitting pretty. The bright side for both clubs is that conventional wisdom suggests that their home struggles won't last the entire season.
Waiting on Injured Players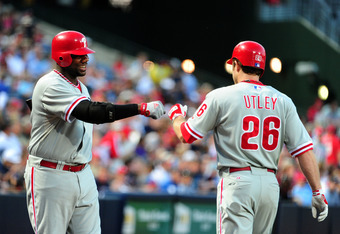 Scott Cunningham/Getty Images
The Phillies offense has struggled to score runs this season in large part because it has been missing the bats of Ryan Howard and Chase Utley.
The Phillies got good news on the Utley front on Monday. According to Matt Gelb of The Philadelphia Inquirer, Utley will officially be starting his rehab assignment on Tuesday. He could rejoin the Phillies in early July.
As for Howard, Gelb reported last week that the Phillies' slugging first baseman would take part in an extended spring training game, and he ultimately did. It was a big step forward for him, but he's not quite ready to begin a rehab assignment. If all goes well, though, he will begin a rehab assignment soon.
There was a time when getting Utley and Howard back would have been a huge boost. If they pick up right where they left off in 2011, however, having both of them back will be a merely average boost. Both of them were on the decline before their injuries did them in, so it's just not fair to expect them to carry the club when they return.
The Phillies are also awaiting the return of Roy Halladay, who was placed on the disabled list earlier this month with a right shoulder injury. The Inquirer and numerous other publications have reported that he'll be out as long as eight weeks, meaning he may not be back until August.
If the Phillies have Utley, Howard and Halladay all healthy and ready to go by August, they'll at least have a chance to get hot over the season's final two months. The question is whether that will be enough, as the division isn't going to sit around and wait for them over the next couple months.
The Red Sox, meanwhile, have quite a few difference-making players on the disabled list (see CBSSports.com). The good news for them is that it's just a matter of time before their difference-makers are back, and the club will have explosive potential when it finally gets to be 100-percent healthy (or close to it).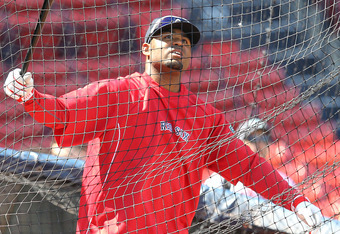 Jim Rogash/Getty Images
Peter Abraham of The Boston Globe provided injury updates for almost all of Boston's key injured players on Monday. Cody Ross is getting close to returning, while Carl Crawford and Jacoby Ellsbury are still a couple weeks away. Both of them have ramped up their baseball activities, with the next step for both players being a rehab assignment.
Tim Kurkjian of ESPN reported via Twitter that Crawford is likely to return after the All-Star break. He also reported that Ellsbury is another candidate to be back around the All-Star break.
Last week, Abraham reported that Andrew Bailey has begun throwing from 90 feet, meaning he too is making progress.
So in a matter of weeks, the Red Sox are going to get two star outfielders (hopefully, in Crawford's case) and a talented reliever back in the mix. They also stand to get deeper as other role players return from injury.
The advantage the Red Sox have on the Phillies is that many of the players they'll be getting back are in the prime of their careers. Utley and Howard are both past their prime, and Halladay may be starting to stray into that territory as well.
Between the two clubs, the Red Sox are going to be the better team once they get healthy.
Trade Market Flexibility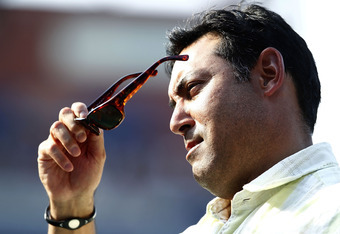 Jeff Zelevansky/Getty Images
If the Phillies want to sell at the trade deadline, they'll have plenty of options they can pursue. They could dangle Cole Hamels and Shane Victorino, and they could also look into dealing Hunter Pence.
If the Phillies are still around the .500 mark at the deadline, however, it's highly unlikely that they'll sell. They'll instead look into finding help, presumably for their offense.
The trouble is that the Phillies don't have many pieces to deal. Their farm system has been drained by recent high-profile trades (Cliff Lee in 2009, Roy Halladay in 2010, Pence last year), so they're going to have a hard time making competitive offers if they go after key bats at the deadline.
The one thing the Phillies do have is cash, so they'll be in play for teams looking to dump salary. It's unlikely, but one example would be Alfonso Soriano of the Chicago Cubs. He's one of many Cubs who can be had, according to Bob Nightengale of the USA Today.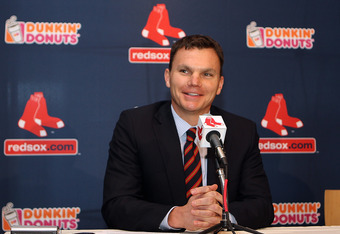 Jim Rogash/Getty Images
The Red Sox will have considerably more flexibility on the trade market if they decide to buy. Kevin Youkilis is a major trade chip, and they're also going to have an abundance of outfielders once they get Crawford, Ellsbury, Ross and others (i.e. Ryan Kalish) back off the disabled list.
Though their farm system is no longer among the best in baseball, Boston's system does go deeper than Philly's. The Sox will therefore have the option of making a couple deals at the deadline, or maybe one big deal.
Both clubs are likely to be buyers at the deadline, but the Red Sox will have a far easier time making deals than the Phillies.
The Competition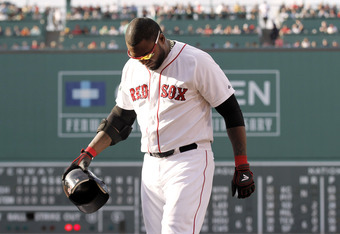 Winslow Townson/Getty Images
The biggest problem when it comes to both the Red Sox and Phillies getting back into things this season is the fact that they both play in very deep divisions.
The NL East is deeper than it's been in quite a while. The Phillies are the only team in the division below the .500 mark, and the first-place Nationals look like the real deal. Worse, the Phillies have a 10-14 record against NL East teams, and they still have many games left to play against their division foes.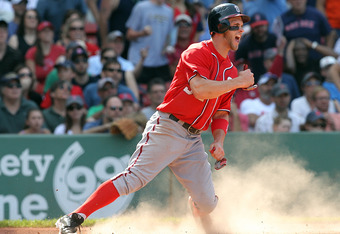 Jim Rogash/Getty Images
At full strength, the Phillies will be capable of competing with the competition, but it's going to be some time before they're at full strength. They may have too much ground to make up when they're ready to make their move.
It's not just the NL East either. There is an extra wild-card berth to be had this year, but there are multiple wild-card contenders in the Central and West, too. It's not a given that both or even one of the wild-card teams in the NL will come out of the East.
The Red Sox face an even more daunting uphill climb than the Phillies. The AL East is the strongest division in Major League Baseball, and the Red Sox already have an 11-15 record against their division rivals.
The battle for positioning in the East will be brutal this year because there's a good chance that both AL wild-card teams will come from the East. To make the cut, the Red Sox can't finish any lower than third, and it's not going to be easy for them to surpass two teams given the strength of the competition. There are no pushovers in the East this season.
Neither team is in an ideal situation as far as catching up to the competition, but I'd give the edge to the Phillies simply because the NL East is weaker than the AL East.
The Grand Conclusion
Full disclosure: I've already written that the Phillies are doomed. They're fading fast, and it's just plain foolish for them to hope that Howard and Utley are going to come to their rescue. There's hope for them, but not much.
There's not much hope for the Red Sox either, but there's more hope for them than there is for the Phillies. Recovering from where they are now and making a run in the AL East is not going to be easy, but all signs point towards them being a much stronger team for the stretch run than they are now. They're going to get healthy, and they're going to be able to make deals at the deadline.
The Phillies will be stronger than they are now in a month or two, but not significantly stronger. They'll need a lot of luck on their side in order to make the postseason.
So will the Red Sox. They have a better chance of salvaging the 2012 season than the Phillies do, but the odds of them making the postseason aren't great.
In the end, my gut tells me both teams will go home when the regular season ends.
If you want to talk baseball, hit me up on Twitter.