Union Rags: Belmont Stakes Win Proof Jockey Was the Big Problem
June 11, 2012

Al Bello/Getty Images
Union Rags or I'll Have Another…who was the best horse in this year's Triple Crown run?
Obviously I'll Have Another finished with two wins and Union Rags only one, but what if jockey John Velazquez was around for the entire time?
Velazquez replaced Julien Leparoux before Saturday's big win, and his tremendous experience and athletic ability were the main reasons Union Rags was able to squeeze through the narrow gap along the rail in the stretch to catch the speedy Paynter.
Velazquez has a ton of experience at Belmont, and it certainly paid off.
Before the race, Rags' trainer Michael Matz didn't flat out say the jockey was the main reason his colt didn't perform well at the Kentucky Derby, but he certainly hinted as much (via NY Daily News):
"I just don't think he had the chance to show his true ability in his last two races. He never had a chance to run in his last two."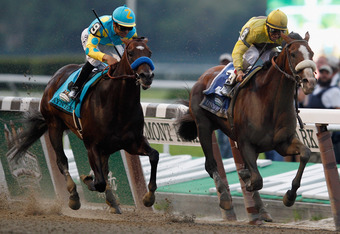 Rob Carr/Getty Images
Union Rags got caught in some serious traffic at the beginning of the Derby and had to settle for a disappointing seventh after being one of the favorites. He then sat out the Preakness to rest.
So, we are left wondering what if.
What if Velazquez was the jockey at the Derby? Could Velazquez avoided the traffic and made a run for first? What if I'll Have Another was in the Belmont field? Would Union Rags still have won?
Who knows, but it will never be answered now that I'll Have Another has retired.
Heading into the Triple Crown season, Union Rags was considered a better horse because of his incredible speed and endurance. I'll Have Another was merely a middle-of-the-road horse in the field.
It's a shame the win at Belmont will forever be discounted because of the absence of I'll Have Another. Union Rags will never truly get the credit he deserves.
But just remember that there were two supremely talented colts to grace the racing track in the past 40 days…not just one.