San Francisco 49ers: Predicting 2-Deep Depth Chart, Pre-Training Camp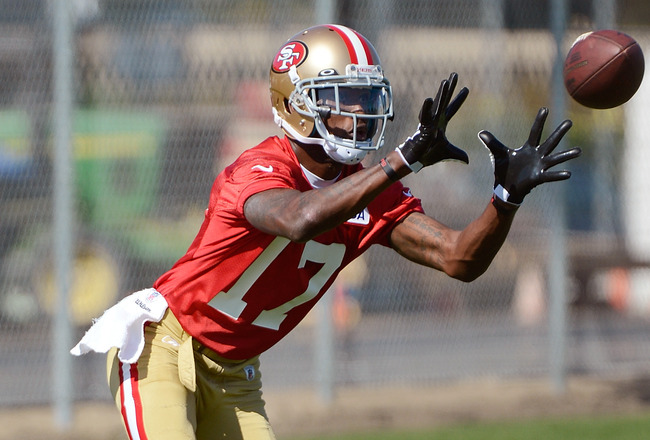 Thearon W. Henderson/Getty Images
The competition at San Francisco 49ers camp has already gotten the attention of fans, and training camp is yet to begin. There is a vast amount of talent in the Bay Area, and there might be even more potential. The running back, wide receiver, offensive line and cornerback positions are particularly competitive, and at this point, anything can happen.
San Francisco was already overflowing with talent—enough to get them within a single play from their first Super Bowl appearance in almost two decades. At this juncture, many sports fans and 49ers faithful are wondering what the final roster could look like entering the 2012 season.
This is setting up to be the most competitive camp in recent memory, and the Niners couldn't be more thrilled. One way or another, the 49ers will field an ultra-talented team at virtually every position group this coming season.
Follow me through the next three slides where we make rough projections for what the depth chart will look like on offense, defense and special teams.
Offense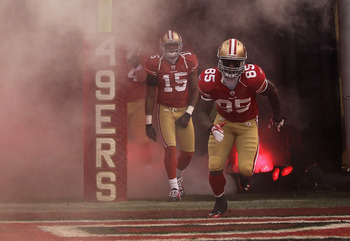 Jamie Squire/Getty Images
The offensive side of the ball certainly carries within it more job opportunities for players. The competition will be fierce because Harbaugh and company are aware that if they get the offense corrected, the Super Bowl is theirs to lose.
This is a rough projection of what the depth chart on the offense may look like entering 2012. The players with asterisks next to their names indicate that they will be the starter on game day entering Week 1.
QB
1. Alex Smith*
2. Colin Kaepernick
RB
1. Frank Gore*
3. Kendall Hunter/LaMichael James
FB
1. Bruce Miller*
WR
1. Randy Moss*
2. Michael Crabtree*
3. Mario Manningham
4. A.J. Jenkins
5. Kyle Williams
6. Ted Ginn Jr.
TE
1. Vernon Davis*
2. Delanie Walker
3. Nate Byham
LT
1. Joe Staley*
2. Derek Hall
LG
1. Mike Iupati*
2. Joe Looney
C
1. Jonathan Goodwin*
2. Daniel Kilgore
RG
1. Alex Boone*
2. Daniel Kilgore
RT
1. Anthony Davis*
2. Derek Hall
Right now, former backup tackle Alex Boone is leading the charge for the starting guard position. Daniel Kilgore, Joe Looney and Jason Slowey are also fighting it out, but it seems to be Boone's to lose.
However, if Boone does win the position, it will leave the 49ers' depth at tackle fairly thin. San Francisco will be looking to rely on a rookie like Stanford's Derek Hall or perhaps one of the runner-ups at guard (Kilgore, Looney or Slowey).
At wide receiver, it's hard to imagine a tandem outside of Crabtree and Moss. Moss hasn't shown anything to indicate that he won't be around for the regular season, and until that happens, no one is beating him out as a starter.
The other receivers will rotate a great deal, so where they are on the depth chart behind the starters matters very little. Jenkins, Manningham and Williams should be the primary subs behind Crabtree and Moss, seeing a healthy amount of time.
Another position group that will resemble this formula is the one at running back.
The running backs will be led by Gore, but behind him, it's up for grabs. Harbaugh will likely change the depth often, based on opponents and in-game situations. Like Moss, there has been strictly positive feedback regarding Brandon Jacobs, who should be around for the regular season. The coaches have liked what they've seen from him, and he brings an element to the game that none of the other backs have.
After Gore and Jacobs, Hunter and James should break even—whoever is the slated three or four shouldn't matter. Hunter and James are explosive backs who will be strong complements to veteran runners like Gore and Jacobs. The 49ers ran the ball more than 500 times in 2011, so there should be plenty of carries to go around.
Depth will matter little on the offensive side of the ball, because on game day, players will be asked to step up and contribute when their particular skill set best matches the down and situation.
Defense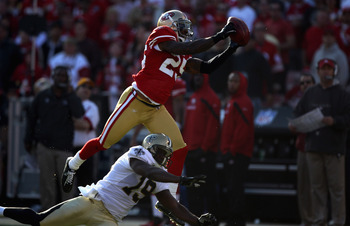 Jed Jacobsohn/Getty Images
The 49ers defense was elite in 2011, so it required little attention in the offseason, although San Francisco did address depth. The Niners got deeper at linebacker and in the secondary; the defensive line would suffice with last year's players in place and evolving.
LDT
1. Ray McDonald*
2. Ricky Jean-Francois
NT
1. Isaac Sopoaga*
2. Ricky Jean-Francois
3. Will Tukuafu
4. Ian Williams
RDT
1. Justin Smith*
2. DeMarcus Dobbs
LOLB
1. Ahmad Brooks*
2. Cam Johnson
ILB
1. Patrick Willis*
2. NaVorro Bowman*
3. Larry Grant
ROLB
1. Aldon Smith*
2. Parys Haralson
CB
1. Carlos Rogers*
2. Tarell Brown*
3. Chris Culliver
4. Perrish Cox
5. Tramaine Brock
FS
1. Dashon Goldson*
2. C.J. Spillman
SS
1. Donte Whitner*
2. Trenton Robinson
The starting roster on defense is significantly more challenging to dispute than the offensive side of the ball.
The front seven was nearly immaculate in 2011, and this coming season they should be even better. Two of the 49ers defensive linemen (McDonald and Sopoaga) will be entering only their second years as starters at these positions. The experience on the field and in unison will make them more formidable in 2012.
I expect Goldson to return to full duty by the regular season; what happens in between then is still up in the air, though.
The cornerback position is going to be competitive, and even though Culliver may be ready to start, Brown has taken a step forward this offseason. He was a very solid starting corner in 2011 and will be even better this year.
In addition to his progression, seniority will dictate that Brown remains the starter opposite Carlos Rogers.
Special Teams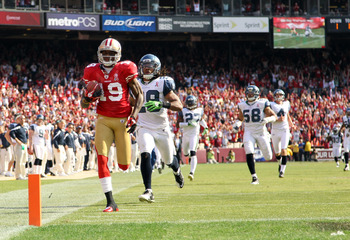 Ezra Shaw/Getty Images
San Francisco's special teams were as good as their defense in 2011, performing at a very high level. The Niners had a pair of record-setting kickers in David Akers and Andy Lee, who set league marks in points and punting average last year.
K
1. David Akers*
P
1. Andy Lee*
LS
1. Brian Jennings*
KR
1. Ted Ginn Jr.*
2. A.J. Jenkins
PR
1. Ted Ginn Jr.*
2. LaMichael James
Akers, Lee and Jennings aren't going anywhere, just like Patrick Willis and Justin Smith aren't going anywhere.
When it comes to the return game, it's hard to imagine anyone but Ginn being the primary return man in 2012. Ginn was retained on a one-year deal because of his skill set as a returner, not receiver. He will assume the main duties while San Francisco tries to get their rookies some extra touches and on-the-field experience.
The 49ers added explosiveness in the draft because they wanted to manufacture more big plays in 2012. In the first two rounds they added A.J. Jenkins and LaMichael James, both of whom had experience in the return game as collegiates. It's not an outrageous assumption to believe they will get their opportunities to contribute on special teams, considering their great speed and game-breaking ability.
Keep Reading

San Francisco 49ers: Like this team?