Euro 2012, Day 4: 5 Takeaways from Group D Round 1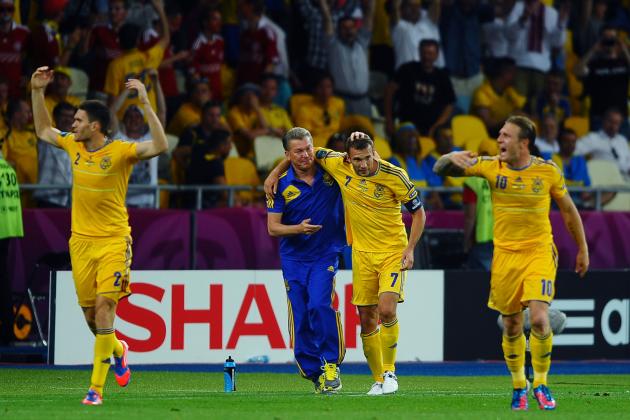 Laurence Griffiths/Getty Images

On Day Four of Euro 2012, a team won, a team lost and a team left points on the table.
Also, England played.
Monday's unveiling of Group D did little to separate contenders from pretenders. In the day's first game, France and England slogged through a sleepy 1-1 draw.
Reminiscent of something out of the Hundred Years' War, French attackers besieged England's defensive fortifications endlessly, yet only salvaged a solitary reward.
After watching the tournament's first round play out, it was co-host Ukraine's turn to take the pitch. They did not disappoint, shocking the sashed Swedes 2-1 after going a goal down.
Even now, Ukrainian fans are toasting captain Andriy Shevchenko over their pints.
After a day of contrasting fixtures, who would have predicted Group D shaking out this way?
| | | | | | | | |
| --- | --- | --- | --- | --- | --- | --- | --- |
| Team | W | D | L | GF | GA | GD | Pts |
| Ukraine | 1 | 0 | 0 | 2 | 1 | +1 | 3 |
| England | 0 | 1 | 0 | 1 | 1 | 0 | 1 |
| France | 0 | 1 | 0 | 1 | 1 | 0 | 1 |
| Sweden | 0 | 0 | 1 | 1 | 2 | -1 | 0 |
Here are five takeaways from Day Four at Euro 2012.
Begin Slideshow

»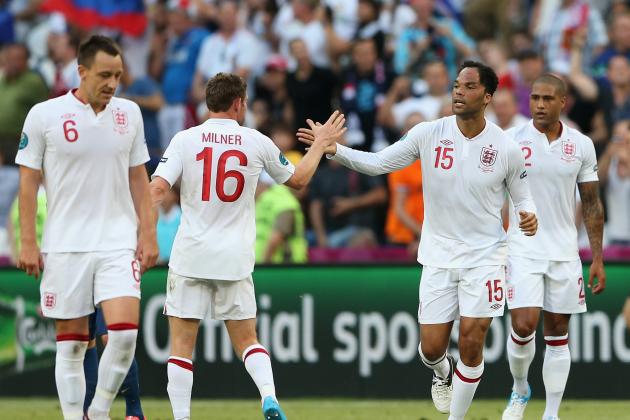 Scott Heavey/Getty Images

In his first competitive game as England manager, Roy Hodgson had his men try their best Greece impression, circa 2004.
After Joleon Lescott headed in a splendid Steven Gerrard free kick, England sat back in their own half and, for 60 minutes, dared France to equalize.
Even when the French obliged them, England seemed content to play for a draw, rarely troubling to push men forward. While France finished with 19 shots—five on target—the English attempted only three, one of which went in.
England's lack of chances had root in the way they placed four midfielders and four defenders in almost perfectly synchronized lines behind the ball.
Watch the replay. It is uncanny how well they kept their shape but, in doing so, left Danny Welbeck with no support on the counter.
What counted as respectable strategy made for turgid football, as England never fought with much gusto. The tomb-like atmosphere of Donbass Arena did not help matters.
What fans there were likely dozed off with the rest of us.
We often see teams play conservatively to start major tournaments—the cost of losing is just too high. Yet what has made Euro 2012 so engrossing thus far is that almost every team has thrown that logic out the window: gunning for a win and damn the consequences.
We shouldn't condemn England for playing with abject caution. Considering the technically gifted French side they were facing, it was good strategy.
Neither should we celebrate the Three Lions for settling for a draw so early in the match, when they clearly have the personnel to score goals.
I would hope as Euro 2012 goes on that England shows more life, but there's no indication from Hodgson that he'll do so for their next match against Sweden.
It's hard to fault England for this, but I just can't bring myself to praise them either.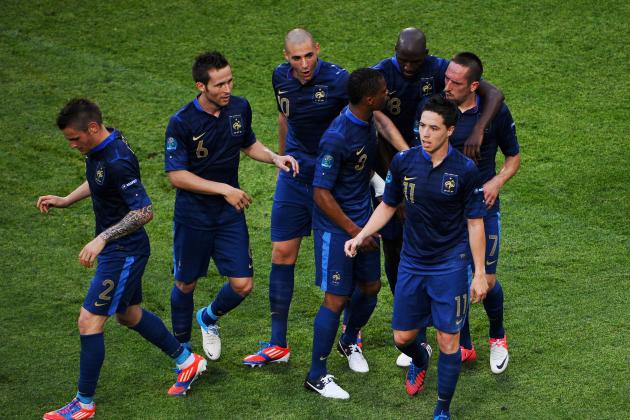 Lars Baron/Getty Images

If Monday's opener was decided by mere positivity, Les Bleus would have won going away.
Given all the possession they wanted but few clear looks at goal, the French resorted to set pieces and attempts from 30 yards out for an equalizer.
Samir Nasri eventually beat his Manchester City teammate for one, but that was all France would take from an extremely conservative England side.
Still, France were inventive and positive in the build-up, likely wishing they had taken three points from a match that could have easily gone their way. Nasri and Franck Ribery moved well on the wings, trying to thread the needle through England's back line.
In the middle, Alou Diarra was everywhere, making up for his poor marking on Joleon Lescott's goal with two solid headed attempts on goal.
France's back line was rarely troubled and, despite surrendering a goal and a terrific chance by James Milner that went wide, did enough to preserve the draw.
You might fault Mathieu Debuchy for that, but don't have it take too much away from his otherwise steady performance in place of injured Bacary Sagna.
Not every team France meets will be so conciliatory in possession, so it was reassuring to see them actively able to win the ball back in midfield time after time.
Yohan Cabaye was stalwart and, once substituted, his Newcastle teammate Hatem Ben Arfa picked up where he left off.
The French now must bring red-hot Ukraine back to earth, yet not underestimate them as the Swedes might have.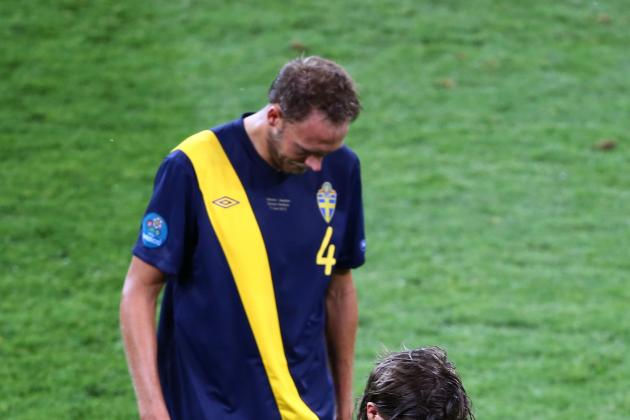 Martin Rose/Getty Images

Over the last few major tournaments, we've come to expect home sides to punch above their weight class at the start of group play.
Just ask Mexico.
Sweden knew what they were in for on a warm night in Kyiv, yet couldn't weather the Ukrainian storm that followed Zlatan Ibrahimovic's opening goal. Too often, the Swedes found themselves beaten on the counter, giving up fouls and far too much space on the flank.
When they went on the offensive, Sweden were inaccurate for most of the night. Ukraine generously did not park the bus even after going up 2-1, affording Sweden plenty of looks on goal in the final 15 minutes.
On another night, a player like Johan Elmander might have finished off some clear shots on goal. Yet, it was not to be.
For all the opportunities they had to equalize, it's hard to pinpoint anything other than the abysmal finishing that Sweden must quickly improve on.
That, and maybe more robust ideas from wingers Sebastian Larsson and Ola Toivonen. Both of them were subbed due to ineffectiveness.
Ibrahimovic is fully capable of creating and finishing his own chances, but if his height isn't exploited by crosses from the wings, his attacking potential won't be fully realized.
With England next on the docket, Sweden will need more accuracy in the final third.
Or, they could find themselves victim to a 1-0 loss and out of Euro 2012.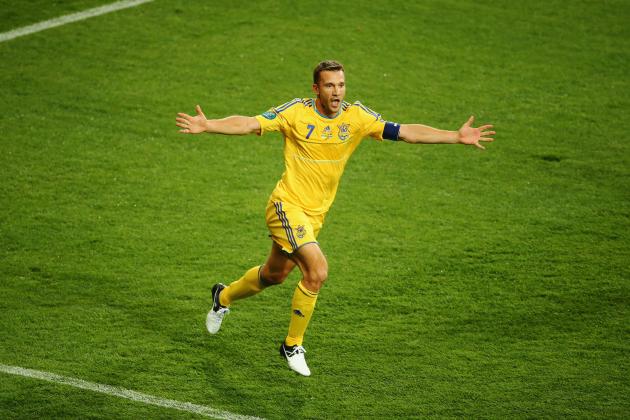 Martin Rose/Getty Images

With the hopes of a nation on his aging shoulders, captain Andriy Shevchenko turned in a performance worthy of song in front of the home fans.
The old Ukrainian warhorse turned back the clock to net a pair of goals that sent Kyiv into dreamland and his team on top of Group D.
Headers off a corner and a brilliant cross by Andriy Yarmolenko did in the Swedes, and validated manager Oleh Blokhin's faith in selecting Shevchenko.
That Shevchenko came up trumps in his first taste of European Championship football is a testament to a man whose senior career extends back to 1994.
A veteran of Dynamo Kyiv, AC Milan and Chelsea, Shevchenko is not unfamiliar with the big moment, looming large when his country needed him the most.
As a team, Ukraine pulled the upset in a way that should please football purists: positive, unrelenting attacking football even when conventional wisdom dictated they should leave more men in defense.
It was a valiant gamble that paid off in spades, and Ukraine should be applauded for it.
Shevchenko didn't get to complete his hat trick as he was substituted in with 10 minutes to go, but maybe that was for the best.
He is old, after all.
The Ukrainians face an even bigger test with France on the horizon. If they bring this kind of team energy, and Shevchenko keeps his shooting boots on, we could be in for a fantastic fixture.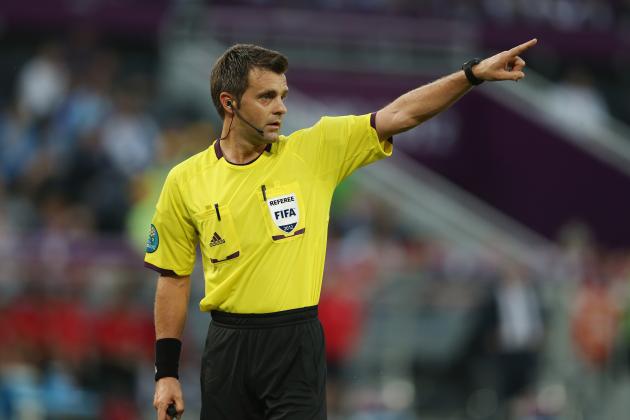 Julian Finney/Getty Images

We talk so much about incompetent refereeing in football that it's refreshing to praise them once in a while.
Italian referee Nicola Rizzoli put in a fantastic shift during the France-England encounter, putting on a clinic for those who wish to know how to officiate a match.
Knowing ahead of time he would be dealing with sides containing known simulators, Rizzoli was not fooled by a single dive.
When Ashley Young went down and dove twice in an early five-minute span, Rizzoli let play go on and bid the Manchester United man to rise.
Likewise, when Franck Ribery took to the turf clutching his face after brushing against Glen Johnson, writhing theatrically, Rizzoli immediately sprinted over to him and demanded he cut the theatrics and get up.
Both France and England tried to game free kicks off each other throughout the match, yet more often than not Rizzoli bid them play on.
Advantage was given in all the right situations, only two yellow cards were assessed and calls went both ways.
Yes, it was a relatively slow and uneventful match. But, it still was a commendable performance by Rizzoli.
Unlike some referees who can't wait to get the cards out, Rizzoli proved that, at least as a football referee, less is more.