Jake Ballard Waived: They Can Disappear Even More Quickly Than They Can Emerge
June 11, 2012

Gregory Shamus/Getty Images
Unlike a lot of professional sports, the NFL is quite a fertile land of opportunity for those who weren't good enough to be drafted with high expectations. Chalk that up, at least partially, to the amount of injuries that give those buried on depth charts opportunities to shine in practice. 
But there's a double-edged sword there, because injuries can crush those opportunities much more quickly than they take to arrive and develop.
We were reminded of that today as the New York Giants waived tight end Jake Ballard—a man who started 16 of the team's 20 regular season and playoff games during their magical 2011 Super Bowl campaign. 
Six months ago, Ballard was making impact plays and being relied upon by Eli Manning as a crucial safety valve during the Giants' Super Bowl run. Now, he's jobless after tearing his ACL in the Super Bowl and failing to pass an offseason physical. 
It's amazing, because Ballard led all New York tight ends with 38 catches, 604 yards and four touchdowns last season. He actually had a more productive year, on paper and in terms of intangible impact, than Mario Manningham did. And yet the Giants are ready to move on. 
That's the reality of this league.
New York lost both Ballard and Travis Beckum to torn-up knees in the Super Bowl. The New York Daily News reports that Beckum should be ready for the start of the season, but dual knee surgeries in February meant Ballard would likely miss all or most of the year. 
The Giants covered themselves in the offseason, signing free agent and former second-round pick Martellus Bennett and using a fourth-round draft pick on Cincinnati's Adrien Robinson, whom general manager Jerry Reese coined "the JPP of tight ends."
Because of that insurance, losing Ballard probably won't hurt the Giants in 2012. Besides, his release from the roster only confirms that he won't contribute this season, which we knew would be the case already. If Ballard can get healthy again, his agent indicates, via Twitter, that he'll likely be back with the Giants: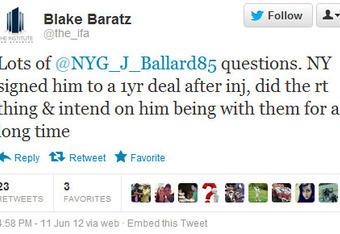 But the move certainly serves as a reminder that the NFL's circle of life is fast and cruel. A training camp injury suffered by Beckum gave the undrafted Ballard a chance to become a household name, but before he could ever secure a long-term contract in blue, his own demoralizing injury begets an opportunity for the next man in line.