5 Current San Francisco Giants That Do Not Belong in the Big Leagues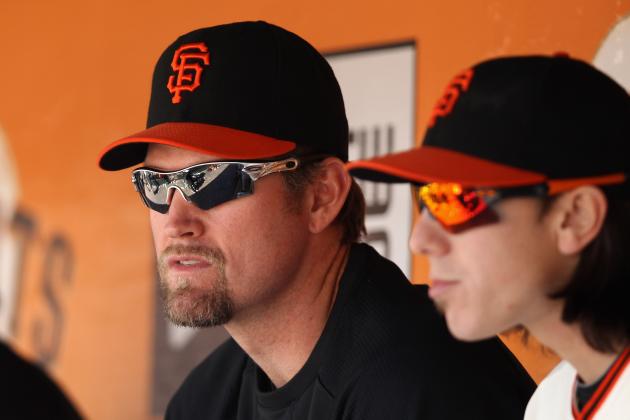 Ezra Shaw/Getty Images
Aubrey Huff and Tim Lincecum have struggled in 2012
Over the past few seasons, much has been made about the Giants farm system and their ability to draft and develop young stars. With recent successes such as Pablo Sandoval, Buster Posey and Madison Bumgarner, which followed Tim Lincecum, Matt Cain and Brian Wilson in the years prior, a lot of scouts were in favor of giving other young talents a shot at extending playing time.
With a few of their young prospects getting a taste of the big leagues last year, the Giants decided during spring training their best option was to go with their youth. Banking on their talent and maturity, the Giants figured they were good enough to learn on the fly and get better at the big-league level.
As we approach the middle of June, it appears the Giants may have miscalculated, and it could prove to hurt their development long term.
Begin Slideshow

»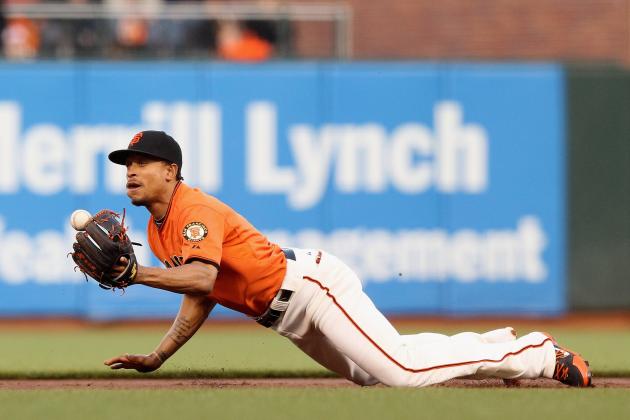 Ezra Shaw/Getty Images
2012 has been disappointing for Emmanuel Burriss.
Emmanuel Burriss is not a major league hitter. Aside from batting .217, his on base percentage is an awful .282. Burriss has only walked nine times in 106 at bats, and he often swings at balls out of the strike zone. He has one extra base hit all year, a double, which explains his .226 slugging percentage.
Additionally, it's not as if he was overwhelmingly good in the minors. Burriss's career minor league average is .285, with a .348 on base percentage. Even in the minors, he only averaged one walk in every 12 at bats. The Giants like his speed and versatility in the infield, but he can't hit at the major league level and I don't believe he ever will.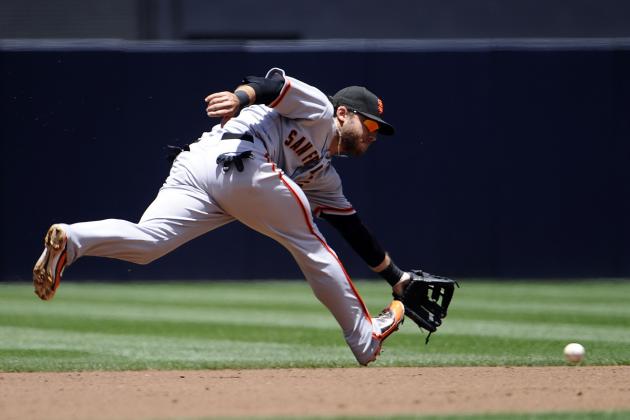 Denis Poroy/Getty Images
Brandon Crawford needs another year to develop in the minors.
Brandon Crawford cannot hit at the major league level, yet. A decision that was made based mostly on his incredibly ability to field a key position in the infield has experienced a bumpy road so far. With a .219 batting average, a .274 on base percentage and a slugging percentage just over .300, he has struggled mightily at the plate.
Unfortunately, he has taken some of his hitting woes onto to the field, sometimes struggling to make a routine play. With already 10 errors this season, he has played better as of late and often makes a spectacular play that proves he can play shortstop at any level.
Regardless of his ability to field his position, Crawford will need to at least hit .240 this year. If he doesn't show the ability to make adjustments and increase his average, the Giants will be forced to look in a different direction next year and long term.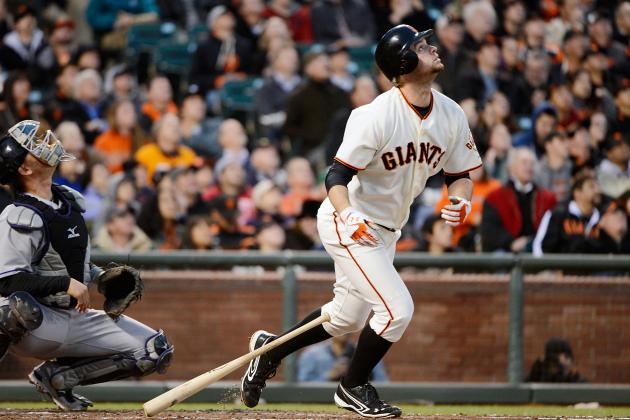 Thearon W. Henderson/Getty Images
Brandon Belt's lack of power is a major concern.
Brandon Belt was the No. 1 hitting prospect in the Giants organization entering Spring Training last year. With a great spring, Belt made the club and looked like he was on his way to a stellar rookie season. After some early stumbles, and an injury, Belt ended up being yo-yoed back and forth, and it clearly took a toll on the young first baseman.
Every time Belt was sent down, he would tear up the pitching at Class Triple A Fresno, but couldn't find his groove in a platoon role at the big league level.
2012 has also seen Belt struggle, hitting .224 with no home runs, while striking out one out of every three at bats.
The organization has tinkered with his swing, as many scouts and coaches in the organization have tried to level his swing, but to no avail.
Like Crawford, Belt is a phenomenal infielder, and is the Giant's best fielding first baseman. But more importantly than the shortstop, the Giants have to get more pop in the lineup from first base.
Belt's career minor league are impressive, hitting .343, with a .457 on base percentage and a .596 slugging. He hit a home run on out of every 21 at bats, which should translate to around 25 home runs a year, but it's not happening.
Belt should be in the minors again, but the Giants don't have a better option right now, so he stays. If he's hitting around .225 at the All-Star break, the 2012 Belt experiment will be over.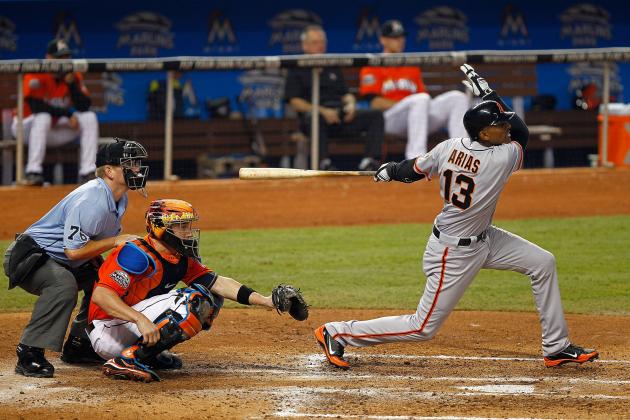 Mike Ehrmann/Getty Images
Joaquin Arias is hitting .186 at AT&T Park this year.
Joaquin Arias was called up on April 25th of this year and was forced into the starting role at third base when Pablo Sandoval went down with a broken hamate bone in his wrist, shelving him for 35 games.
Arias did a nice job filling in for Sandoval as he's started 36 of San Francisco's 43 games since being called up, and has hit safely in 25 of them. More importantly, he played a decent third, which was vital to a Giants team that has struggled in the field this year, currently leading the National League in errors.
Arias has shown flashes at the plate, but has slumped as of late, dipping his average down to .235. At home, Arias's average is even worst at .186, and he is one for his last 25 (.040) with runners in scoring position.
In his 11th year in professional baseball, Arias has already had a few brief stints in the majors before, getting called up by Texas in 2006, 2008 and 2009, but most of his time has been spent in the minors where he's hit .283 with a .317 on base percentage.
Arias is a career minor leaguer who's been given a shot this year with Sandoval's injury, Freddy Sanchez's continued rehab and Burriss's ineffectiveness. I don't expect Arias to hit above .240, and I don't expect him to be in the big leagues next year.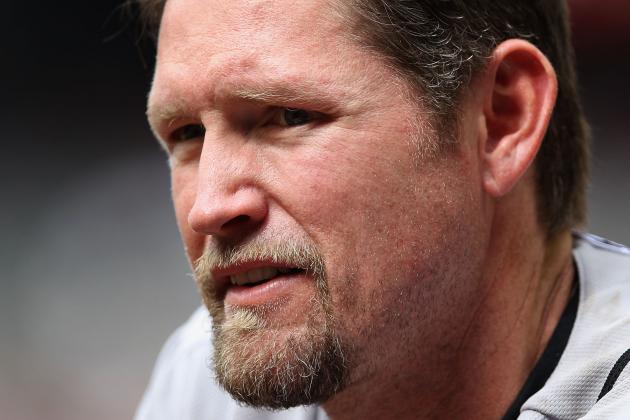 Christian Petersen/Getty Images
Huff's issues this year have been on and off the field.
Aubrey Huff is done. He's physically, and more importantly mentally finished, and if it weren't for a $12 million contract the Giants would've already released him. Plain and simple, no need to debate, that's it.
.