The Top 25 Future Challengers for UFC Titles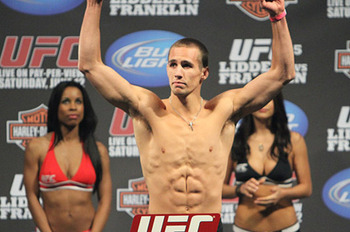 Via mmaweekly.com
In the world of sports there is perhaps no better time to look ahead than in June, which contains both the NHL and NBA entry drafts.
But what about MMA? There is no draft there. Should fans of the sport really be left out of all the fun associated with looking forward and predicting the future of prospective stars?
Of course not! That is why I have got you covered. It may not be a draft, but here we will take a look at 25 mixed martial artists that will one day contend for a UFC title.
Some ground rules:
A future title contender cannot be a former champion or have fought for a UFC title (there will be no Frankie Edgar or Gray Maynard).
This includes current and past interim champions (no Frank Mir or Carlos Condit).
Additionally, a future title contender cannot be scheduled to fight for a title (no Renan Barao), or be a consensus choice to face the winner of an upcoming title fight (no Nate Diaz).
Also, to be included on this list a fighter must be part of, or potentially part of the UFC roster (no Pat Curran).
Alright, let's begin.
Siyar Bahadurzada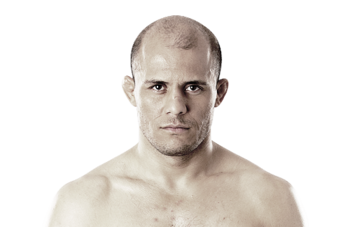 Via UFC.com
Bahadurzada has raw power. Lots of it. He showed this when he laid out Paulo Thiago, a fighter previously impervious to knockout, in his UFC debut this past April.
Prior to this outstanding achievement, Bahadurzada showed his power by finishing a granite-chinned John Alessio in March of 2011.
While naming Bahadurzada an uncrowned UFC champ is premature at this point, completely ignoring the possibility is insipient.
Perhaps Bahadurzada will turn out to be a one-hit-wonder, but the potential for greatness is there, and finding him in a title fight somewhere down the line may be more realistic than many people expect.
Alan Belcher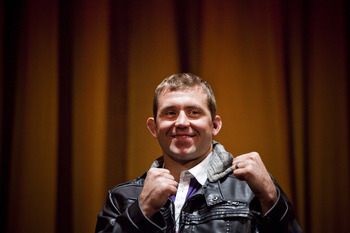 Michael Nagle/Getty Images
Belcher is an MMA veteran with 24 fights on his record, but is still only 28 years old, so he has plenty of time to make a title run.
The Talent is on a four-fight win streak and has lost but one time in his last seven contests—and that sole loss was of the controversial variety, a split decision to Yoshihiro Akiyama.
Belcher is a dynamic striker with a very surprising ground game. Heck, last time out he outgrappled Rousimar Palhares.
That's like engaging LeBron James in an argument and being able to say something stupider than he can (That's topical now that the Heat are in the NBA Finals again. You can't deny that it's topical!).
Belcher may be a late bloomer, but he will be an important player in the UFC middleweight division's title picture within the next year or two.
Daniel Cormier
Jonathan Ferrey/Getty Images
Projecting where a non-UFC fighter fits into a UFC division is often a treacherous task, but when you talk Cormier you start near the top.
Olympic level wrestlers can never be taken lightly, and Cormier has spent the last few years developing some nice striking to complement his dominant takedowns and ground control.
Since winning the Strikeforce Heavyweight Grand Prix, Cormier seems poised to make the jump to the big show, where should not be long before he tests his mettle against the division's champion.
Cormier is 33, but has only 10 professional fights.
Phil Davis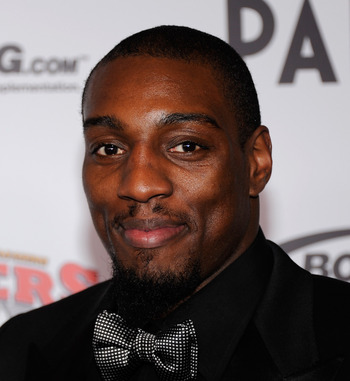 Ethan Miller/Getty Images
Phil Davis debuted in the UFC by defeating Brian Stann in dominant fashion. Since that time he has been considered the future of the light heavyweight division.
Although Davis suffered a setback when he lost to Rashad Evans earlier this year, the 27-year-old American is just getting started in mixed martial arts.
With incredible athleticism and impressive wrestling pedigree, it is only a matter of time before Davis, just a 10 fight MMA veteran, puts it all together and challenges for the UFC's 205-pound title.
John Dodson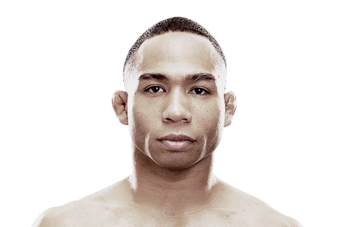 Via UFC.com
Dodson may have racked up some losses early in his career, but the level that he is now fighting at is quite advanced.
With limited depth in the UFC's new flyweight stable Dodson cannot be all that far removed from a title shot already.
So long as he keeps impressing, the Magician may be able to turn that Ultimate Fighter title into a UFC title before long.
Alexander Gustafsson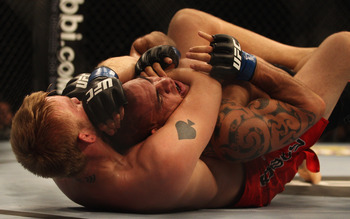 Mark Kolbe/Getty Images
Gustafsson is not only Sweden's best hope for a UFC title, he will be one of Jon Jones' most significant threats over the coming years.
Gustafsson is a 25 year old destroyer who throws fire and can eat a hard punch. We always knew he could brawl, but his 15-minute tactical demonstration against a hapless Thiago Silva exhibited that Gustafsson is capable of outmaneuvering opponents, as well as out-slugging them.
In addition to his superior striking, the Mauler possesses some solid submissions. He is a legitimate threat from anywhere and is rapidly becoming a serious threat to any and all of Zuffa's 205-pound employees.
Johny Hendricks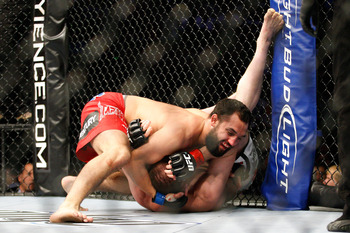 Richard Wolowicz/Getty Images
Right at the epicenter of the welterweight title disaster sits Johny Hendricks. While Carlos Condit sits in an ivory tower eagerly awaiting the return of Georges St-Pierre, Hendricks is out in the trenches battling the division's finest.
Most recently, Hendricks scored a knockout win over Jon Fitch and followed it up with a decision victory over Josh Koscheck. That's kind of a big deal.
Now, Hendricks is set to face Martin Kampmann for the unofficial title of UFC welterweight No.1 contender. If he wins the fight, he becomes a title contender. If he loses the fight, he will become a title contender—just not right away.
Hatsu Hioki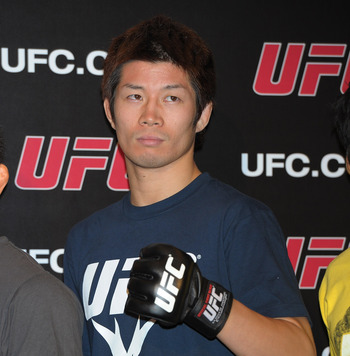 Koki Nagahama/Getty Images
Often considered Japan's last hope to salvage the nation's MMA reputation, Hioki is proving that he belongs among the best featherweights in the world.
Though his UFC debut was less than stellar, the 28-year-old showed what he is capable of when he defeated Bart Palaszewski this February. His win over Palaszewski had some people clamoring for an immediate title shot against incumbent crown-wearer Jose Aldo, but for now, Hioki will wait for that opportunity.
Hioki will take on Ricardo Lamas at UFC on FX 4, June 22. The result of that fight should be a good indicator of where he stands in the division. That he is on this list suggests what I believe the outcome will be.
Martin Kampmann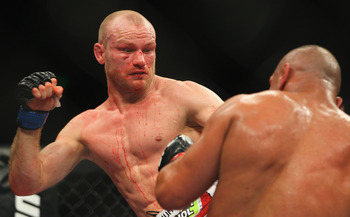 Mark Kolbe/Getty Images
Obviously we cannot have Hendricks here without including Kampmann.
The Hitman is a UFC veteran who has always been on the fringe of becoming a title contender, but never quite there. This time, however, it is different.
With a win over Johny Hendricks this July, Kampmann would become the division's clear number one contender to the winner of Condit-St-Pierre.
Even if he drops his contest to Hendricks, Kampmann will still be close—that's what finishes over Jake Ellenberger and Thiago Alves in a three month period will do for you.
Whether it happens at the end of 2012, or sometime in 2013, Martin Kampmann will enter the Octagon with a welterweight champion.
Hector Lombard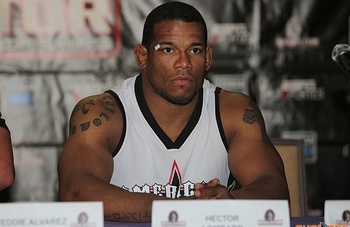 Via sherdog.com
Lombard is 34 and has accomplished a lot in MMA. The only thing left for the Cuban-born Judokan to prove is that he is capable of wearing UFC gold.
Originally slated to debut under the Zuffa banner opposite Brian Stann, Lombard is now poised to take on the upstart Tim Boetsch this July.
With a win, Lombard may find himself next in line for a title shot. If not, it is hard to believe that he would be more than one win away.
Lombard will become an official UFC title challenger in the very near future.
Rory MacDonald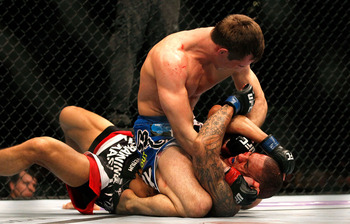 Kevin C. Cox/Getty Images
Given that he is still just 22-years-of-age it is difficult to believe how accomplished Rory MacDonald is as a professional fighter.
MacDonald began compiling wins in the sport as a 16-year-old and has scored three UFC stoppages in five fights with the promotion. He has tussled with current interim welterweight champion Carlos Condit, defeated current lightweight title contender Nate Diaz and been taken in as a protege by current welterweight kingpin Georges St-Pierre.
Given the potential of the young Canadian there is good reason to believe that all MacDonald has done so far is just the tip of the iceberg. It may be difficult to fathom just how good he can be, but it is certainly easy to imagine that he will one day contend for a UFC strap.
That day will probably be sooner rather than later.
Ronny Markes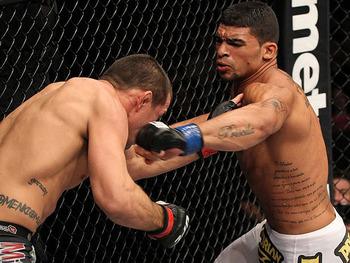 Via esportes.r7.com
Markes holds a 2-0 UFC record with decisions over Aaron Simpson and Karlos Vemola.
While his resume is not something to drool over, it is impressive to consider that Markes outwrestled Vemola with ease and held his own against Simpson. But that he combines powerful striking, proficient grappling and impressive cardio with his wrestling, shows how complete and talented a fighter Markes really is.
At just 24-years-of-age Markes is still green, but do not be surprised if he is wearing, or at least competing for UFC gold a few years down the road.
Ian McCall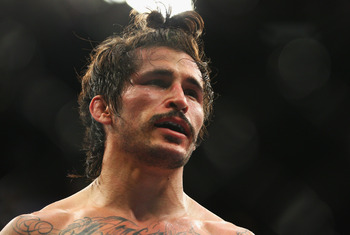 Mark Kolbe/Getty Images
McCall may not feel like he is on top of the world since dropping a decision to Demetrious Johnson in the UFC Flyweight Grand Prix semifinals earlier this June, but he will play a key role in the division's title picture before long.
McCall is a terrific wrestler with good hands and grappling to match. The competitiveness of his recent contests with Mighty Mouse displays just how small of a margin there is separating him from title contendership.
Eventually, he will cross that line.
Michael McDonald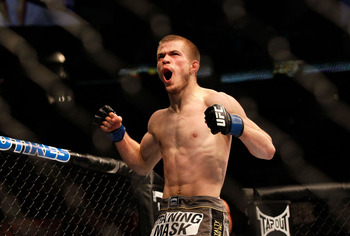 Kevin C. Cox/Getty Images
The 21 in the age column suggests that McDonald will be more of a factor in the future than the present, but the number belies his talent.
Coming off a crushing knockout victory over bantamweight legend Miguel Torres, McDonald has positioned himself near the top of the 135-pound ladder. While he may be another win or two away from earning a title shot, there is little debate that doing so is a question of 'when' rather than 'if' for Mayday.
While McDonald is a well-rounded fighter his calling-card is without a doubt his powerful hands. In a division where power is scarce, chances are high that McDonald's title aspirations will eventually be sated.
Stipe Miocic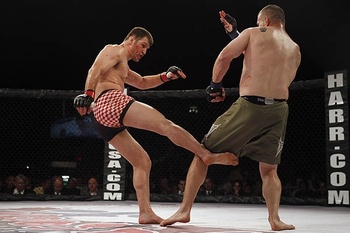 Via theflyingkneemma.com
At 29-years-of-age Miocic is not one of the younger guys on this list. However, with only nine professional fights to his name you can be certain that he is yet to reach the zenith of his ability.
With a 9-0 record overall and a 3-0 mark in the UFC, Miocic is poised to do big things. He has yet to take on an elite heavyweight fighter, but there is no doubt he has the talent to hang in the division's upper-echelon.
Miocic is best known for his knockout power, but is a collegiate wrestler with tremendous takedowns. Additionally, he has exhibited the capacity to take damage over his last two fights, though avoiding punishment instead of absorbing it may be something he should work on before challenging for the UFC heavyweight crown.
Miocic should heavily factor into the title picture in a year or two.
Mark Munoz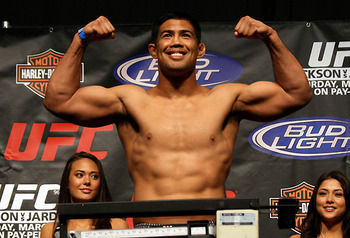 Via mmajunkie.com
Admittedly, this one is a little cheap, but even at age 34 Mark Munoz is hardly a journeyman.
Instead, Munoz got a late start in MMA and is just now rounding the corner towards a title shot. He will take on Chris Weidman this July in a bout that will have a significant impact on the middleweight division's short-term title picture.
Munoz, a former light heavyweight, is a dominant wrestler with vicious ground-and-pound.
It should not be long before he becomes an official title contender in the UFC.
Charles Oliveira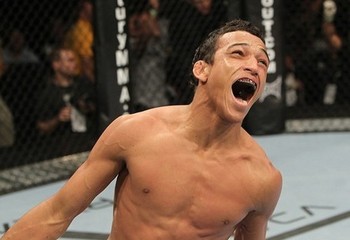 Via mmamania.com
Less than a year ago Charles Oliveira was flirting with "bust" status.
No one has ever questioned Oliveira's talent, but after entering the UFC with serious hype, the Brazilian fought to a 2-2 record, suffering two first-round stoppage losses.
At that point, things looked grim.
But then Oliveira got the bright idea to try his hand at featherweight rather than lightweight. So far, the move looks to have been genius.
Since making the drop to 145 pounds, Oliveira has defeated Eric Wisely and Jonathan Brookins in dominant fashion.
Still only 22 years old, it seems that Oliveira is starting to live up to his hype, and that will be something Jose Aldo or his successor may have to keep an eye on.
Alistair Overeem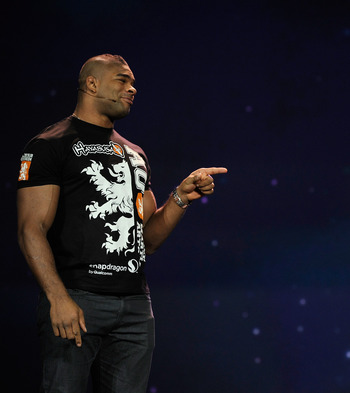 Kevork Djansezian/Getty Images
Is he a future title contender or a past title contender? To be safe, let's just include him on the list.
Overeem was supposed to take on Junior Dos Santos this May before his staggering testosterone levels raised an eyebrow or two down at the old Nevada State Athletic Commission, which resulted in a year-long suspension.
When he returns, will Overeem be granted an immediate title shot? It is difficult to say. It really depends on the heavyweight picture. But whether it comes in his first fight back, or the second or third, Overeem is a future UFC title contender.
Anthony Pettis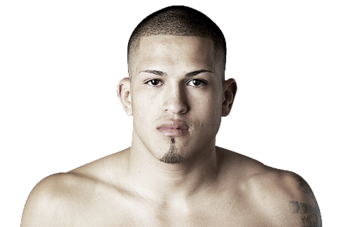 Via UFC.com
In a parallel universe without draws, Pettis may already have been a title contender. But since Frankie Edgar and Gray Maynard took their sweet time in figuring out who should be the UFC's lightweight champion, Pettis, then the WEC lightweight champ, was matched up with Clay Guida and lost his promotional debut.
While the loss was an undeniably significant setback, Pettis has since reeled off two consecutive wins.
He notably owns a win over current lightweight champion Ben Henderson, and at 25-years-of-age continues to improve.
If Pettis is to become a UFC champion he needs to drill his takedown defense hard. But given his natural talent and intelligence, it is but a matter of time before he eliminates that weakness and becomes a title contender—if not a title holder.
Dustin Poirier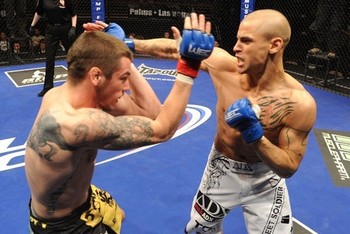 Via fcfighter.com
I must admit: I have never been as sold on Poirier as a lot of other MMA fans are.
That said, I cannot deny that a 23-year-old with a game that is as well-rounded as Poirier's needs to be on this list.
The recent loss to Chan Sung Jung stops Poirier from being a current title contender, but the smart money says he will likely garner that honor eventually.
Paul Sass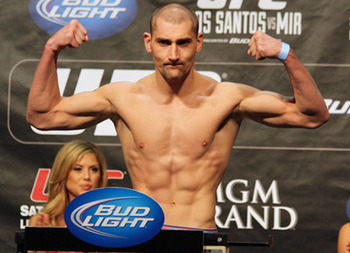 Via mmajunkie.com
Ok, so this one might be a stretch.
But, Sass is only 23 years old and has one of the most singularly dominant moves in the UFC's lightweight division. Of course, someone may find a way to stop that move and expose Sass for a one-dimensional pushover.
However, until that happens it is difficult to argue that Sass should not warrant consideration for a spot here, given his youth, three consecutive first round stoppages and unblemished record.
It also does not hurt that Sass is English, which increases his chances of landing a big fight should the UFC ever develop the fancy to put on a big lightweight battle in the UK.
Five years from now Sass may be a champion, or he may have been long since cut. I want to believe the truth leans toward the former, even if he does not quite make it all the way.
Erick Silva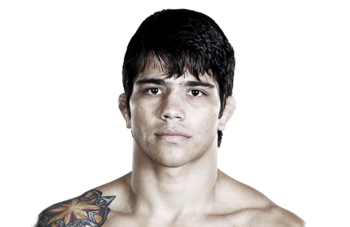 Via UFC.com
There are few prospects in MMA that have the kind of momentum Silva is enjoying right now.
In three UFC fights Silva has amassed a 2-1 record (the loss was a disqualification in a fight he had all but won) and has yet to make it out of the first round.
What is impressive is that he is a submission specialist who has dominated with his hands. Also impressive is how well he handled Charlie Brenneman's wild wrestling assault earlier this month.
Silva looks to be a very well-rounded fighter, and at 27 years old, he will be a title factor in the not-too-distant-future.
Brian Stann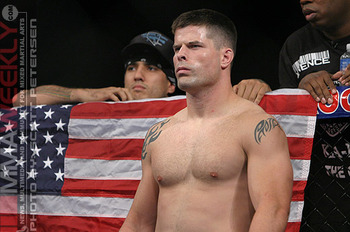 Via mmaweekly.com
He was oh-so-close last year when he lost a title eliminator to current challenger Chael Sonnen.
Things may work out better for him this time around.
Stann is a tremendous striker and solid wrestler. He has also made strides with his grappling over the past couple of years.
He recently bowed out of a summer slug-fest with UFC newcomer Hector Lombard because of an injury, but being relegated to the sidelines will only delay Stann's ascent.
Eventually, Stann will defeat the right opponent and find himself in a middleweight title fight.
It also doesn't hurt that he is an exciting and popular fighter.
Stefan Struve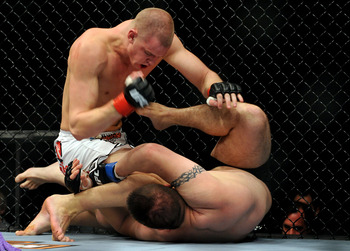 Jon Kopaloff/Getty Images
There has been no shortage of MMA fans ready to dub Struve a heavyweight gatekeeper, but at 24 years old, he is only beginning to scratch the surface of his talent.
Struve's gargantuan stature and long limbs give him trouble when aggressive fighters bull-rush him, but he has found no shortage of success during his UFC career.
Struve has put together three-straight wins twice during his UFC tenure, which means he is more than capable of making a run. When a fighter has the capacity to do that it is just a matter of time before he earns himself a title shot.
Chris Weidman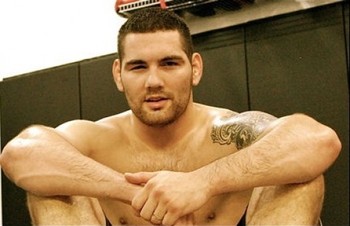 Via fiveouncesofpain.com
Weidman has been quick to make a name for himself, becoming one of MMA's most promising up-and-comers in just eight professional fights.
Weidman is a well-rounded fighter, but his bread and butter is undoubtedly his wrestling. To complement this, Weidman owns a very good submission game and developing striking.
A July showdown with Mark Munoz will provide a good indicator of just how far along Weidman is at this point in his career and will afford him the chance to put another big name on his hit-list, adding to Demian Maia.
Weidman is a future title contender and likely a future UFC champion. He is a rare talent and should factor into some pound-for-pound rankings somewhere down the line.
Keep Reading