Euro 2012 Predictions: Early Favorites That Won't Live Up to Hype
June 11, 2012

Julian Finney/Getty Images
Euro 2012 features 16 of the best countries in the world, but there are some whose hype overshadows the team's actual potential.
Some of these countries were favorites to win the tournament, while others were merely favorites to win their group. However, no matter what they were favorites to do, you can expect early exits for all of them.
These teams are all over-hyped and will not be able to live up to the expectations set for them.
Portugal
Portugal's weapons consist of Cristiano Ronaldo, and...um...well, that's about it.
While Ronaldo can score goal after goal in La Liga, he is not going to be able to utilize his fancy footwork and stepovers with the same degree of success on the international stages as he can against lesser defenders.
Ronaldo will struggle during the Euros because he will be marked by defenders over the course of the entire game and will not be getting as many chances as he usually does in La Liga.
Taking away Portugal's offense isn't as hard as it seems, and this will lead to Portugal losing in the group stages, and potentially losing all three games they play.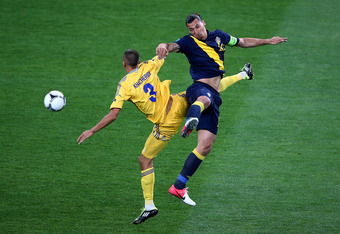 Martin Rose/Getty Images
Sweden
After an embarrassing 2-1 loss to Ukraine, Sweden now has games remaining against England and France in the Group Stage.
Their match with Ukraine was a must win for Sweden, and by not taking a single point they put themselves into a position to be eliminated early.
England and France are both great competitors who will surely give these guys problems, and they can't bank on winning against either team.
Netherlands
After losing to Denmark, the Netherlands must beat either Germany or Portugal, tie the other and then have a few other good things happen to advance out of the group stage.
Holland's game against Denmark was a must-win, and seeing as they lost and are in the group of death, we could see one of the elite countries in the world fall early.
Holland was one of the favorites to win it all, and seeing them suffer in the group of death is a huge disappointment for soccer fans everywhere.