USC Football: 8 Reasons Why Robert Woods Will Be This Year's True Star
Stephen Dunn/Getty Images
The college football world has huge expectations for wide receiver Robert Woods, a rising junior from the University of Southern California. Phil Steele has listed Woods as a preseason First Team All-American at wide receiver.
Woods looks to be quarterback Matt Barkley's primary target in 2012 after putting up extraordinary numbers in 2011. He was a finalist for the 2011 Biletnikoff Award, and many media organizations voted him a First Team All-American.
In 2011, Woods flirted with many USC and conference records. He broke the Pac-12 record for single season receptions with 111. He broke the school record for single-game receptions with 17.
The past two seasons, NCAA regulations have prevented USC from playing in bowl games. This season, the ban is lifted. An opportunity to win the national championship should motivate Woods even more to repeat, or even exceed, his 2011 season.
Let's take a look at eight reasons why Woods will repeat as a Biletnikoff Award finalist for the Trojans in 2012.
He Can Catch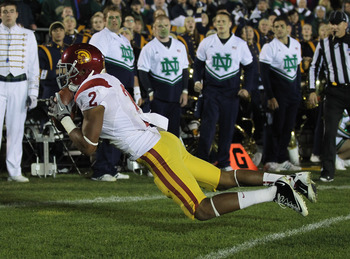 Jonathan Daniel/Getty Images
After just two seasons, Robert Woods is tied for the sixth-most receptions in school history (176). As previously mentioned, he broke the single season Pac-12 record for receptions.
Woods' 111 receptions ranked fifth nationally in 2011. The four players with more receptions—Jordan White, Eric Page, Justin Blackmon and Mohamed Sanu—have all moved on from college football, so Woods could easily lead the nation in receptions in 2012.
He Can Return Kicks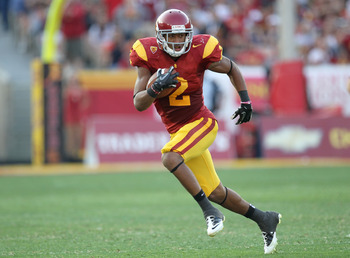 Stephen Dunn/Getty Images
According to the 2012 USC Spring Football Media Guide, Robert Woods "…is on pace to break USC career pass catching and kickoff return records."
Heading into 2012, Woods ranks fourth in school history with 1,364 kick return yards.
After 2012, the Trojans will have a better idea about Woods' ability to break the record. Will he get enough opportunities to return kicks this season? Will the kickoff coverage unit block well enough to help him towards his goal?
Woods certainly has the talent. According to the 2012 USC Spring Football Media Guide, USC's special teams coordinator John Baxter won the FootballScoop.com Special Teams Coordinator of the Year Award, which suggests his units are among the national elite. These two things make the record well within reach for Woods.
He Can Return Punts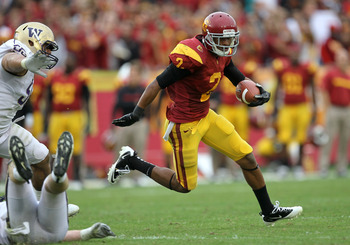 Stephen Dunn/Getty Images
In 2011, Robert Woods ranked fifth in the Pac-12 Conference with 9.1 yards per punt return. Phil Steele has Woods on his preseason All-Pac-12 Fourth Team at punt returner.
Woods' ability to affect field position for the Trojans as a special-teamer, in addition to as a wide receiver, makes his star shine even brighter.
He Can Score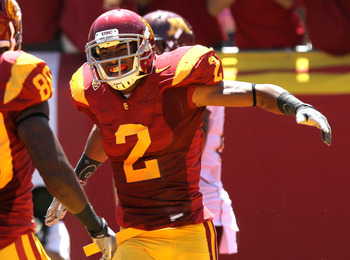 Stephen Dunn/Getty Images
Robert Woods' 95 points placed second on the team in 2011, as only kicker Andre Heidari scored more. His 15 receiving touchdowns led the team and the conference.
Although Woods went scoreless as a returner in 2011, he has the ability to break one at any time.
Marqise Lee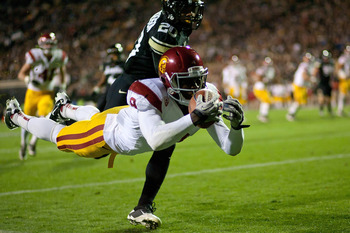 Justin Edmonds/Getty Images
Opposing secondaries cannot focus their attention entirely on Robert Woods. Woods and rising sophomore Marqise Lee form a dangerous receiving pair for USC.
As a true freshman in 2011, Lee placed second to Woods on the Trojans in receptions (73), receiving yards (1,143) and receiving touchdowns (11). Lee and Woods together had the best season in school history as a wide receiver combination.
In 2012, Lee should again trail only Woods in most receiving categories. Without such a productive pass-catcher as Lee on the other side, Woods would demand more coverage, which would result in less production.
Lee and Woods were high school teammates at Junipero Serra High School in Gardena, California. Their familiarity with each other prior to joining USC certainly contributed to their success in 2011.
When the rest of the Pac-12 meets the men of Troy, they will have to pick their poison, and that is never a good sign.
Matt Barkley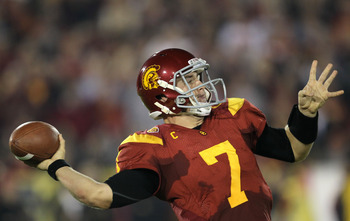 Stephen Dunn/Getty Images
Rising senior quarterback Matt Barkley passed up the opportunity to enter the National Football League as a surefire first-round draft choice in 2012. With Barkley returning this season, he and Woods can build on their previous success.
Barkley enters his fourth year as the starting quarterback in Los Angeles. He is one of the best Trojan quarterbacks ever, and that list includes Carson Palmer and Matt Leinart. Those two won a Heisman Trophy, and Barkley looks to do the same in 2012.
He ranks in the top three at USC in completions, passing yards and passing touchdowns. According to the 2012 USC Spring Football Media Guide, Barkley should set new records in these categories by season's end.
About his top target Woods, Barkley said: "I have a trust with him that he will be there every time…He knows where to be and I know we can count on him."
Barkley and Woods will make magic at the L.A. Coliseum for one more season before the quarterback leaves for the NFL.
High Expectations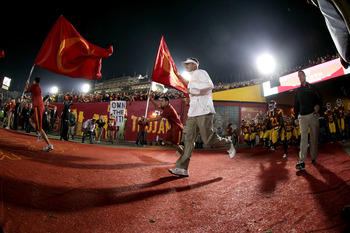 Stephen Dunn/Getty Images
Athlon Sports has ranked the University of Southern California Trojans No. 1 in its 2012 preseason top 25. All eyes will be on the Trojans this season.
As previously mentioned, Phil Steele believes Robert Woods will be one of the three best wide receivers in the country.
As the best receiver on the best team in America, Woods will have many opportunities to make headlines in 2012. This added pressure should not be a problem.
ESPNU ranked Woods the seventh best overall player, and the best wide receiver, in the Class of 2010. He was coming off a state championship senior season at Junipero Serra High School.
Woods made a flawless transition into Division I college football after becoming the most highly regarded wideout in his class.
In two seasons, Woods has become one of the best wide receivers in USC history. He has adapted to the pressure of playing USC football in a short time. Brian Kamenetzky of ESPNLA.com said of Woods: "Woods' learning curve further validates his numbers. Teammates and coaches marvel at his intelligence and attention to detail."
The star receiver should meet the Trojans' increased expectations early on in 2012.
Finally Free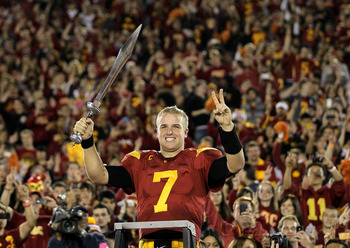 Stephen Dunn/Getty Images
For the first time in Robert Woods' college football career, his team can play in bowl games. This is perfect timing, because the Trojans are a national championship contender in 2012.
The NCAA placed a bowl ban on USC, encompassing the 2010 and 2011 college football seasons, after completing its investigation of former tailback Reggie Bush. Bush received improper benefits while he played for the Trojans, which led the NCAA to vacate Bush's 2005 Heisman Trophy and USC's 2004 BCS National Championship.
Woods knew this when entering USC as a freshman in 2010. He never left the program. In 2012, Woods can show the college football world why he chose to stay a Trojan.
Outlook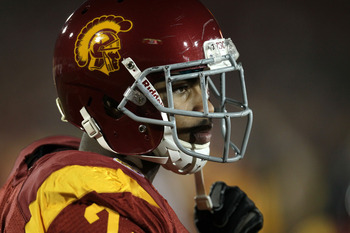 Stephen Dunn/Getty Images
CBS Sports ranks Robert Woods as the No. 5 overall draft prospect for 2013. With that said, 2012 could be the last time Woods suits up for USC.
Woods needs 41 receptions to break the career record at USC. He also needs 360 kick return yards to break the school record. These records are clearly within reach in 2012.
If 2012 goes as planned, USC will win the national championship and Woods could go down as the most prolific receiver in school history. He would have nothing left to prove. That makes 2012 such a vital season for Woods to perform.
When the stars align in Los Angeles, Woods' star could shine the brightest.
Keep Reading

USC Football: Like this team?