Analyzing How Thunder's Big 3 Matches Up Against Miami's in Finals Clash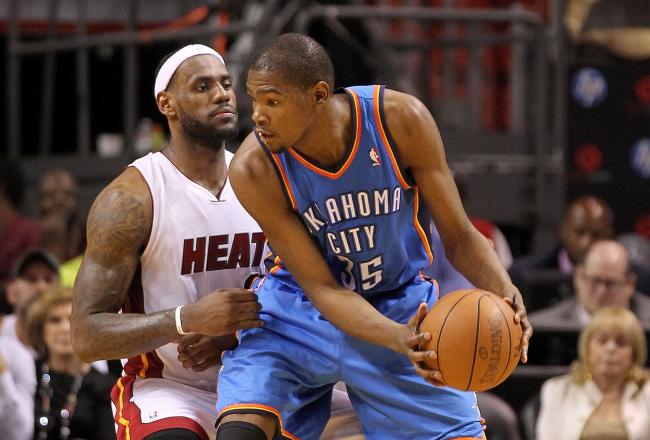 Mike Ehrmann/Getty Images
In today's NBA, everybody has their own version of the "Big 3"…blame the Boston Celtics.
Although it's a 5-on-5 game, having three top-notch players is essential and this year's NBA Finals presents two of the best groups:
LeBron James/Dwyane Wade/Chris Bosh vs. Kevin Durant/Russell Westbrook/James Harden
All six players are arguably among the top-20 players in the league right now and all of them are playing at an extremely high level at the moment.
So who has the advantage?
LeBron James vs. Kevin Durant
Experience-wise there is no doubt LBJ has the upper hand. He has played in 10 NBA Finals games, and Durant has a goose egg in the category.
Sure Durant has risen to the occasion in the playoffs throughout his career, but nobody is sure how he'll react at this level. This is a completely different animal…just ask LeBron.
James is desperate to erase the doubts about his performance in the clutch and has waited an entire year to ensure it's not what defines his career. He'll be extremely aggressive in crunchtime````````—for better or worse. He will also be in full-attack mode for the first 45 minutes of the game to avoid the late-game choke possibilities.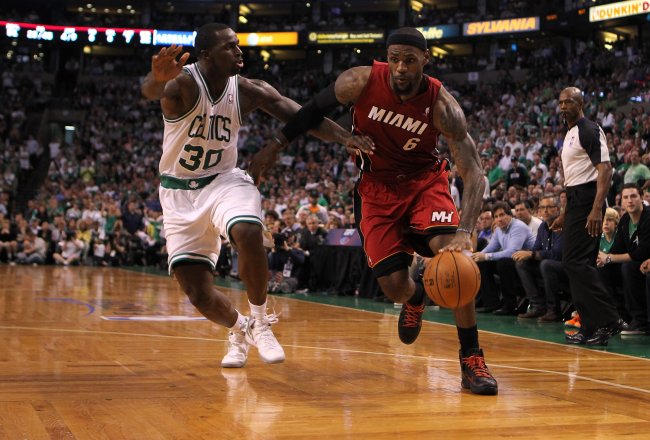 Jim Rogash/Getty Images
While Durant may be the best pure scorer in the NBA today, he doesn't dominate a game in the same fashion James does. He doesn't rebound with the same proficiency (9.6 vs. 8.0 in the postseason), and isn't creating shots for his teammates at the same rate (5.1 vs. 3.5 assists). There are certainly times when Durant is relegated to standing in the corner and waiting for the rock.
In other words, LeBron is the more complete player right now and can have a tremendous impact on the game without scoring.
LeBron is playing at a historic level right now. According to Elias, he is the third player ever to average over 30 points, 10 rebounds while shooting over 50 percent in a seven game playoff series. This is the first time the feat has been accomplished in 35 years.
James will be playing with a sense of desperation, something the 23-year-old Durant doesn't quite hold. He has had a near-perfect career to this point, and has yet to face the sincere disappointment that comes with losing the finals…or the scrutiny that comes with it.
Misery loves company and LeBron is determined to make Durant feel the pain he has felt for so many years before finally having the opportunity to hoist the Larry O'Brien trophy.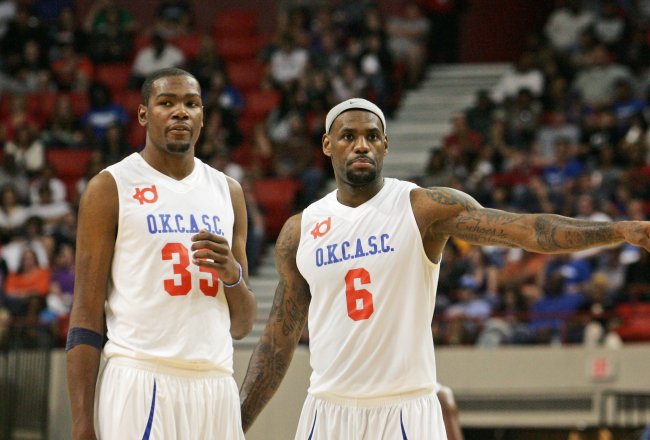 Brett Deering/Getty Images
Advantage Miami
Dwyane Wade vs. Russell Westbrook
This is easy.
Westbrook is the better offensive player with more moves and a better jumper, and Wade is the better defender.
Westbrook has averaged 21.7 points this postseason through pushing the pace and getting lots of easy buckets. He also scores by utilizing his quickness to blow by opponents in one-on-one situations.
Wade is one of the lone players in the league that has the foot speed to match him. He's fresh off limiting Rajon Rondo's penetration rather handily, and is going to limit Westbrook's ability to reach the paint as well.
That means he'll be baited into shooting outside shots more often, where Westbrook is connecting on 34 percent of his three's. Not awful, but certainly not his strong suit. We all know Westbrook wants to get his points, and will try and get it anyway he can. This plays into Miami's hands.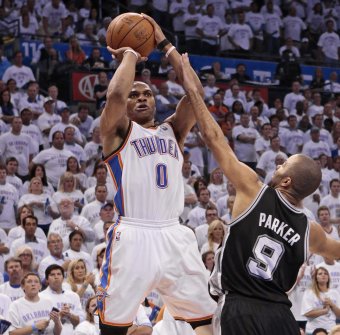 Brett Deering/Getty Images
Westbrook will be limited offensively, and isn't big enough to handle Wade on defense. D-Wade loves playing in the post against smaller players, which means the Thunder will likely put Thabo Sefolosha on him.
While Wade's jumper has been off this postseason, he knows how to attack the basket in the NBA Finals and is going to be drawing plenty of whistles with his quickness, aggressiveness, and acting abilities. Expect Sefolosha to fall for his patented pump fake often.
Advantage: Miami
Chris Bosh vs. James Harden
Bosh has had one wacky postseason. He had a kid, witnessed a death, and has missed nine games due to injury.
But his 8-of-10 shooting performance in Game 7 is proof Bosh isn't letting the abdominal strain destroy his game. His ability to knockdown the 15-footer while also banging down low is essential for the Heat. He stretches the defense and forces slower guys like Kendrick Perkins to play on the perimeter— rendering his shot blocking skills useless and severely limiting his ability to crash the boards.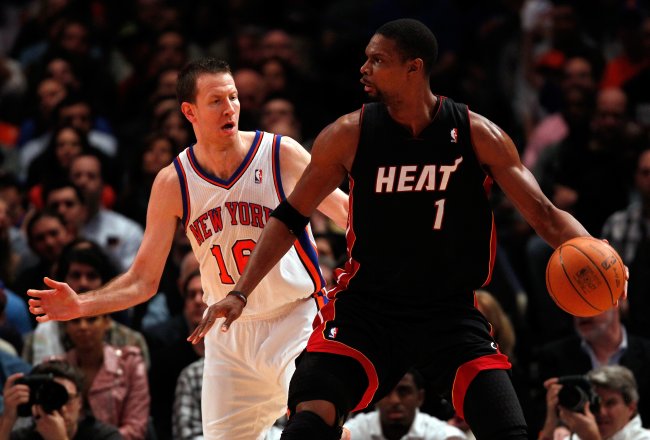 Jeff Zelevansky/Getty Images
While coach Erik Spoelstera has stayed silent about if Bosh will start Game 1, odds are he'll play at least 30 minutes barring a setback with the injury.
Bosh is a key part to the success of Miami on both ends.
Harden is not as important, no other way to put it. His defensive proficiency is certainly essential and averaging 17.6 points on 45 percent shooting is a huge plus as well.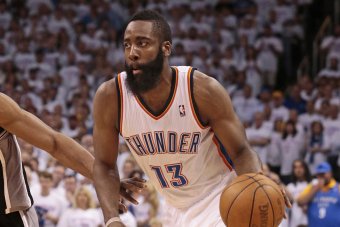 Brett Deering/Getty Images
But he doesn't stretch the defense the same way. He gets his points in transition and when he's moving off the ball. Rarely does he create shots on his own.
The bottom line is this: Miami was 48-16 with Bosh and 10-10 without him. The Thunder was 3-1 without Harden.
Advantage: Miami
Conclusion
This series is incredibly even and obviously the winner is going to need more than just the big three.
Who Has the Better Big 3?
Yet the NBA is predicated on their stars, and on the biggest stage of the season, the brightest stars will shine.
LeBron has three MVPs and 10 games of experience on the biggest stage. Wade has a NBA Finals MVP award and 12 games of experience here. Bosh is healthy and incredibly fresh with six games on the game's biggest stage.
Durant has two scoring titles, Westbrook has an All-NBA second team achievement and Harden has a Six-Man of the Year honor. They simply don't compare. With the three games a week format, the "young legs" of the Thunder will not be an advantage.
ESPN's John Hollinger provides the stats for the final nail in the coffin:
With all three of their main stars on the floor -- Durant, Westbrook and Harden -- the Thunder outscored opponents by 10.6 points per 48 minutes this season; with two of those three playing, they were plus-5.0.

With their Big Three together, the Heat swamped opponents by 12.8 points per 40 minutes, according to NBA.com's advanced stats tool. With at least two of them on the court, they were plus-7.1.
The stars are going to shine the brightest in South Beach.
Advantage: Miami
This article is
What is the duplicate article?
Why is this article offensive?
Where is this article plagiarized from?
Why is this article poorly edited?