2012 NBA Finals: Opening Up the 2012 NBA All Star Game Time Capsule
June 11, 2012

Ronald Martinez/Getty Images
All Star games can work as pretty effective time capsules come playoff time in many NBA seasons.  It makes sense.  The most memorable All Star Game performances tend to come from the best players, and the best players get their team the farthest in the postseason. 
Kevin Durant is the eighteenth All Star Game MVP to reach the NBA Finals in the same season.  In the previous 17 instances, the team with the MVP of the All Star Game was 12 and five in the Finals. 
Clearly I didn't totally go out on a limb in thinking we could be headed towards a Miami-Oklahoma City Finals match up, but I could sense a subtle changing of the guard (especially in the West) during that game. 
Here's a game log from the 2012 All Star Game in Orlando that I wrote about an hour after that particularly interesting midseason game (standard font is straight from my post ASG piece, italicized font is my commentary prior to the finals):
All Star weekend has come and gone, and amazingly just about everything that we theorized to be true based on the past twelve months (at the time of the game in February) or so of NBA basketball was validated as fact in the final twelve minutes of a wildly entertaining All Star game.
The fourth quarter provided us with what I believe in four months will be the equivalent of opening up a time capsule when all is said and done this season.  Let's pick up the action at the start of the fourth:
12:00- The West has dominated through three quarters, but it's how they dominated with Russell Westbrook and Kevin Durant proving just how dominant and athletic they can be that was impressive.  The two combined for 51 points through three quarters which is fitting for the team currently on top of the Western Conference.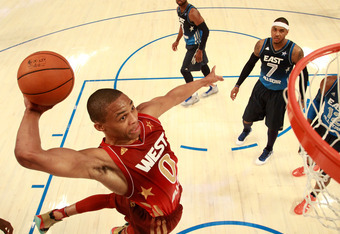 Ronald Martinez/Getty Images
Consider Theory number one validated—the Oklahoma City Thunder are legitimate title contenders and have the two best players on the floor at any given moment, somewhere around 90 percent of the time. (West 124-East 112)
I'd say I came up aces with my first theory considering OKC reached the Finals and are the favorites to take it home.  And for the record this series will be included in that ten percent of the time when the Thunder don't have the top two players on the court.
9:08- The next sequence was particularly interesting. Kevin Love pours in eight straight for the West, woven between a brilliant assist by Rondo, a beautiful reverse layup by Rondo, a clunked 3 from Paul Pierce and a horrific pass by Rondo.  Let's take these one at a time:
Theory number two—Kevin Love has taken the belt as the best power forward in basketball and is a lock for the United States Olympic team.  I would go as far as saying that with the right pieces around him, Love's ceiling has grown to "best player on a title contender" level.  He's THAT good.
Theory number three—Rajon Rondo will never truly be figured out.  He's moody, he's stubborn and he's capable of things that no other player in the league is capable of.  He is a complete enigma. 
Theory number four—The Boston Celtics window as a title contender has slammed shut.  Paul Pierce was a complete non factor in a game that he probably had no business being in anyway, and Rondo's brilliance was only surpassed by his futility.  They had a good run, but their time has come and gone. Ditto for the Lakers/Kobe Bryant.
Theories two through four were all close to accurate.  Love is certainly a lock for the Olympic team especially with all of the injuries.  My writing on the Celtics was obviously premature, although it may have ended up true anyway.
7:00- LeBron James checks back into the game with the East down 138-123.  To this point he has 28 points, most of which have come in a fashion that just leaves everyone in attendance wondering what he has to do on Saturday night that was important enough to skip the slam dunk contest.  He greets Kobe (who has taken on the task of "guarding" LeBron) with a 23-footer to cut the lead to 13.
6:01- We get our final substitutions of the game.  The crunch time lineups look like this:
West: Chris Paul, Westbrook, Bryant, Durant, Blake Griffin.
East: Deron Williams, Dwyane Wade, James, Carmelo Anthony, Dwight Howard.
Some interesting choices here.  The only starters who are off the floor in crunch time are the oft-injured West center Andrew Bynum, and reigning league MVP and star player for the maniacal Eastern Head Coach Tom Thibodeau's Chicago Bulls, Derrick Rose.  Clearly he had no problem leaving Wade and James of the rival Miami Heat on the floor risking injury, but he would never put his star Rose in harm's way for an exhibition game.  Gotta love it.  (West 138 - East 128)
There's a shot of irony.  Thibodeau held Rose out of the fourth in the All Star Game, and it still didn't keep him from getting hurt.  Tough break.
Ronald Martinez/Getty Images
2:57- LeBron drills a ridiculously sick, leaning 28-footer from three off of an offensive rebound.  This comes on the heels of a previous deep ball from LeBron and Carmelo sparking the East scoring five straight.  The crowd is in shock at this point, and, if I had to guess, mostly because of how blatantly obvious it is that at times LeBron James looks like a player who cannot be stopped by any human being or otherwise on this planet.  LeBron has eight for the quarter and 36 for the game (seven shy of breaking the all time record for an All Star Game). 
Even more impressive was the way that LeBron single-handedly ratcheted up the intensity of this game a thousand percent when it got to winning time.  He was barking out orders, not requests on the defensive end, demanding his mere mortal Eastern teammates to climb on his back and follow him to victory.  In the fourth quarter James flew around on the defensive end like a mutant hybrid of Troy Polamalu and Scottie Pippen. (West 144 - East 141).
Theory number five—LeBron James is the league MVP.  There is no discussion.
Count it!
:37- After a hellacious Westbrook dunk with Howard in the neighborhood (seriously, dunk contest?), the West's next four touches go like this: Durant turnover, Kobe miss, Griffin miss, then a missed reverse layup by Westbrook which is put back by Griffin.  (West 150 - East 147).
:23- Coming out of a timeout, LeBron dishes to a semi-open Melo who puts one up looking for the tie which goes begging.  Whether that was the play Thibs designed or LeBron deferred on his own, we can only speculate, but one thing that can never be denied is that Melo fears no shot.  For better or worse, there is no one that he would prefer to have the ball trailing in the fourth.  The jury is out on whether or not Knick fans will agree.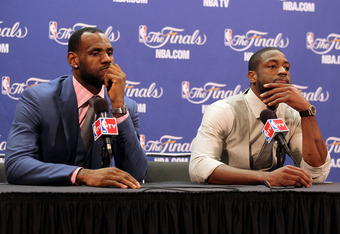 Mike Ehrmann/Getty Images
Theory number six—The Knicks are capable of upsetting an Eastern Conference favorite in the playoffs.  The toughest thing to do in the NBA is to score in the last five minutes of a playoff game.  The Knicks can do this because of Melo.  Period.  Ditto for Dallas and Dirk Nowitzki. 
Swing and a miss on theory number six.  At a certain point it will be time for Melo to put up or shut up.
:22- Wade drills both free throws after scooping up Melo's miss off of the offensive glass.  Batman is at it again. (West 150 - East 149).
:00- After Kobe goes one for two at the line, the final sequence goes like this: Thibs draws up a play that would have given the East the lead with under 10 seconds to go for Nets guard Deron Williams.  He misses the three-pointer, and the rebound is batted into the air for what felt like an eternity. 
Into who's hands was the ball undoubtedly going to fall? You guessed it, the undisputed 2012 MVP King James.  With six seconds left, Bron Bron takes the ball about eight feet beyond the ark, dribbles to his right and confirms all important Theory number seven.
Theory number seven—Barring a complete mental makeover, LeBron James will never win an NBA title. 
Theory number seven is the biggest reason why we will all hang on every minute of this year's Finals.  Another intriguing subplot from the last play of that game was the story that Kobe repeatedly screamed in LeBron's face "SHOOT THE [Expletive] Ball!"

LeBron's fingerprints completely enveloped the fourth quarter of this game.  He forced the East back into it with little help from All Star Weekend host Dwight Howard (Theory number eight—Dwight Howard has quit on the city of Orlando) and reigning MVP Rose, all the while doing it with a swagger that was undeniable, a swagger that was reminiscent of the last four minutes of the Eastern Conference Finals last season. 
Yet with a chance to win or at least tie the game in the heat (pun intended) of the moment, he chose to throw a blind cross court pass that was intercepted by one of the three Western Conference players who had a chance at it. 
And just like that, we remembered why the greatest athlete who ever lived has never finished a season at the top of his sport.  After Game 5 in 2010 against Boston and the finals last year, there was a theory out there that was no secret: LeBron is fearful in fourth quarters.  I was fascinated by it; I ridiculed it; I relished it.  After all, it makes for a great story line. 
But in the back of my mind I always gave him the benefit of the doubt.  There's no way this thing could be real.  He's too good, too dominant, too unstoppable.  Those instances were merely growing pains.
While that ball hung in the air, LeBron had to know it was going to find him.  He had time to decide what his move was going to be.  He used that time to decide that he's too afraid. 
Kevin Durant is you're All Star Game MVP and potential 2012 League MVP.  Prepare for déjà vu come June.  This was not an All Star Game, it was a time capsule. 
Sure it was an exhibition game, but the scariest part was the way in which LeBron slunk to the bench after the final horn with the most obvious body language of a defeated man that you will see on a basketball court.  This was no exhibition to him.  We'll revisit it after the finals.
This is going to be an all-time kind of series.  Sign me up for about five of these matchups over the course of the next decade.