Euro 2012 Results: Most Surprising Scores from First Four Days
June 11, 2012

Alex Livesey/Getty Images
Plain and simple: The first round of games at Euro 2012 was underwhelming. 
Three matches ended in conservative 1-1 draws, two squads failed to score at all and only three other squads were able to net multiple goals.
Having said all that, there were some huge surprises in the opening round of games. The groups are far from decided, and there are some incredibly intriguing matchups on the horizon in this second round of group play.
But before we get that far, let's take a look at the most surprising scores from the first eight games.
Group A
Poland 1, Greece 1
The Greeks gave up an early goal to Polish superstar Robert Lewandowski and then went down to 10 men after a second red card sent Sokratis Papastathopoulos off. They stuck with it, though, and ultimately found the back of the net when substitute Dimitris Salpingidis put home a rebound in the second half.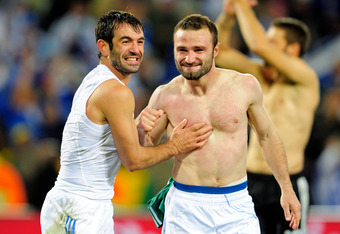 Stuart Franklin/Getty Images
Polish keeper Wojciech Szczesny then came out and took down Salpingidis in the box. He was sent off with a red, but Greek captain Giorgos Karagounis had his penalty blocked.
The resulting 10-on-10 battle finished in a 1-1 draw, which is ultimately a disappointment for Poland but a thrill for Greece (although the Galanoleyki were actually unlucky to not win).
Russia 4, Czech Republic 1
We knew the Russians would be good, but we didn't expect the Czechs to be that bad.
Group B
Denmark 1, Netherlands 0
The shocker of the tournament thus far—the Dutch simply looked flat in their 1-0 loss to Denmark. They never showed fire and almost looked like they expected the Danes to roll over for them.
They wound up taking 28 shots, but only five of them were even on net. They earned 11 corner kicks but didn't take advantage of a single one of them.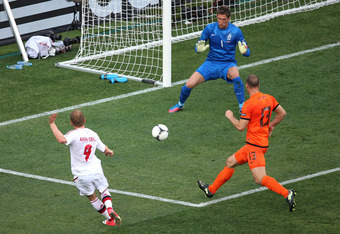 Julian Finney/Getty Images
This was an altogether disappointing performance from the Dutch.
Germany 1, Portugal 0
The Germans know they have to do better, but a win is a win in a tournament of this caliber.
Group C
Spain 1, Italy 1
It really wasn't all that shocking that Spain, who opted to use six midfielders rather than employ a striker in the starting lineup, played to a draw with the defensive-minded Italians.
They have to be better if they want to repeat, though.
Croatia 3, Ireland 1
The Croatians were a trendy sleeper pick, but nobody expected the Irish back line to be such a mess.
Group D
England 1, France 1
The French should've been better, but the English did exactly what they wanted to do. A draw—on only five shots against the firepower of Les Bleus—is a huge result for the Three Lions.
Ukraine, 2, Sweden 1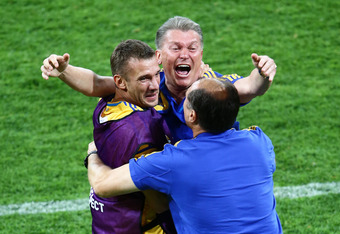 Martin Rose/Getty Images
Andriy Shevchenko. That is all. No, but seriously, the 35-year-old Ukrainian captain showed exactly why he was not only picked for this squad but why he was in the starting XI against the favored Swedes.
Ukraine and Sweden treated us to easily the most exciting game of the tournament thus far, and the national hero, Shevchenko, struck twice to earn a huge result for the co-host country.
Zlatan Ibrahimovic scored the only goal for Sweden, and we should expect more from him in the next two games.
The Ukrainian's surprise win will the be the story of the tournament until they take the pitch again.