UFC 148: Keys to Victory for Chael Sonnen over Anderson Silva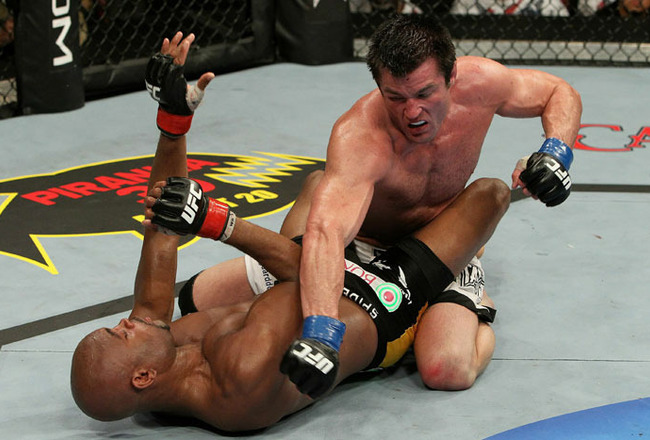 Photo via UFC.com

Anderson Silva is the most accomplished fighter in UFC history—that's a well-known fact. However, Chael Sonnen is one of the few human beings on this planet with the tools and wherewithal to beat the reigning middleweight champion.
On August 7, 2010 at UFC 117, Sonnen did what no one thought was possible—he made Silva look marginal. For four-and-a-half rounds, Sonnen gave Silva the greatest challenge that he has ever seen inside the octagon. Of course, Silva reminded us why he's considered the best fighter in the world by finding a way to win the fight in the final round with a triangle/armbar submission.
If you're a fan of Sonnen, you probably feel Silva got "lucky" with his submission attempt in the waning moments of the fight. If you're a fan of Silva, you probably feel Sonnen's performance was a fluke, fueled by excessive testosterone. The truth probably lies somewhere between.
On July 7, we finally get to settle the score once and for all. If Sonnen wants to finish what he started in the first fight, he's going to need a to have a great game plan and execute it with near perfection. Here are the keys to victory for Sonnen if he wants to become the new middleweight champion.
Get to Work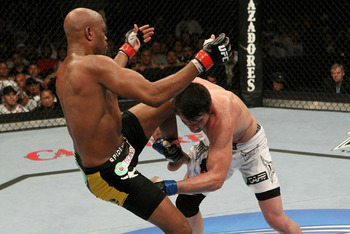 UFC.com
When the proverbial opening bell starts the first round, Chael Sonnen has no time to go through a "feeling-out process."
The worst mistake that most fighters make when taking on Anderson Silva is that they respect his ability to end the fight at any moment too much. Make no mistake, Silva is highly dangerous, and it isn't a wise idea to simply throw caution to the wind and come out guns a-blazin' with no plan.
However, Silva is the master at analyzing his opponents' rhythm and range in the early goings of a fight before unleashing the perfect strike at the perfect time—just ask Vitor Belfort. Many considered Belfort's fast hands and striking ability to be enough to give Silva trouble in the stand-up department, but he was too cautious.
If Sonnen wants to repeat his success against Silva and get the victory this time, he will need to get off to a quick start. Allowing Silva to settle in early is simply not an option.
Pressure, Pressure, Pressure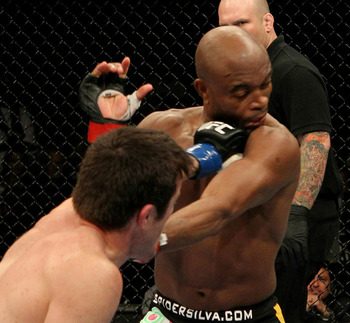 UFC.com
As a tireless wrestler, Chael Sonnen has some great cardio. He's going to need all the cardio he can get, because he's going to be busy.
Not only does Sonnen need to get in Anderson Silva's face in the beginning of the fight, he needs to stay there. As mentioned on the previous slide, Silva is the greatest fighter in the world at analyzing his opponent's rhythm and range and responding accordingly. That's why continuous pressure will be key for Sonnen to dethrone the champ.
Sonnen did a great job of this in the first fight and was a pivotal factor in the success he was able to have against Silva. According to FightMetric, Sonnen landed an incredible 320 strikes in the five round fight—the significance of these strikes may be up for debate, however, the output is not.
Maintaining a high-volume assault on Silva will be pivotal once again if Sonnen wants to impress the judges and wear Silva down over the course of five rounds.
Mix It Up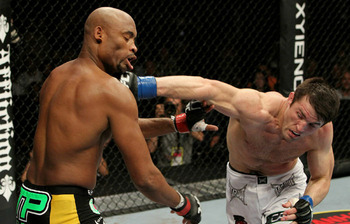 UFC.com
We all know Chael Sonnen the wrestler, but Sonnen will have to bring much more than just his wrestling if he wants to pull off the upset this time around.
Sonnen's double leg is among the most dangerous weapons in MMA and nearly unstoppable to just about any middleweight in the world, but if he is unable to set it up, he will have difficulty in utilizing it against Silva. Changing levels and posing a threat in both the clinch and the stand up department will go a long way in setting up the takedown.
Sonnen can't possibly win this fight by standing and trading with Silva consistently, but he will need to show he can do that for a time if he wants to take the fight to his wheelhouse—the ground.
Sonnen displays great strength in the clinch and has underrated boxing—he will need to use both to keep Silva on his toes.
Weather the Storm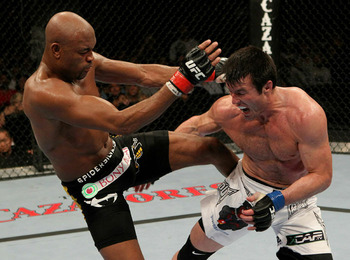 UFC.com
Even if Sonnen is able to come out strong, apply pressure and mix it up, Silva will eventually rally—it's inevitable.
While most remember Sonnen easily winning the first four rounds, it's easy to forget that Silva came out swinging for the fences at the beginning of round four. There were some close calls, and with Silva's ability, Sonnen was always one strike away from being put to sleep. But he did eventually weather the storm. He established top positioning on the ground and continued to apply pressure.
If Sonnen is going to walk away with Silva's title, he can rest assured that Silva will defend it with everything he has. Silva displayed the heart of a champion in the first fight, and if he is struggling in the rematch, he will likely put in a similar effort.
The key for Sonnen is to be prepared for Silva to throw everything at him, especially as the fight draws closer to the end. If Sonnen is able to use Silva's aggression against him, he will be in good shape. If not, Silva could wind up with a stoppage victory.
Pass, Pass, Pass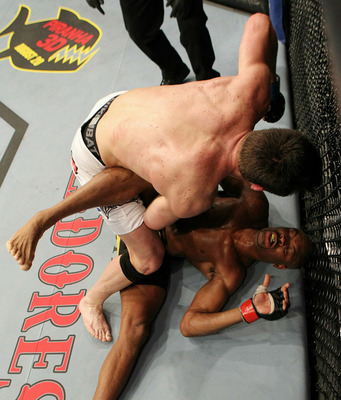 UFC.com
Wrestling Anderson Silva to the ground will be important for Chael Sonnen to secure a victory, but once he has Silva on the mat, his work is just getting started.
In the rematch, Sonnen needs to look to pass more aggressively than Ricky Bobby if he wants to avoid being caught in a submission again. Sonnen's top game is rivaled by very few in the sport of MMA, but his ground and pound abilities actually came back to bite him in the first carnation of this matchup.
While Sonnen spent the majority of the fight on top of Silva and landed an unbelievable amount of strikes, he was mostly content to sit in Silva's guard. According to FightMetric, Sonnen only attempted six transitions through the fight, and three of them were denied.
For a man whose wrestling ability is his calling card, six passing attempts over five rounds is way too few. The less time that Sonnen sits in Silva's dangerous guard, the less likely it is that Silva will be able to throw up another submission.
In the rematch, Sonnen needs to continue with his striking, but he needs to constantly look to advance his position. Sonnen shouldn't be content to simply strike until he has achieved the mount.
Go for the Finish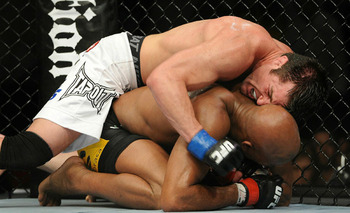 UFC.com
You know what would have guaranteed Anderson Silva wouldn't have gotten his late submission victory?
If Chael Sonnen would have finished the fight earlier.
Sonnen is a grinder. He's the kind of fighter that has no qualms about going to a decision. While some fighters guarantee knockouts and exciting fights, Sonnen prefers to "just win" and doesn't beat around the bush when it comes to his wrestling background.
However, if Sonnen wants to have a serious shot at Silva, he can't fight with the mentality that he wants to take a decision victory. As the recent Manny Pacquiao vs. Tim Bradley boxing match showed, the old MMA adage "don't leave it in the hands of the judges" holds true.
With decisions across combat sports as a constant source of debate, Sonnen doesn't want to leave this fight up to the judges.
Sonnen may not earn the stoppage, but aiming to finish the fight will keep him from coasting. Complacency ended up being his downfall in the first iteration of this fight, and if he doesn't look for ways to end the fight, he could end up with a reiteration of what happened the first go-around.
When you're taking on an all-time great like Silva, the odds are stacked against you. If Chael Sonnen is able to stick to all of these keys, we could very well have a new champion on our hands.
Keep Reading