AC Milan Transfer Talk: It Would Be Nice to Have Kaka Back, but Not Practical
June 17, 2012

Alex Livesey/Getty Images
When AC Milan sold Brazilian playmaker Kaka to Real Madrid for 70 million euros in 2009, it left Milan fans worldwide in despair.
For six years, Kaka was a star for the Rossoneri. His status as a Milan legend was secured during the 2006-07 season. Following the Calciopoli scandal of 2006, Milan were forced to start the UEFA Champions League season in the Qualifying Playoff round, meaning it would take 15 matches to win the tournament instead of 13.
Kaka played all 15 matches, scoring 10 times and capped off the tournament with a devastating through ball that found the feet of Filippo Inzaghi, who skipped past Liverpool's Pepe Reina to score the winning goal at the 2007 Final in Athens. His performance that season earned him the distinction of FIFA World Player of the Year in 2007.
Since leaving Milan, Kaka has found it hard to secure a spot at Real. Injuries have been his weakness the entire time, and he can't seem to establish himself in Jose Mourinho's squad. That is one of the reasons why he feels it is time to move on.
According to multiple reports, Kaka has decided to leave Real Madrid this summer and is hoping to terminate his contract with the club in the near future.
Manchester United, Manchester City, Chelsea and Malaga are all possible locations outside of Spain for the 30-year-old playmaker as it is believed that he wants to remain in Spain or go to England . Brazilian side Sao Paolo, his first club, have already said that they can't possibly afford to bring the superstar back.
One option that will always remain open, however, is Milan.
With Kaka set for a move, Milan fans will be chomping at the bit to see their hero return. This is natural and impulsive because what Milan fan was pleased seeing Kaka leave, even if it meant getting the money that eventually went to pay for Zlatan Ibrahimovic, Robinho and Kevin-Prince Boateng?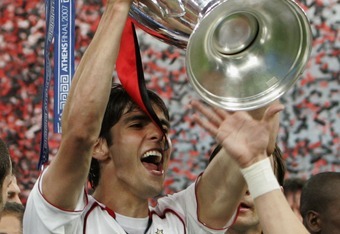 Laurence Griffiths/Getty Images
As incredible as it would be to see Kaka return to the San Siro in his old colors, the move isn't sensible for the club, at least not at the moment.
Football Italia is reporting that Milan could be a possible destination for Kaka, but they would likely have to send Zlatan Ibrahimovic to Real Madrid in that case as Jose Mourinho would like to reunite with his star forward from his Inter Milan days.
Milan can't sell Ibrahimovic. After a last minute save by Silvio Berlusconi to prevent the sale of Thiago Silva to Paris Saint-Germain, there's no way that the club can sell off the only player who may be able to compete with Silva for the claim of "club's best and most important player."
Ibrahimovic's 28 goals in Serie A last season and 35 overall were vital to Milan staying in competition on the Italian and European fronts. A player as vital as Ibrahimovic can't possibly be sold just to bring home a hero.
Price would certainly be an issue for Milan, unless Kaka is willing to take a pay cut to return. He could be available for as low as 25 million euros, but his salary which exceeds 10 million euros per year is an issue.
Milan need a playmaker to play as trequartista, but Kaka and maybe even Paulo Henrique Ganso are presently out of the price range. If Milan can sell Robinho, with clubs such as Malaga interested in his services, they could have a chance at acquiring Ganso, but Kaka may still be too pricy.
Having Kaka back would make every Milan fan happy, but it is not a situation that seems practical at the present time.