The clay court surface is not Roger Federer's forte and you shouldn't be surprised he didn't make the finals at the 2012 French Open.
Just because he was bounced in straight sets by Novak Djokovic 6-4, 7-5, 6-3 on the clay at Roland Garros in the semis, doesn't mean the 30-year-old is finished.
Winner of a record 16 Grand Slam's, Federer could never play another set and still be considered the greatest player of all time. Yet, his lack of success since the 2010 Australian Open has people concerned that Father Time is finally catching up to one of the most physically fit athletes ever.
While it was certainly surprising that he was ousted in straight sets, it wasn't a shock that he lost on the clay surface. Federer has only won the French Open once in his illustrious career (2009).
So if only one-sixteenth of his Grand Slam wins are on the clay surface, you begin to understand why he didn't have a great shot. In fact, just making it to the semis was a pleasant surprise. His inspired win over Juan Martin del Potro in the quarters was impressive, as he showed his ability to fight back when he didn't have his "A" game so to speak.
But that doesn't mean he still can't play his "A" game. He has won four singles titles in the 2012 calendar year, and three of his five losses this season have been to either Djokovic (twice) or Rafael Nadal.
Now the surface is changing to Federer's bread and butter.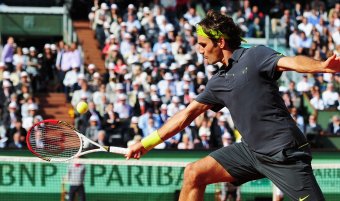 Mike Hewitt/Getty Images
Grass is where he has done most of his damage in his career, winning Wimbledon six times, most of any of the majors. He has always been most comfortable on the surface, and while it certainly won't be easy to knock off the red-hot Rafa and the incredibly consistent Djokovic—this will be his best shot.
FedEx knows his biological clock is ticking and the fact that this might be his last realistic chance at winning a major event is beginning to sink in. You can bet he'll be ready (via sports.ndtv.com):
It's been a difficult clay court season. I wasn't in the best shape physically, to be quite honest. Still, it gives me a little bit of a lift, coming into the grass court season now.
He still is the third-ranked player in the world, he still has the sizzle on his serve, and he still has the edge mentally against any opponent he'll play.
Will Federer Ever Win Another Grand Slam?
All it takes is a poor outing from Rafa where he loses focus or gets injured (something that seemingly happens quite often in the second half of the year) and all that stands in his way is Djokovic. If he can get past the recent mental hurdles against Djoker, a 17th major will happen. The rest of the men's tennis field is not going to get in Federer's way.
Sure it's easier said than done to beat Djokovic right now, but it's still possible for Federer to do it as long as he makes sure he ups his physical conditioning before the end of the month.
Federer isn't over the hill yet and with the clock ticking in that direction, now is the time for him to take advantage of his favorite surface and obtain one last Grand Slam in what is arguably been the greatest tennis career of all time.