Green Bay Packers: Projecting the Pack's Top 5 Sack Leaders
June 12, 2012

Streeter Lecka/Getty Images
The only direction the Green Bay Packers can go in their pass-rush production is up.
One year after ranking second in the NFL with 47 regular-season sacks during their Super Bowl season in 2010, the Packers defense free-fell all the way to tying for 27th in the league with 29 sacks in 2011.
Only the Tennessee Titans (28) and the Tampa Bay Buccaneers (23) had fewer sacks last season.
Part of the reason for the dearth of sacks was the departure of Cullen Jenkins to the Philadelphia Eagles in free agency. Gone were the 29.5 sacks Jenkins provided over the previous seven seasons, many of them as an interior pass-rusher.
With little pass rush to speak of, opposing quarterbacks got comfortable in the pocket, enjoying more than ample time to track down their receivers.
The Packers secondary put their best foot forward, actually coming up with a league-leading 31 interceptions, but they couldn't cover forever.
General manager Ted Thompson and the rest of the Packers front office did their best to address the pass rush this offseason, adding a variety of front-seven players in both free agency and the draft.
Chances are, the moves will pay off by generating more sacks than a year ago.
Clay Matthews: 13 Sacks
Following an impressive 10 sacks in his rookie year of 2009, Clay Matthews finished second in the NFL's Defensive Player of the Year voting with 13.5 sacks in 2010.
Entering his third year in the NFL, many people assumed Matthews would only improve as he approached the peak of his professional career.
He then took a step backwards with only six sacks in 2011, and fans scratched their heads. It didn't seem as if Matthews played any worse.
After all, he had career highs with three interceptions and three forced fumbles. So why the meager sack production?
Matthews had no one to take the pressure off him. With Jenkins gone, Matthews could be double- and even triple-teamed.
And so the Packers set about bolstering their pass rush this offseason by adding someone who can take attention away from Matthews. With the 28th pick in the first round of the NFL draft, the Packers selected...
Nick Perry: 8.5 Sacks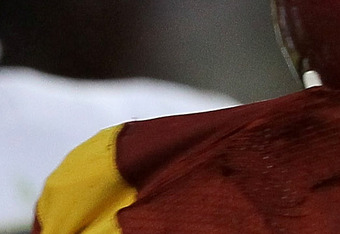 Stephen Dunn/Getty Images
By drafting Nick Perry, the Packers hope they've found their complement to Matthews at the outside linebacker position.
The Packers tried several options opposite Matthews last season with only limited success. None out of a group of Erik Walden, Frank Zombo, Brad Jones and Vic So'oto provided any consistency.
Taking Perry wasn't without risk. The coaching staff is assumed with the task of turning a 270-pound defensive end who played with his hand on the ground in college into a linebacker who stands in a two-point stance.
The talent and the quickness Perry possesses, however, is something you can't teach. It might take him a while learn the nuances of a new position, but he should enjoy a degree of success in his rookie year.
Just like the Pittsburgh Steelers found a pair of bookend outside linebackers in James Harrison and LaMarr Woodley, the Packers are looking forward to seeing their own dynamic duo in Matthews and Perry.
Desmond Bishop: 5 Sacks
The Packers found out in 2011 that Desmond Bishop is pretty good at blitzing the quarterback.
His five sacks were among the most by an inside linebacker in a single season in Packers franchise history.
Inside linebackers typically aren't big-time sack leaders, but as good as Bishop is turning out to be, the Packers would be wise to keep utilizing him in that role.
Defensive coordinator Dom Capers has also been pretty creative about how he uses Bishop as a pass-rusher, whether it's in the linebacker-heavy "Psycho" package, on the cross-dog blitzes with A.J. Hawk or occasionally sending him from the edge.
B.J. Raji: 5 sacks
During the Super Bowl season in 2010, Raji accumulated 6.5 sacks, the most by a nose tackle in the NFL since 1990.
Raji's sack total dropped to three in 2011. Just like Matthews, Raji was hurt by the loss of Jenkins.
Without much depth on the defensive line, Raji was forced to stay on the field all too frequently last season. And when the Packers defense had trouble stopping opposing offenses, he got tired.
A better performance from the defense as a whole will keep Raji fresh, and if Jerel Worthy can do his best Cullen Jenkins impression, it may help to free up Raji.
Jerel Worthy: 4 sacks
The Packers wasted little time plugging Worthy in with the starters in their nickel defensive package during offseason practices.
Worthy averaged four sacks per season in his three-year college career, which is good for an interior defensive lineman.
If the Packers can get the same kind of production out of Worthy in the NFL, they'll be in good shape.
Considering the college season lasts 14 games at most, they might even be able to squeeze a few more sacks out of Worthy in a 16-game schedule, assuming he doesn't hit the "rookie wall."
Other candidates to join the Packers' sack parade include Anthony Hargrove, Mike Daniels, Vic So'oto, Erik Walden and Frank Zombo.