Euro 2012 Rapid Reaction: England Kick off Their Euro 2012 Campaign with a Draw
June 11, 2012

Scott Heavey/Getty Images
England have begun their Euro 2012 competition with a solid 1-1 draw against group favourites France.
England took the lead after 30 minutes, when Joleon Lescott headed home a pin-point cross from captain Steven Gerrard. Samir Nasri leveled the score nine minutes later, finding room for a shot on the edge of England's penalty area.
Overall, England were impressive, looking solid in defence and hard to break down, with both teams creating chances but lacking any killer instincts.
For Roy Hodgson's side, there were plenty of positives to take from the game. Arsenal winger Alex Oxlade-Chamberlain brought a spark to the English attack with creativity and pace. At the mere age of 18, 'The Ox' showed he has the ability to make things happen and has the initiative to get the ball and take on players.
Danny Welbeck led the line extremely well in the absence of Wayne Rooney, holding the ball up well and bringing other players into the game. Welbeck's performance conjured up memories of a young, more talented Emile Heskey, playing up to the big occasion and causing problems in the French defence.
Another bright spot in the team was goalkeeper Joe Hart, who proved he could live up to the hype and pressure heading into a major competition as England's No. 1. Hart brings consistency to the position, something England has not had in  long time.
With the positives, there of course will be negatives. At times, it seemed like England were too keen to put men behind the ball and leave the French space.
Whether that was in Roy Hodgson's game plan is anyone's guess, but players like Nasri, Ribery, Benzema and Malouda were given room on the edge of the area, which ultimately resulted Nasri's goal. The Manchester City star was able to pick a spot on the edge of the area with little pressure.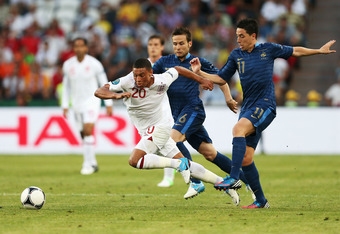 Julian Finney/Getty Images
Roy Hodgson voiced his concerns for the lack attacking threats in the final third. The French defence was the clear weak point of their team, and England failed to create any significant chances outside of the goal, which came from a free kick.
The team will obviously improve once Wayne Rooney returns from suspension. Hodgson has the dilemma of choosing whether to keep the same front line of Welbeck with Young in behind, who failed to impress or create chances, or to test Jermaine Defoe or Andy Carroll against the Swedish defense.
Overall, England can be proud of their performance knowing that the hardest game in the group stage is behind them. Though England may rue their missed opportunities, a draw against the group favourites, who haven't lost in 21 matches coming into the game, is a good start which can be built on.
Up next for the Three Lions is Sweden on Friday in Kiev, who start their campaign later this evening against hosts Ukraine.