5 Detroit Lions Who Must Become Vocal Leaders in 2012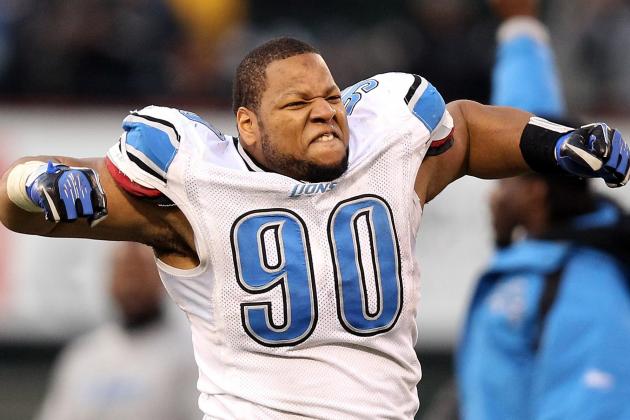 Ezra Shaw/Getty Images

The Detroit Lions need several of their younger players to emerge as vocal leaders in order for them to take the next step as a contender, and to stay there. The Lions have taken huge steps in the past two seasons, and those steps have put them in a great place heading into the 2012 NFL season.
The Lions played a playoff game last year, which speaks volumes about where they are as a team. They are loaded on offense, and they have enough talent on their defensive line and linebacker groups that they should be very competitive in 2012.
Nate Burleson and Kyle Vanden Bosch came to the Detroit Lions in 2010, and they instantly became the vocal leaders of the team, along with Dominic Raiola. The time is now for younger players to step up and fill these roles, as the leaders that they have now are aging.
If the Lions are to take the next step forward and stay there for an extended time, the young players on this roster need to take over this team and make it theirs. There are many candidates on this roster who can become the voices of the team.
If these young players can become the vocal leaders on this team, then they will have taken a step to assure that they are here to stay for some time.
Begin Slideshow

»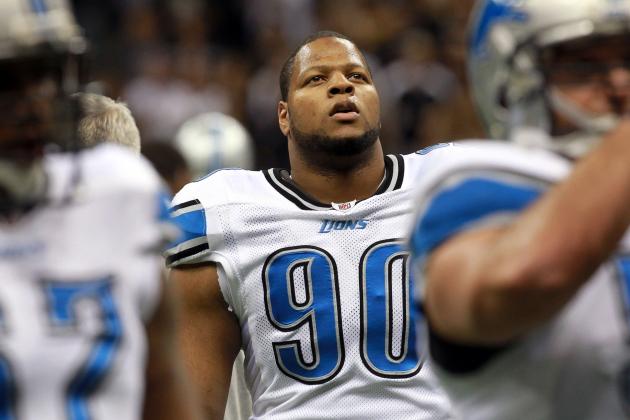 Ronald Martinez/Getty Images

Ndamukong Suh is the perfect candidate to become this team's vocal leader, but so far he has failed to embrace the opportunity. Suh seems focused on growing his brand, not becoming a team leader. So far Suh has been an enigma. No one really knows what he is from a leadership perspective.
Suh has come off as selfish, both with his actions on the field and his behavior off of it. It is time for him to become a leader of this team, not a cheerleader for his own self interests. He is a very young man, and he has a great opportunity with the Lions.
If Suh can become this team's vocal leader, he could become the most popular Lions player that we have ever seen. Consider a player of Suh's physical stature giving everything that he has, imploring his teammates to do the same. Detroit could have its own Ray Lewis.
Suh has a chance to become a legend in this city, both from his play on the field and his leadership off it. He needs to take this team by force, throw it on his back and take it where it needs to go.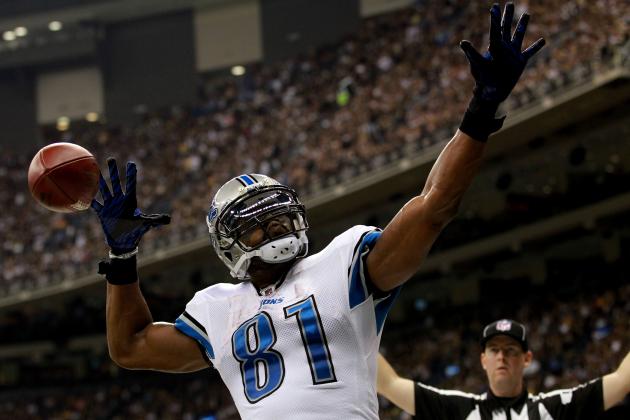 Ronald Martinez/Getty Images

The time is now for the soft-spoken Calvin Johnson to take this team under his wing. Calvin needs to have a larger voice in their locker room. His play on the field dictates that he is a team leader, and it is now a necessity that he becomes a player that teaches the younger players on this roster how to be professionals.
Johnson's play on the field is out of this world, and is something that Detroit Lions fans of this generation will never forget. If he can become a team leader and combine that with his great play, he will become the perfect type of player in and out of the locker room.
Johnson signed the biggest contract in NFL history in 2012, and it has assured that he will remain with the Lions until 2019. Detroit is home and it will be the place he will play through his prime and into the summer of his career.
He has taken steps to become a team leader in the 2012 off season. He appeared at the 2012 NFL draft after becoming the 2013 EA Sports Madden Football cover player. He announced the Lions selection of Riley Reiff in Round 1.
Calvin Johnson is the face of the franchise because of his play and the contract extension. He needs to become a player that other young Lions look to because of his voice in the locker room and on the field, and if he can do that, he will become the perfect player for the Lions.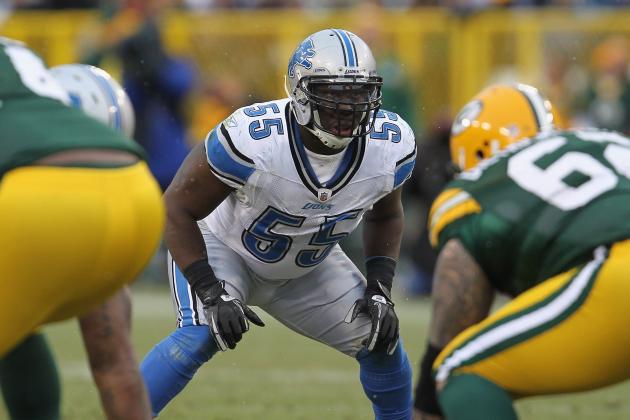 Jonathan Daniel/Getty Images

Stephen Tulloch was a primary target for many teams in free agency in 2012, and he ended up signing a five-year deal worth $25.5 million to stay with the Lions. Tulloch has become the heart of the defense and he needs to step into a leadership role on this team.
Tulloch is the perfect player to lead as the MIKE linebacker; he will be making the calls on defense. Tulloch will be responsible making the right pre-snap reads and getting his defense into the right position. He is going to have to own the Lions defense.
He is a player that needs to become a vocal leader inside the locker room and on the field. Tulloch is also a player that can ask his fellow defenders for more when they need it, as he will be in the middle of it all. Middle linebackers are built to be team leaders, and Tulloch has now become that guy for the Lions.
The Lions are paying Tulloch a significant amount of money and Tulloch has agreed to stay in Detroit for the prime of his career. Tulloch needs to lead the younger players on the Lions defense through the tough times that are sure to come. The defense is his, all he has to do is take it.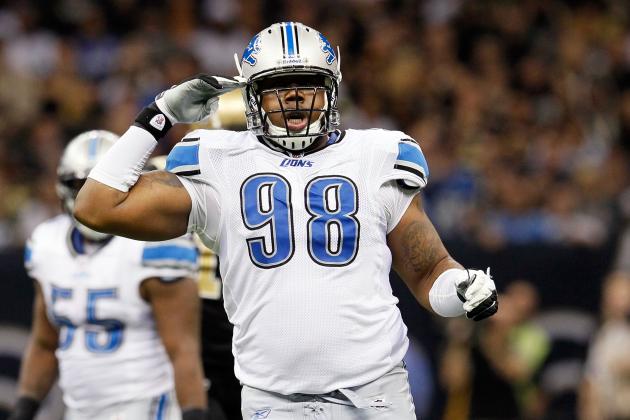 Kevin C. Cox/Getty Images

It is a ridiculous understatement to say that Nick Fairley has had a bad offseason. Fairley was arrested for a marijuana charge in April and followed that up by getting arrested for driving under the influence and evading police in May.
Fairley has to show some fortitude as he gets through his legal issues. The best way for him to do this is to play well on the field and be a great teammate off it. It will go a long way for Fairley to become a role model for the younger players on this team.
Fairley has the opportunity to show other young players that, while mistakes will be made, they are not career-ending if they are willing to work through them. Fairley can work hard and improve as a football player and show his teammates that he isn't giving up on himself or his team.
Fairley is a very talented football player, but at this point he needs to stay clean and focused on being the best football player that he can be. The adversity that he faces is actually a good thing if he can recover well from it. It gives him an opportunity to show his teammates how much he cares.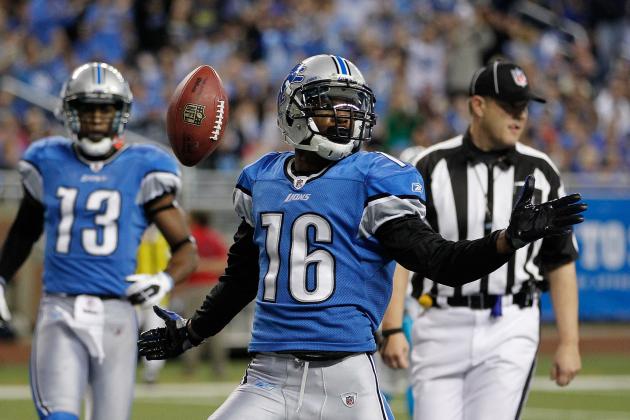 Gregory Shamus/Getty Images

Titus Young is another young player that really needs to step into a leadership role with the Lions. The quicker he does this, the faster he will grow up and really turn into a solid professional. One of Young's issues appears to be maturity, and a leadership role on a winning team would be very positive for him.
Young has great talent, and he seems to catch everything that gets thrown his way. He caught six touchdowns in his last nine games played in 2011. It looked like he earned the trust of quarterback Matt Stafford. With teams looking to take Calvin Johnson away, Young will get plenty more looks in 2012.
One of the great benefits about taking a leadership role on a team is that it gives a player a sense of ownership over where the team goes. The Lions are headed for great things, and they will get there faster and stay there longer if a guy like Young becomes a vocal leader.
Young in in a unique position as a player with some off-the-field issues. If he can demonstrate to his teammates that the team is more important then he is, then he will have taken the next step in his progression as a professional football player. Certainly the Lions will be better for it if Young can mature into a vocal leader on this team.