Devils vs. Kings: L.A. Players Who Must Step Up to Win Stanley Cup
June 11, 2012

Jim McIsaac/Getty Images
The Los Angeles Kings are on the cusp of allowing the New Jersey Devils the opportunity to come back into this series by forcing a do-or-die Game 7 in the Stanley Cup Final.
Over their past two losses to the Devils, the Kings haven't gotten the same production as they have been accustomed to during these playoffs. The usual suspects simply haven't gotten it done for Los Angeles and that is hurting their team big time.
Here are some of the key players the Kings need to step up in order to close out this series before a crucial Game 7.
Anze Kopitar
The Kings have gotten goals from two players in the past two games: One from defenseman Drew Doughty in Game 4 and the other from Justin Williams in Game 5.
Leading scorer Anze Kopitar has two goals and two assists in the finals and has been instrumental to this team's success during the playoffs. However, over the past two games, Kopitar has been non-existent without a single goal and just one assist.
If he can't score, at the very least Kopitar can do some damage with great passing, setting up his teammates for better scoring opportunities.
Kopitar's skills make the players around him better as well as his team as a whole. The Kings will go as Kopitar does and Los Angeles' star center must bring his "A" game if he wishes to raise Lord Stanley's Cup for the first time in his career.
Jonathan Quick
It's ridiculous to ask Quick to do any more than he already has, but with his team hitting the skids putting the puck in the net, Quick must work even harder to stop New Jersey's surging offense.
Quick has allowed four goals in his past two games and is in rare territory against New Jersey. The Kings' two-straight losses in the Stanley Cup are the first time this team has lost two in a row in these playoffs.
Allowing two goals in a game isn't all that bad, but Quick has set the bar quite high after an impressive showing thus far.
The Kings have yet to lose when Quick has allowed one goal and look for that to be the magic number the rest of this series. If Quick can keep New Jersey to just a single goal, it will be all Los Angeles needs to take the series.
Dustin Brown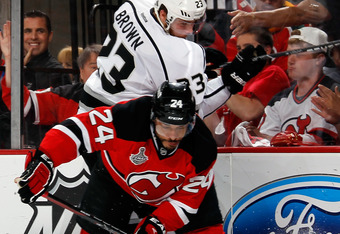 Bruce Bennett/Getty Images
Brown was one of the more consistent wingers for the Kings during these playoffs having scored seven goals on the road to the Stanley Cup.
But now that he's gotten here, Brown has only one assist and has yet to put the puck in the net. Los Angeles has certainly missed his offensive prowess the past two games.
Brown also has a knack for making great passes and during this season, he's become well-known for such an ability. Scoring isn't always the most important contribution a player can make.
All it takes is one or two great passes to make the difference in a game. The Kings will need Brown's savvy in order to get over the hump of their most recent scoring drought.
Drew Doughty
Doughty has already contributed a goal in this series, but it's his defensive abilities that will help his team most.
The Kings have allowed five goals in their last two losses and if they aren't going to score more goals, defense will be paramount in this team's success.
Los Angeles' best defenseman is known as a solid scorer, but he must do a better job protecting Quick. The Kings can't depend on their goalie to stop every New Jersey attack and Doughty is the first line of defense.