Devils vs. Kings: Live Blog, Highlights and Analysis of Stanley Cup Final Game 6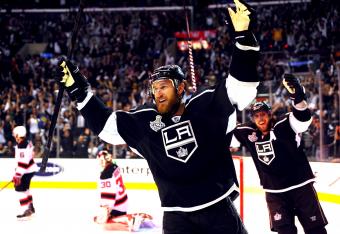 For the third game in a row, the Los Angeles Kings had an opportunity to capture the franchise's first Stanley Cup, and all they needed to do was beat the New Jersey Devils on home ice.
During the opening three contests of the 2012 Stanley Cup Final, the Kings made things look easy as they took a 3-0 series lead on the Devils.
Tonight's Game 6 was by far the most lopsided contest of what was otherwise a very competitive Final, as the Kings jumped out to an early lead and never looked back.
Though play was tense and tight early, Steve Bernier's was ejected midway through the first period, providing the Kings with a lengthy power play.
With the man advantage, Dustin Brown cashed in for his first goal of the series, and set up Jeff Carter for the Kings' second goal in less than two minutes. A couple of minutes later, Trevor Lewis beat Martin Brodeur, staking L.A. to a three goal lead with just under five minutes to go.
During the second, the Kings and Devils traded goals, and in the third the Kings pulled away with a pair of late tallies to put the game out of reach.
Now that the champion has been crowned (no pun intended), stay tuned for post game analysis and reaction.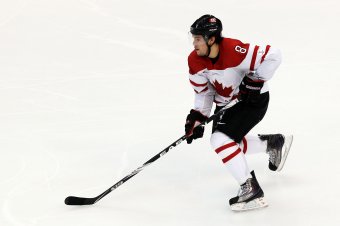 Alex Livesey/Getty Images
Between Doughty, Quick, Kopitar, Brown, Carter and Richards, the Kings have six marquee star players to rely on for the considerable future. They'll be even stronger after another full year together next season, and depending on what the team can get in return for Bernier, they might even be able to improve the roster over the summer.
Ultimately, trading for Carter and Richards stand out as the two trades that were difference makers, but the Kings' homegrown talent is obviously what sets the team apart. Kopitar, Brown and Quick have all solidified themselves as top-end players at their positions with their performances in these Playoffs, and are still young enough that their ceilings are much higher. Doughty, on the other hand, has made a strong case for himself to be considered the best defenseman in the game. At just 22, Doughty has been a top player for both Olympic and Stanley Cup champion teams, which is no coincidence.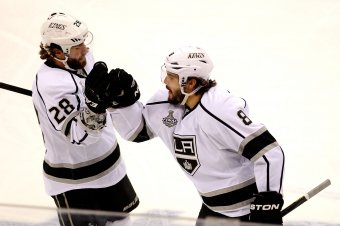 Paul Bereswill/Getty Images
Despite finishing eighth in the West, the Kings captured the Cup by coming together as a team at the right time, and all of the team's pieces fell into place when things mattered most. L.A. is built to win in the future as well, as the team's only key pending unrestricted free agents are 2012 Playoff heroes Dustin Penner, Dwight King and Jarret Stoll. Though Penner's postseason was impressive given his terrible year, there's a reasonable chance he'd take a sizable pay cut to remain with the Kings, as he's moved around a lot for a relatively young guy. King will probably stay, as his size and strength was a weapon during the postseason. Which leaves us with Stoll. Stoll was a productive player for the Kings for quite some time, but after a 21-point regular season, and just five points in the postseason, it seems unlikely that he'll be back.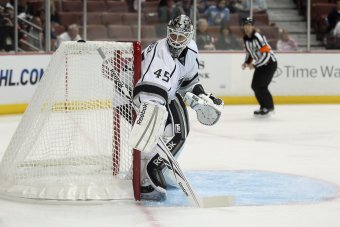 Jeff Gross/Getty Images
Only a year ago, some questioned whether Jonathan Bernier should be above Quick on the Kings' depth chart within the near future, but Quick settled that debate with his play this spring.
Instead, Bernier will likely be moved in the very near future, because at 23, he needs to play in the NHL now in order to continue to develop. He's almost a surefire starting goaltender at the NHL level, but Quick has solidified himself as L.A.'s franchise goalie for the foreseeable future.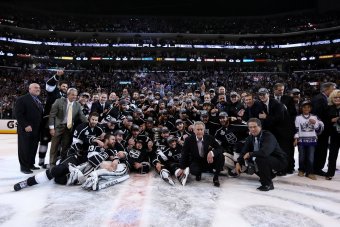 Bruce Bennett/Getty Images
Remember how Paul Holmgren looked like a genius after the Flyers knocked off the Pens in the first round? After getting rid of franchise forwards Jeff Carter and Mike Richards, canning coach John Stevens, and grossly overspending on an inconsistent and enigmatic goaltender, his job security isn't what it was a month ago. Instead, Dean Lombardi, once thought to be a bad trade away from being fired, now looks like the smartest GM in hockey. Bringing in Carter, Richards, Penner and Darryl Sutter were moves that were instrumental in this Cup victory, and Lombardi deserves recognition for being the architect of a remarkably deep and talented team.
Dustin Brown has a history of dropping f-bombs during interviews. He did it once back in 2009, but it'll surely garner more attention with the nation watching.
Marty Brodeur is, as usual, very gracious in defeat. If this was his last game of all-time, it's a shame that his team let him down so badly, but he has nothing to hang his head about. In five Finals appearances, he's won three Cups, so this loss won't affect his legacy at all. Roenick just called Brodeur the best goaltender ever, which is a nice consolation prize for a guy who deserved more from his teammates in the biggest game of the season.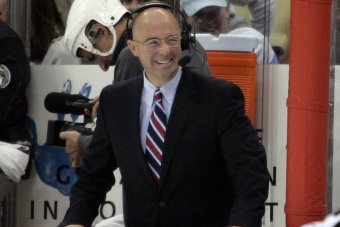 Justin K. Aller/Getty Images
It's been nice to see Quick display his sense of humor for the first time after winning the Cup. Not quite as nice to see the awkward hug between him and Pierre McGuire after one of Pierre's classic "overanalyze the player's prep accomplishments" interviews. Quick was a good sport though, and after staying relatively tight-lipped throughout the postseason, he finally seems at ease. The kid's going to be a star.
When the Kings pulled the trigger on the deal that sent Jack Johnson and L.A.'s top pick in this year's draft to Columbus in exchange for Carter, it seemed like a steal for the Blue Jackets. Johnson, widely considered to be a potential franchise defenseman, could be a big building block for the Jackets, but Carter's heroics sealed the deal on the franchise's first and only Cup.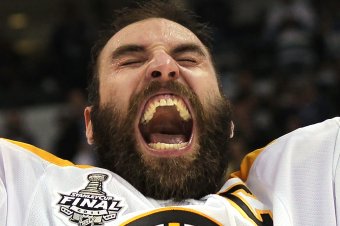 Bruce Bennett/Getty Images
The sheer joy on the face of Dustin Brown isn't necessarily pretty- as Brown is a few teeth short of a picture perfect smile, but it's nowhere close to as scary as Chara's mug after the Bruins won last year.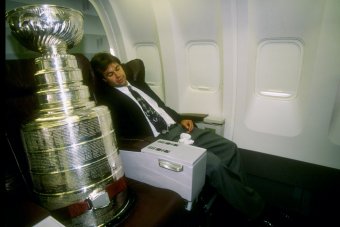 Ezra Shaw/Getty Images
Do many people have better jobs than Phil Pritchard? The guy has become a household name in Canada as the man who spends all day everyday with the Stanley Cup. Plus, he never has to sit next to anyone on flights.
And there it is, Jonathan Quick gets the Conn Smythe, which serves as a reminder that the award isn't for MVP of the Finals, it's for the entire postseason. He was the difference maker in the Kings' opening round series, and was solid throughout, so he's deserving of the honor.
Two years ago, Jeff Carter, Mike Richards, Simon Gagne and assistant coach John Stevens were on the other side of things, as they fell in Game 6 of the 2010 Finals to Chicago. What a difference 24 months makes.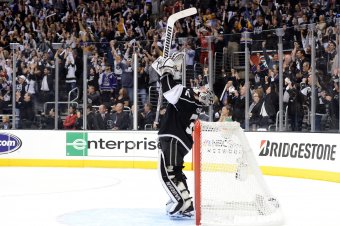 Harry How/Getty Images
It's strange to think that this handshake line may be the last time we ever see Martin Brodeur or Zach Parise in a Devils jersey. Brodeur and Quick's embrace at the end of the line could represent a changing of the guard, as Quick's beginning to look like the league's next great goalie.
LOS ANGELES 6, NEW JERSEY 1- FINAL: It's over, the streamers and confetti are pouring down, and the Kings have won the franchise's first Stanley Cup. The Devils look exhausted, the Kings look ready to play another three periods.
LOS ANGELES 6, NEW JERSEY 1- 3:30 3RD PERIOD: Just 15 seconds after Lewis' empty netter all but ended the game, Matt Greene's seemingly harmless point shot gets through Brodeur to give the Kings a five goal lead. It's a shame that this one's turned into a blowout, because both teams battled hard for five games. That being said, the Devils played five more games than the Kings did, so it's not all that surprising that they ran out of gas.
LOS ANGELES 5, NEW JERSEY 1- 3:45 3RD PERIOD: With Marty Brodeur pulled out of desperation, Trevor Lewis pots his second of the night and third of the postseason. This one's over, baby.
Clarkson rips one through Quick, but the puck trickles wide. If the Devils have anything left in the tank, it's time for them to show it.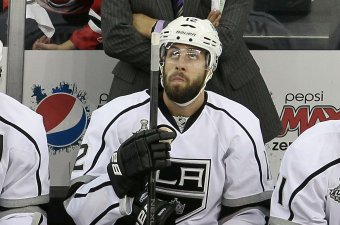 Jim McIsaac/Getty Images
Kudos to Simon Gagne for managing to grow a very respectable Playoff beard, despite not being cleared to play until the Stanley Cup Finals. All four former Flyers snipers on the roster (Gagne, Richards, Carter and Williams) are doing their part in this respect.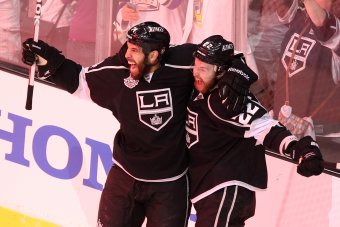 Christian Petersen/Getty Images
Heading into the postseason, who in their right minds would've thought that Dwight King would find himself on the Kings' top power play unit? In the regular season, the 22-year old power forward notched five goals in 27 games, but in the Playoffs, King has been an important part of the Kings' offense, tallying five goals and seven points.
A huge play from Trevor Lewis on the penalty kill. After he intercepted a pass and charged up the ice, Zidlicky took Lewis down from behind, ending New Jersey's power play.
A tripping penalty on Brown, then the captain gets slapped with a charging penalty for a hit on Petr Sykora...and then Sykora's retaliatory hit on Brown earns him a trip to the box as well.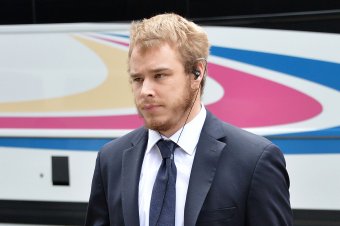 Mike Coppola/Getty Images
In terms of Playoff beards, the Kings definitely have the advantage...but captain Brown's patchwork facial salad is pretty terrible.
Doughty outworking Parise in front of Quick in the Kings' end. It looks like Parise's final game (or potential final game) could be an extremely forgettable one. Haven't seen Simon Gagne out there much tonight, but can't help feeling happy for a guy that's battled so many injuries. If he can't stay healthy next season, it'll be interesting to see if he calls it a career.
A narrow miss by Jeff Carter on a shorthanded rush. If he gets the hat trick, why shouldn't he receive serious consideration for the Conn Smythe? At the very least, he's redeemed himself after an overwhelmingly disappointing regular season.
Given that Mike Richards and Jeff Carter once celebrated a successful road trip by heading out to a frat party at Temple University, it'd be fitting if they went on out to UCLA and did the same if they win the Cup.
This article is
What is the duplicate article?
Why is this article offensive?
Where is this article plagiarized from?
Why is this article poorly edited?